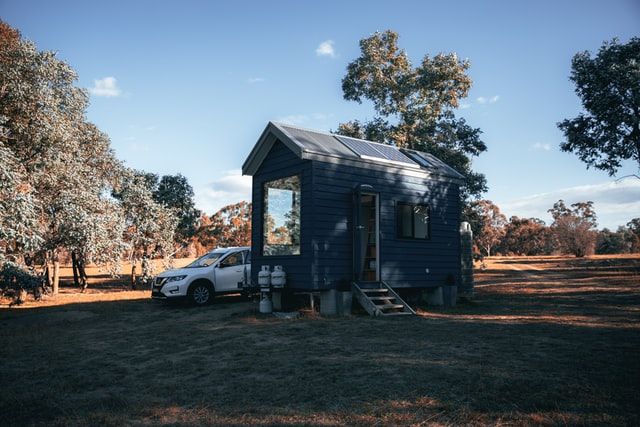 Purchasing a mini home: 10 models to give you ideas
As homes grew more spacious in North America and the size of the outdoor lots got smaller, some people responded by moving to smaller homes.
For a few years, these tiny homes (or mini houses) were built and owned by more "marginal" people, seeking to adopt a simpler lifestyle and to oppose overconsumption. Today, this trend is attracting the interest of many people. This is because mini houses and mini cottages offer several interesting advantages.
In this article, we will present the advantages and disadvantages associated with owning a mini home, as well as examples of boldly designed tiny homes. The purpose of this overview is to present you with examples of models that exist on the market and that you can use as inspiration when you start searching for a piece of land or for the mini home of your dreams.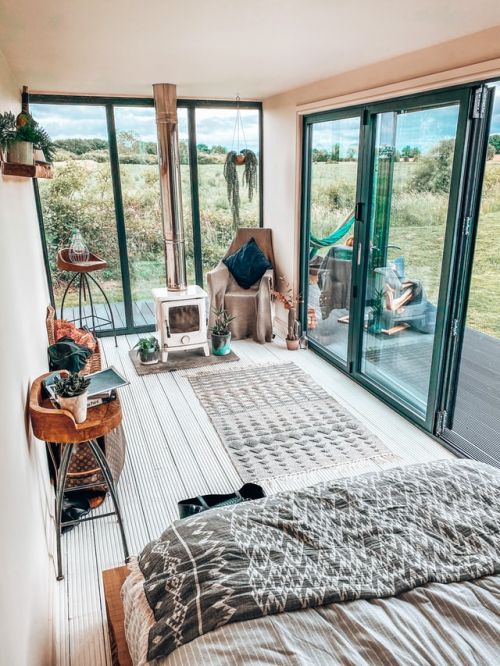 Buying a mini home: advantages and disadvantages
The main advantages and disadvantages associated with living in a mini home are as follows:
Advantages
In this type of home, there is no wasted space! Everything is optimized and you won't have any rooms that are of little or no use. Mini-homes designers compete with each other and struggle to find intelligent solutions for small spaces.
In general, this type of building is much more environmentally friendly than standard-sized houses. It's also easier to install energy-efficient systems like solar power or a composting toilet.
If you want to live as a nomad, you can opt for a model that can be moved by car. This lifestyle is synonymous with freedom and is the perfect mix between a home and an RV.
With a smaller space, you, as the owner, will have much less maintenance to do. We're talking about daily maintenance and annual or bi-annual tasks like siding or window cleaning.
If you want to transform the house's interior decor, you won't need a big budget, because you won't need to buy several pieces of furniture and decorative accessories.
You will keep fewer unnecessary items. This return to basics appeals to many people and represents a certain freedom from material possessions.
In most cases, mini homes cost less to build and maintain than normal-sized homes. This means that you will save a lot of money when you first move into the house and the savings will build up over the years as your expenses are reduced.
If you decide to buy land for your mini home, you can make the most of the space. The fact that the building is small means that the land you have access to will be larger than if you had built a standard house. Nature lovers and outdoor enthusiasts will be delighted!
Disadvantages
If you live with several people, you may feel a lack of privacy.
You have to clean constantly because things lying around will quickly show up. Therefore, even though less maintenance needs to be done than in a large house, the daily cleaning tasks require more frequent attention.
If you opt for a tiny home model that can be moved, you will need a car capable of transporting it. Also, it may be more difficult to connect to municipal systems like water or electricity.
There is less storage space. On the one hand, this reduces waste, such as food, but on the other hand, you can't stock up.
Some people also say they feel trapped, especially in the bedroom area, which is often set up in a mezzanine overlooking the rest of the house.
Currently, the main disadvantage of mini homes is the complexity of municipal by-laws governing the construction or installation of this type of building. In fact, in many regions, these policies sometimes put obstacles in the way of such projects. This is not necessarily a deliberate blockage, but may be due to municipal regulations that need to be modified or to calculations associated with the amount of property taxes that can be collected for this type of building. Things are slowly changing and some enthusiasts are working hard to change things. For example, we recently learned that the city of Quebec will modify its regulation to allow mini houses to be built in the backyard of a property. This will notably facilitate intergenerational cohabitation!
Another drawback is that it may be more difficult to obtain a mortgage for a mini home. You'll have to talk to your financial institution to see where they stand on this issue. However, things tend to change, so get informed!
10 examples of mini homes with audacious designs to give you project ideas
1) A cute and efficient prefabricated mini home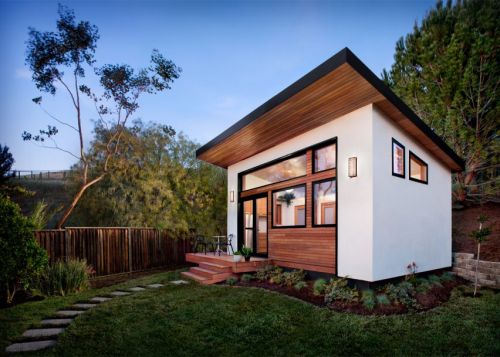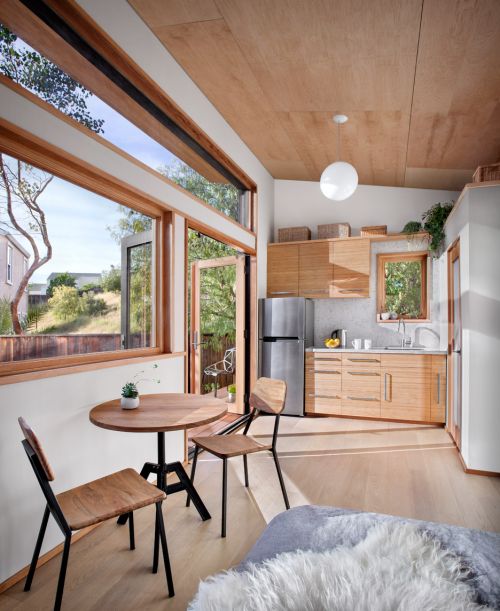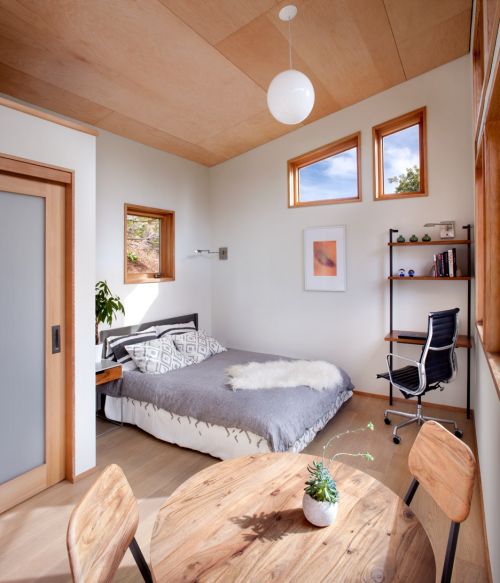 Design firm: Avava Systems
Located in: San Francisco
Photo Credit: Sasha Moravec
This small rectangular house appears to be permanently installed on its lot, which means that unlike other designs we'll be featuring, this is not a structure that can be moved. Much effort has been spent on the surrounding landscaping. The interior is bright and minimalist without being cold and unappealing. It is a nice little studio that can accommodate a couple or a single person.
2) A charming little house with a nice yard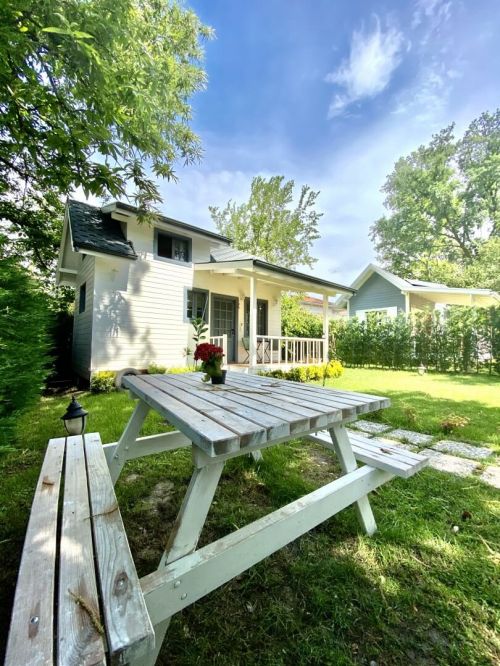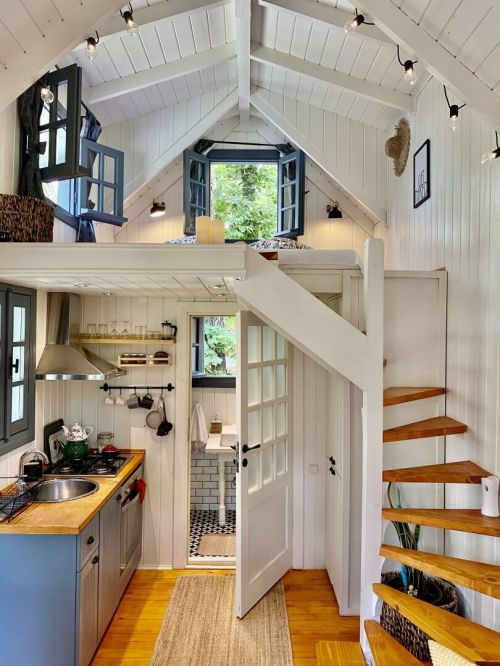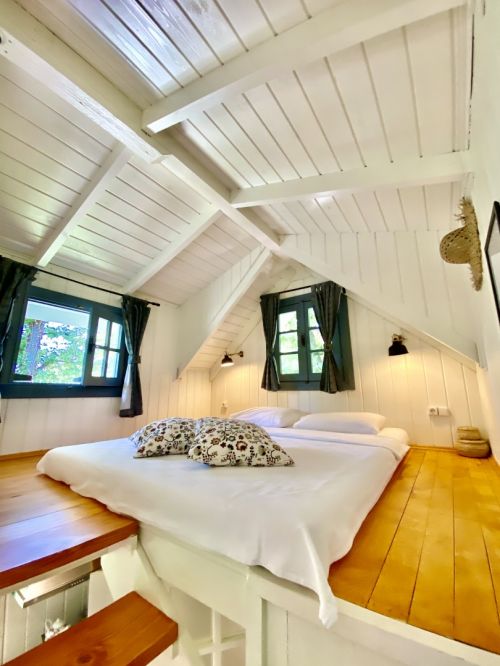 Design firm: Butik Evler Sapanca
Located in: Sapanca, Turkey
Photo Credit: Butik Evler Sapanca
This home looks like a scaled-down version of the typical residential neighborhood house. It has everything, even the yard with the cedar hedges. However, the house is small and cute, with an open concept living space. The bathroom is especially spacious for a mini home room and the open space decor creates a nice atmosphere combining rustic style along with more modern elements.
3) A mini house with a large kitchen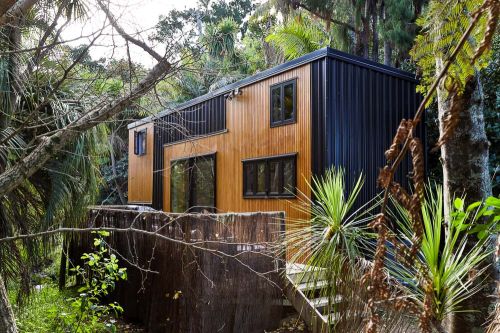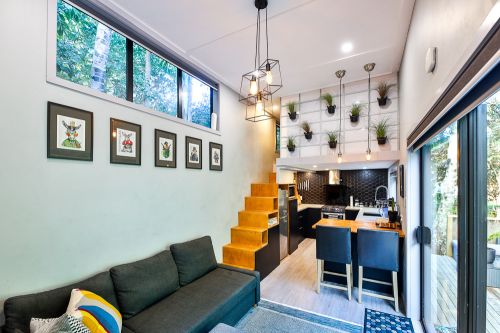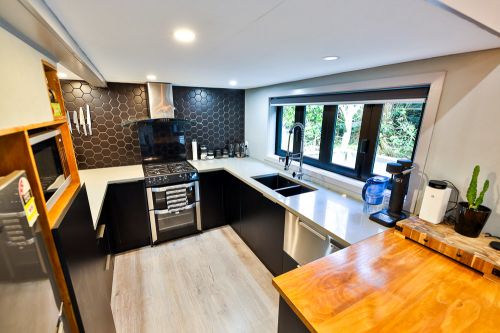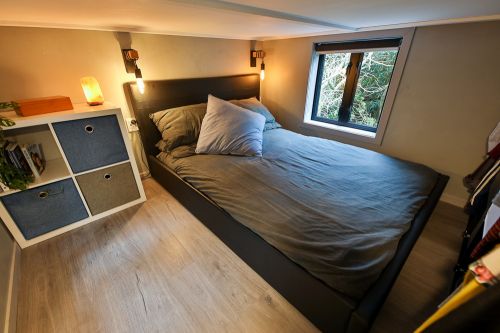 Design Firm: Go Tiny
Located in: Auckland, New Zealand
Photo Credit: Go Tiny
At first sight, many people will fall in love with the bold design of this mini house and its clever blend of container and modern style home. However, the love affair with this house begins once you get inside. The owners absolutely wanted to install a functional kitchen with lots of counter space. They, therefore, prioritized this room design while reducing the size of the other, less important spaces.
4) A bright and well organized mobile home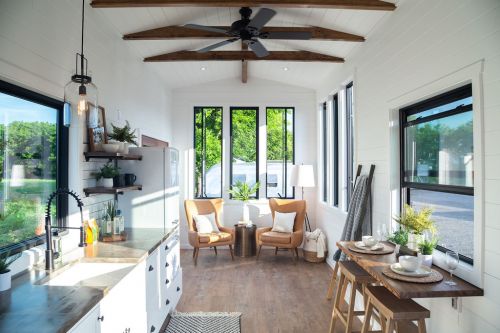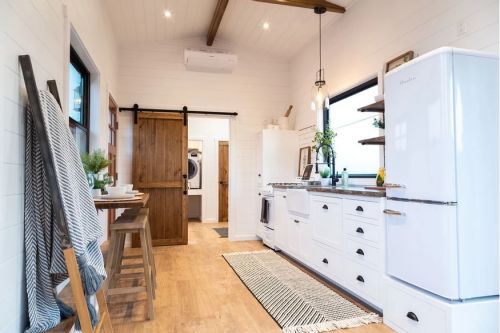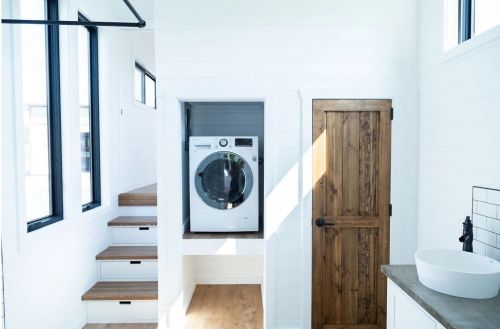 Design firm: Liberation Tiny Homes
Photo Credit: Liberation Tiny Homes
It may go unnoticed when inside, but this tiny home model is designed to be moved around. Yet, it doesn't have any of the often seen RV styling. It has large windows, a contemporary decor and a nice kitchen that will please those who like to spend time preparing food.
Unlike other tiny house models, the bedroom is separated from the rest of the living space, appealing to those who prefer a more divided space instead of an open concept.
5) A tiny house with a rustic style décor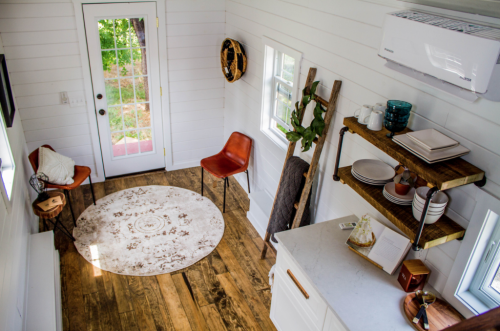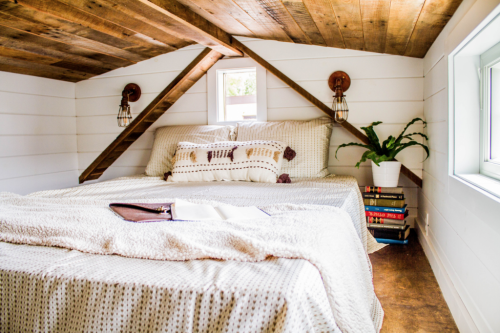 Design firm: Liberation Tiny Homes
Photo Credit: Liberation Tiny Homes
If you love rustic style, you should love this tiny house. Based on the typical tiny home model with a bed installed in the mezzanine, this house still caught our attention because of the particularly clever storage tricks.
For example, we can see that the staircase steps leading to the bedroom are used as drawers to store objects. In addition, the space is not cluttered with large furniture and one can see that if needed, it would be possible to add storage.
6) A small cottage-style country house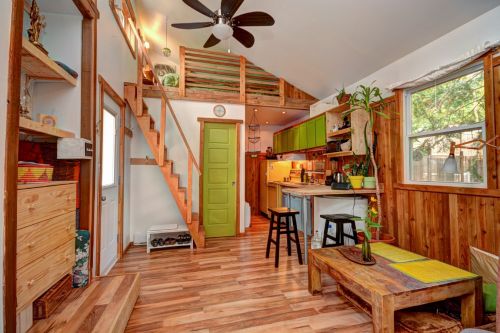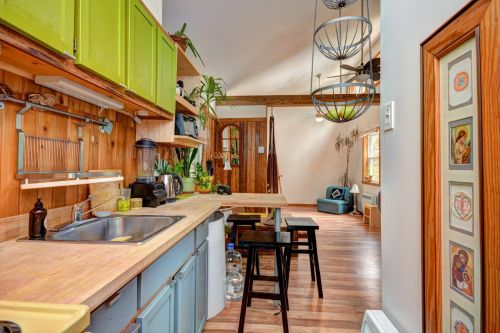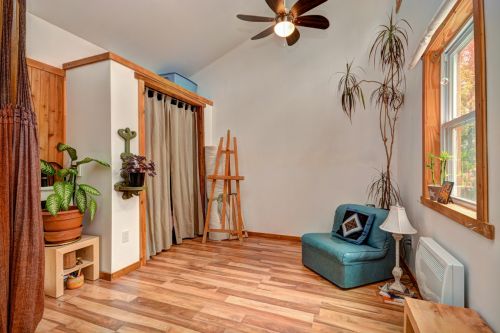 Located in: Quebec
Photo Credit: Tiny House Quebec
Most of the models we feature in this article are located outside of the country, so we had to find at least one tiny house installed in Quebec! Here, the climate is cold in winter and warm in summer. These are factors that must be taken into account when building a mini home, to ensure that it will be comfortable all year round.
The owners have decided to install the structure on a foundation, which means this model is attached to the site. Inside, we find a bohemian decor with nice touches of green. A colorful experience without being too stimulating for the senses.
7) The mini mountain houses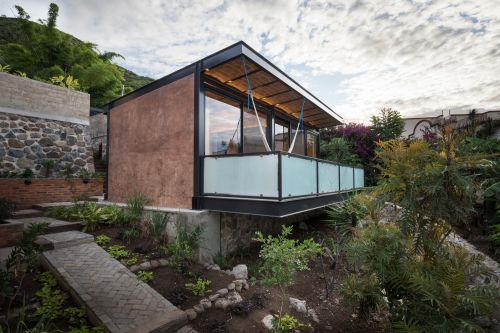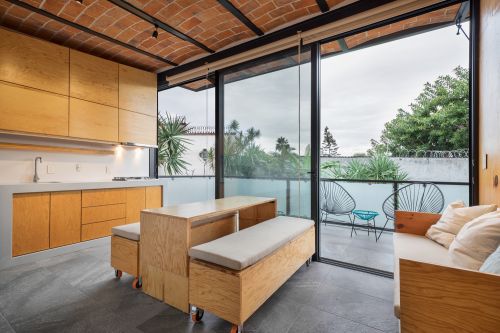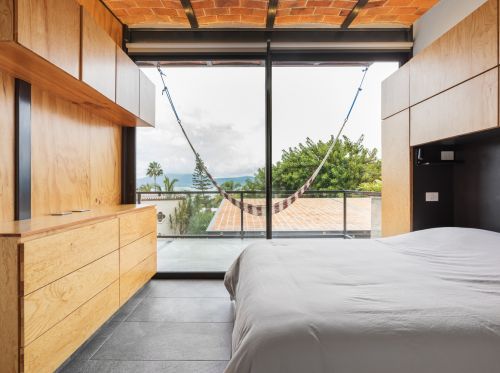 Design firm: Indico
Located in: Ajijic, Mexico
Year of construction: 2019
Photo Credit: Horacio Virrissimo
We are now heading to Mexico to a tiny home development located a few miles south of the city of Guadalajara. Even though the climate is quite different from here, we thought this tiny home model was particularly interesting to showcase, as its minimalist interior design is inspiring!
We found storage everywhere, but hidden behind doors along the walls or inside the benches. Whatever your preference, you could add decorative accessories or leave the whole place uncluttered. It's a flexible space, designed with simplicity in mind.
8) The Slow Tiny House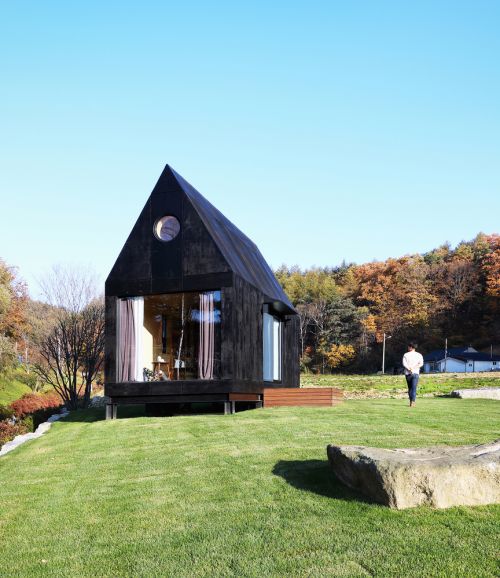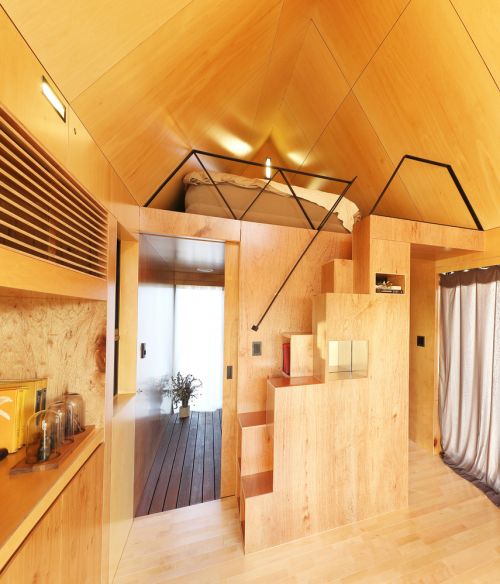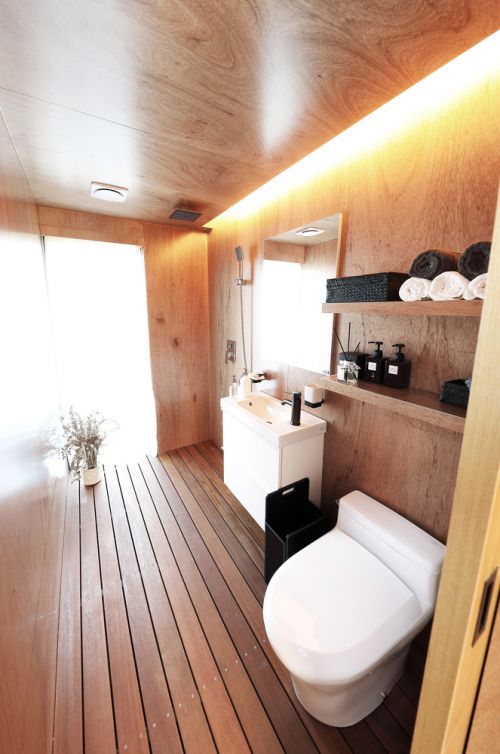 Design firm: The Plus Partners + DNC architects
Located in: Pyeonghchang-gun, South Korea
Year of Construction: 2016
Photo Credit: Moobum Jang
It was first the shape of this mini house that caught our attention. Instead of a style modelled on the typical rectangle or that of a standard house that would have shrunk in the wash, this home boasts its own unique design. The exterior siding is very original, which may appeal to some and turn off others.
Inside, we see a similar example to the previous house, but taken to the extreme. In fact, almost all the surfaces have been covered with the same honey blond wood. This very trendy style comes to mind as a great example of a contemporary flexible design that can easily be transformed over time.
9) Micro house with open space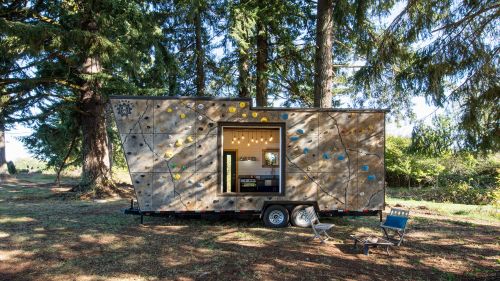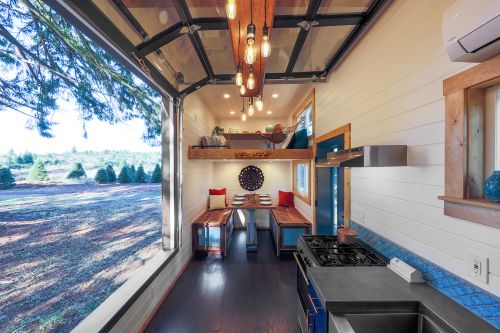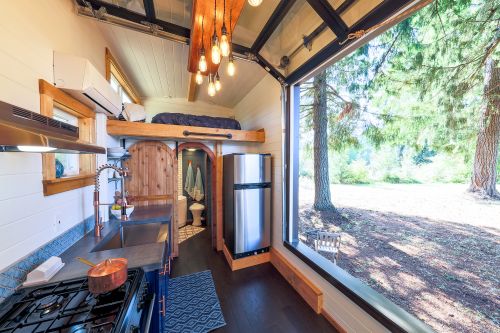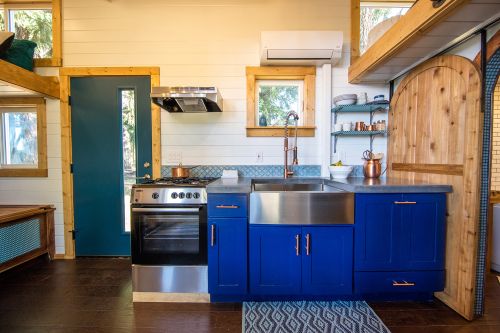 Firme de design: Tiny Heirloom
Located in: Wyoming, États-Unis
Photo Credit: Tiny Heirloom
For those who prefer to spend as much time outside as possible, this is a home made for you! The owners outright sacrificed an entire wall to install a huge sliding window. Beware: this choice is not very well adapted to the Canadian climate.
However, companies are working on models that are more weathertight. So this will probably not be an issue in a few years.
The interior is simple and pretty, with a choice of colors that stands out from the other designs presented in this list. Finally, we must highlight that one of the exterior walls has been transformed into a climbing wall. A great idea to please outdoor enthusiasts!
10) A family tailored mini house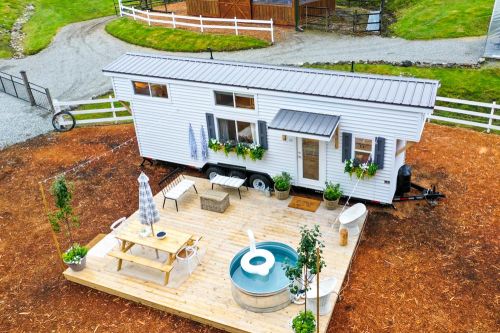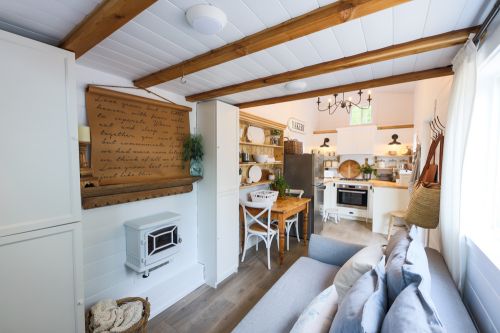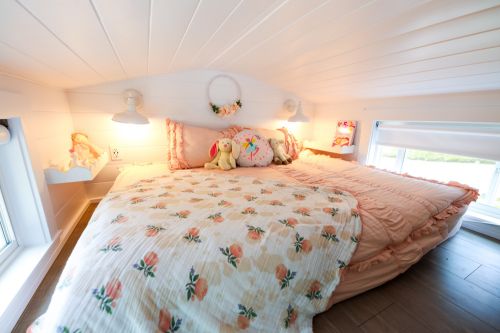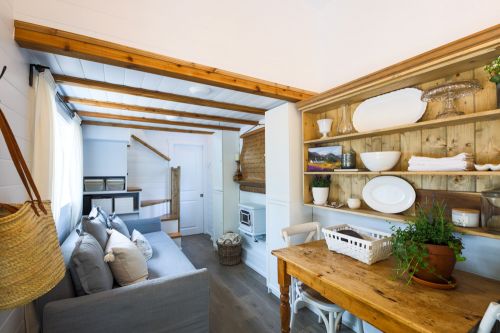 Located in: British Columbia
Photo Credit: Living big in a tiny house
We conclude with a tiny home model built by and for a family (two adults and two children). Yes, it is indeed possible to live in a tiny house with more than two people. It requires a lot of ingenuity and in most cases, you have to stretch the size and weight limits of this type of home. This family planned to build this mini house until they could move to a more "normal" size house.
A temporary solution, but an experience they say they don't regret at all! Some families live in small houses for a long time and have no trouble to adapt. The key is to assess each person's needs and see if they can be met in a small space.
Discover tiny houses by mining YouTube videos
If you're interested in discovering other mini home models and "alternative" types of buildings, we suggest you investigate YouTube where several dedicated videographers focus on this topic:
Exploring Alternatives
Living Big in a Tiny House
Never too Small
Do you want to buy a house in Quebec?

Have these mini-houses made you want to find your own little dream home? We can help you with your next real estate transaction project in Quebec! First, download the home buying guide (and the selling guide of course!).
Then, we will put you in contact with several experts, including real estate brokers, notaries, mortgage brokers, inspectors and surveyors.
Also consult our blog to discover other articles about real estate in Quebec.
---
---
Find the professional you need
Find your real estate professional by filling out the short form