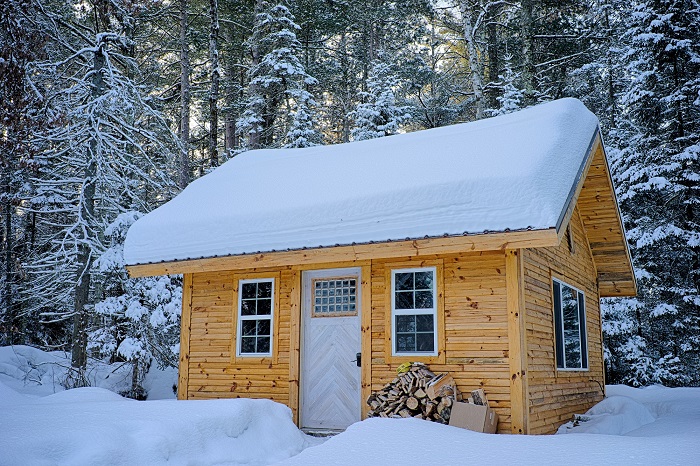 Mini cottages: 10 original models in Quebec
Do you know about mini houses? Inspired by this concept of miniature housing, here are the mini cottages!
Perfect for those who are ready to live in a smaller space or who simply want a new living experience, mini cottages have everything to please. They are the perfect combination to enjoy outdoors, both summer and winter, at a low price!
Following our selection of favorite cottages, we present you this time a list of 10 mini cottages, both beautiful and original. Note that most of those mentioned below are available for rent, but some companies and design firms also allow you to buy your own mini-cottage to fully benefit from this real estate concept.
Will you be seduced by one or the other of these models?
Real Estate: 10 mini (or micro) cottages to enjoy nature in Quebec
1. Le Huard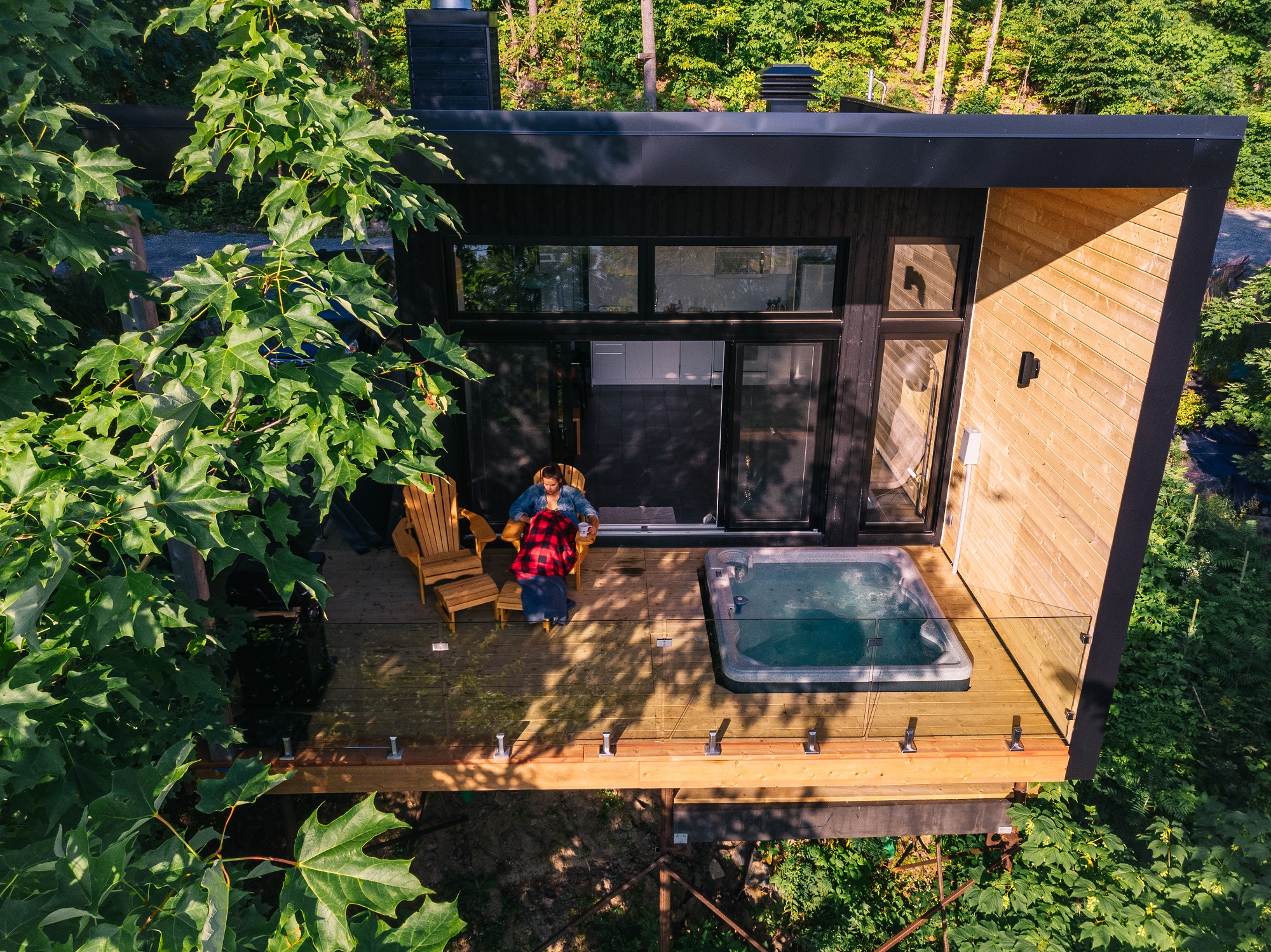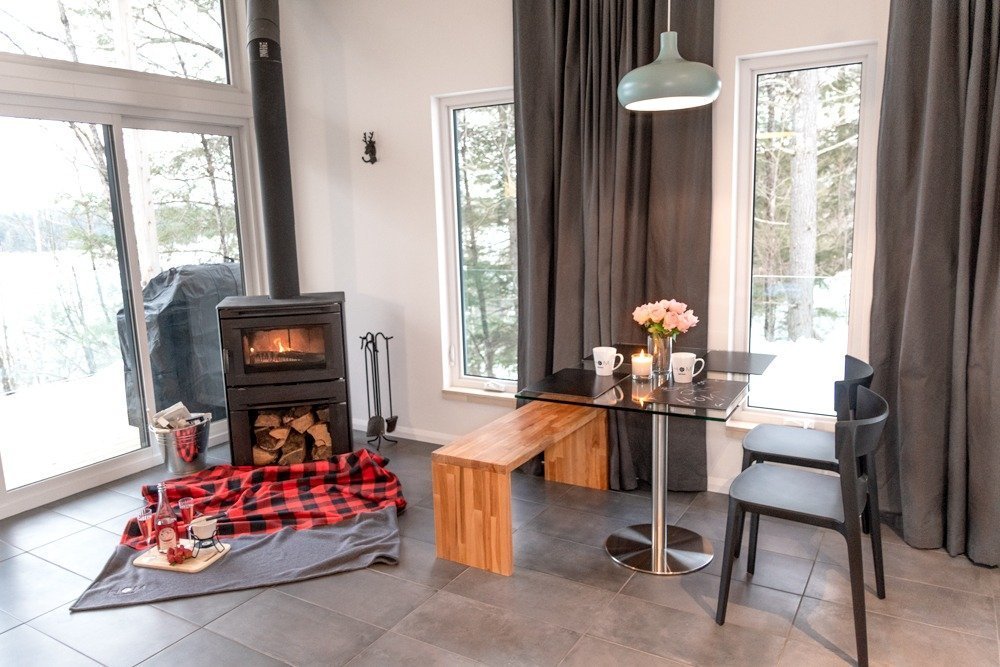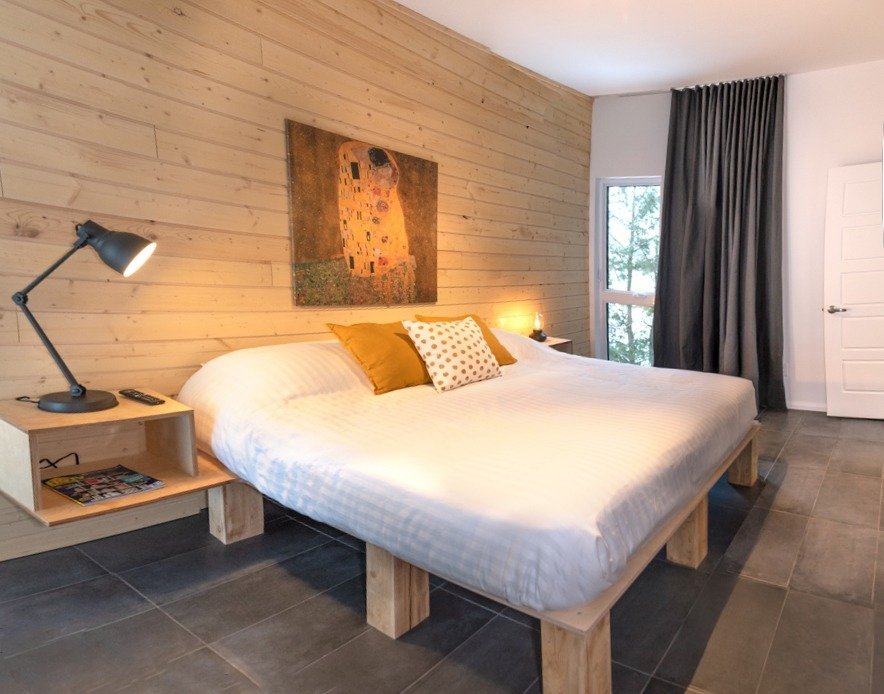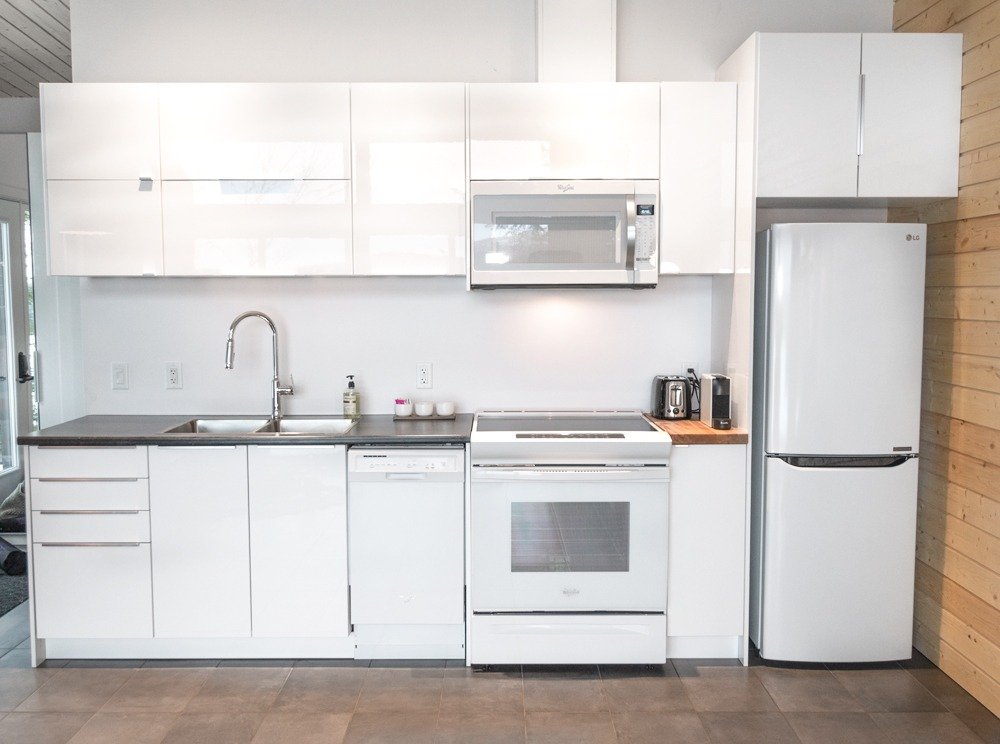 Located in: Val-des-Monts
Photo credit: HOM Mini Chalets
We begin our list of wonderful small cottages with Le Huard, a 60 m2 (approximately 645 ft2) home offered by HOM Mini Chalets. With its abundant windows, the cottage offers an incredible view of Lake McGregor and the surrounding landscape.
Despite its minimalist decor, the interior includes all the necessary amenities and even more! Everything is designed to embrace the glamping trend. Radiant flooring, smart TV, Nespresso coffee machine and a private spa on the balcony are just a few of the features added to the cottage to maximize the luxury and comfort of the residents.
2. The Hobbit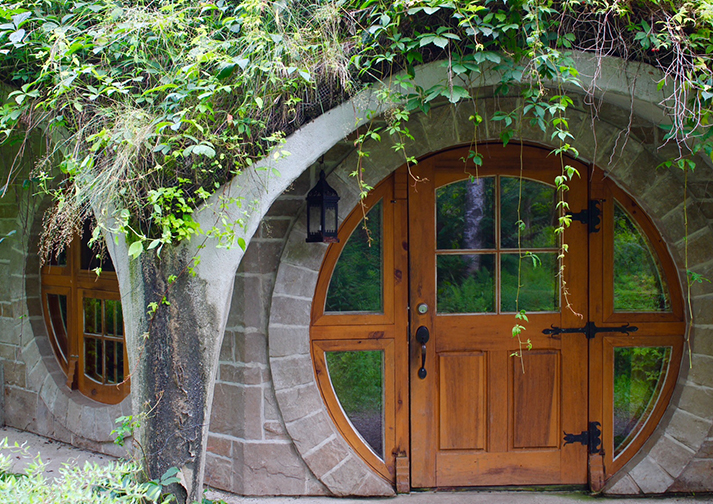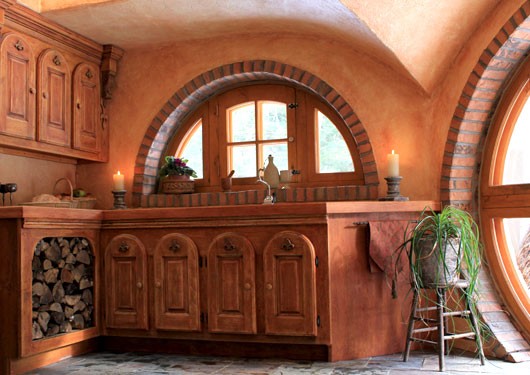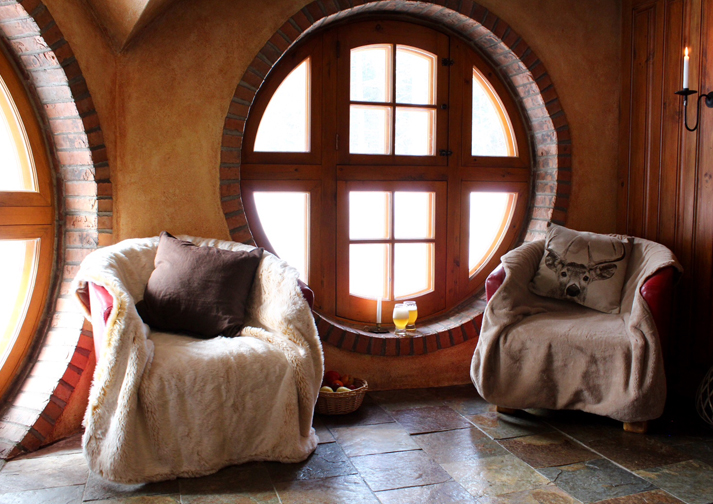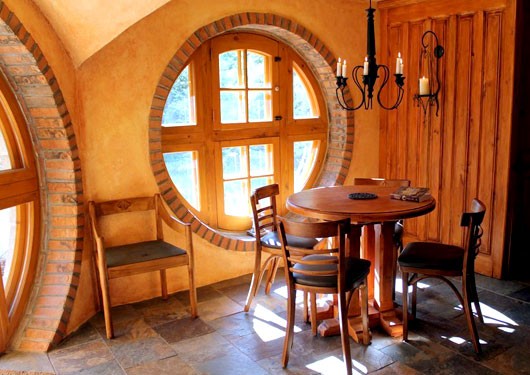 Located in: East Bolton
Photo credit: Entre cimes et racines
If staying in a circular house typical of the Lord of the Rings has always been a fantasy for you, you will inevitably fall under the rustic charm of this mini-chalet with a green roof.
Arranged in a single room with a natural and warm atmosphere, the dwelling operates without electricity. A wood stove provides warmth and old-fashioned cooking in the small kitchen furnished with carved cabinets.
A unique and unforgettable experience is guaranteed!
3. The Maikan cottage



Located in: Les Éboulements (Charlevoix region)
Photo credit: Repère boréal
If you love Scandinavian-inspired architecture, chances are you'll fall in love with this mini cottage. Suitable for 2 adults, this cozy nest allows you to be in harmony with nature.
In addition to using natural materials, the house has a panoramic window to enjoy outdoor light and watch the stars at night. The rental also gives you access to the nearby hot tub and sauna to enhance your relaxation and fully disconnect from everyday life.
4. Zoobox 14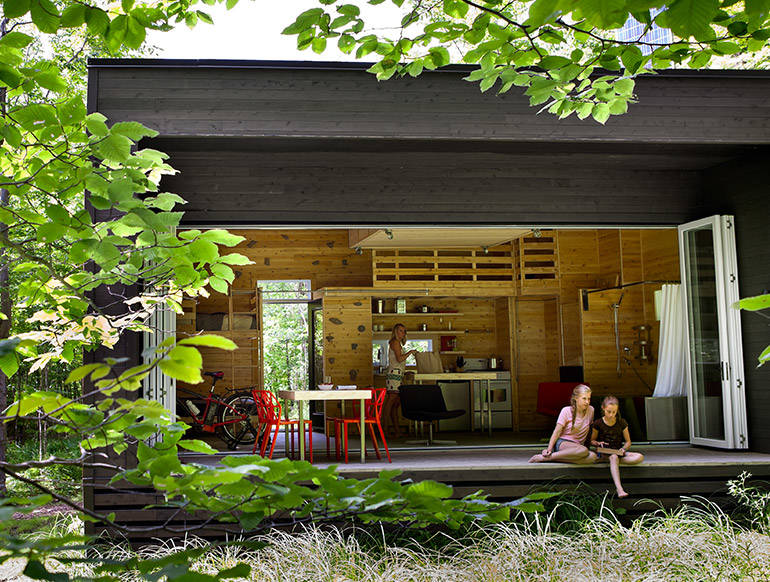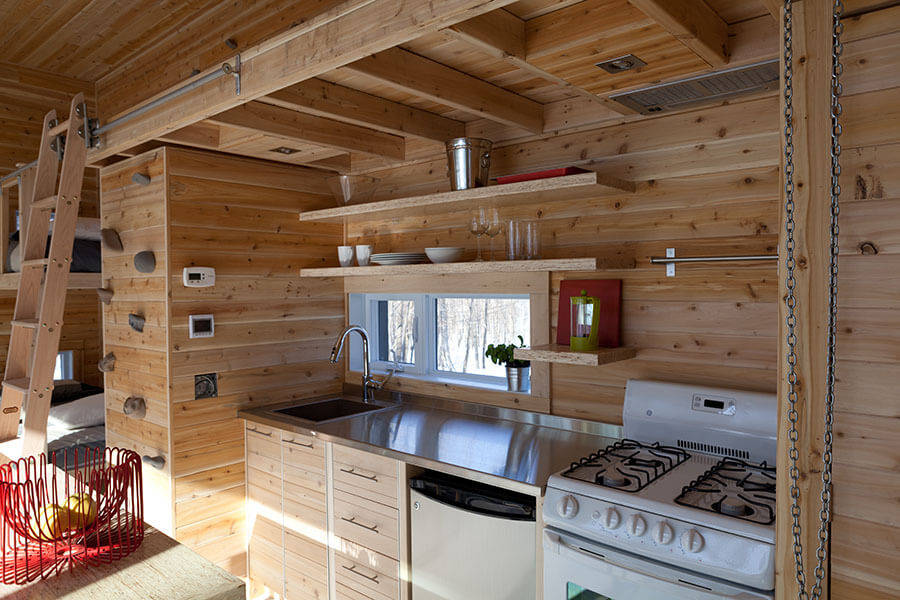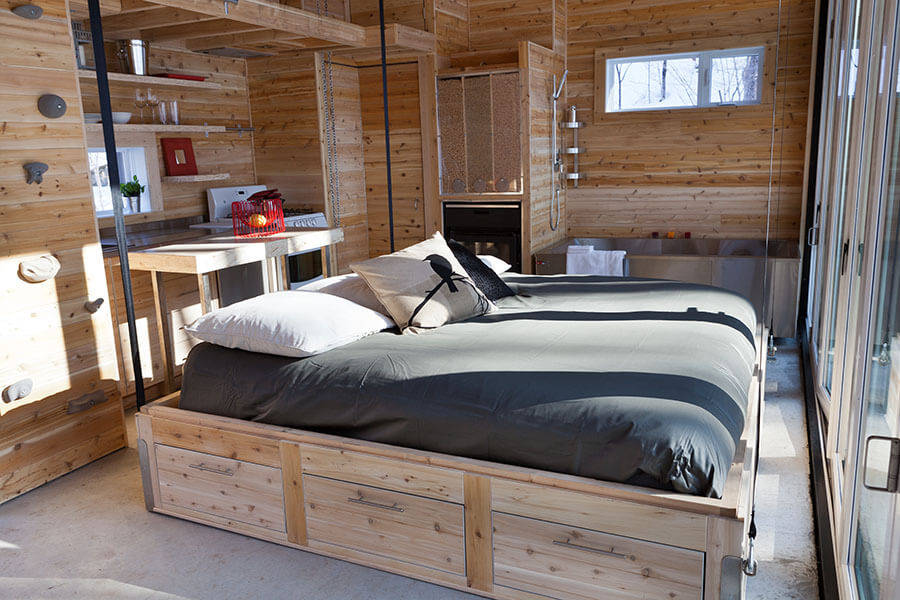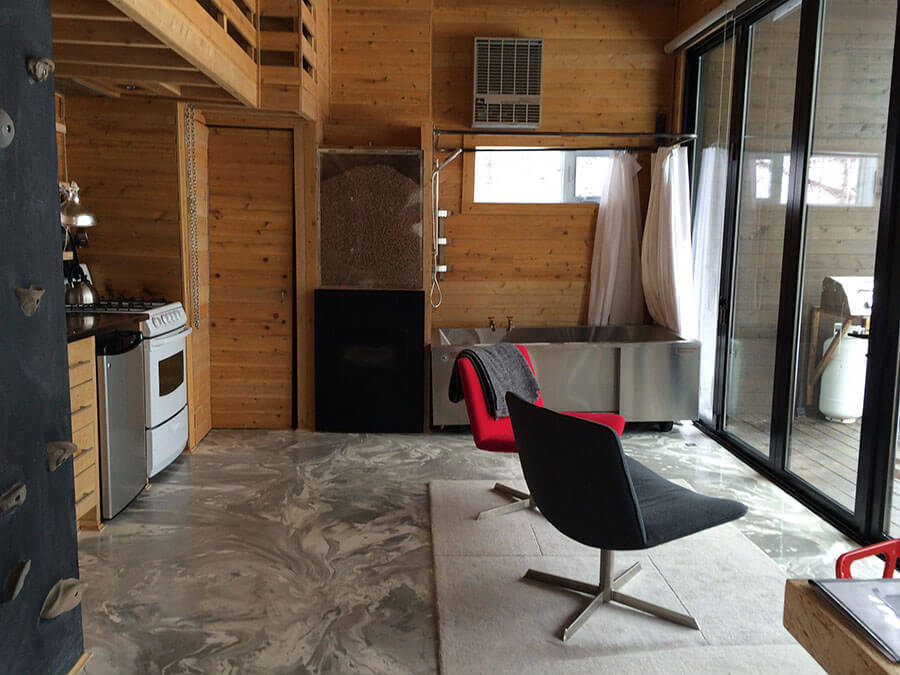 Located in: Eastman
Photo credit: Le vertendre
The Zoobox concept developed by Le vertendre is unique. The refuge proposes to reverse the zoo principle, by letting animals observe humans through the huge glass doors. Contemplate in turn the wonderful surrounding landscape at any time of the day or night.
As a single open-plan room, the dwelling is entirely energy self-sufficient thanks to the use of solar panels. It offers an original, ecological and fun experience for the whole family. Did you know about the small climbing wall that has been integrated inside?
5. The Pleiades Bubble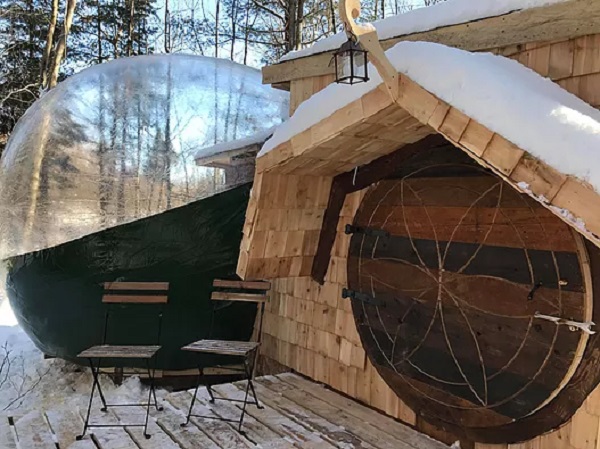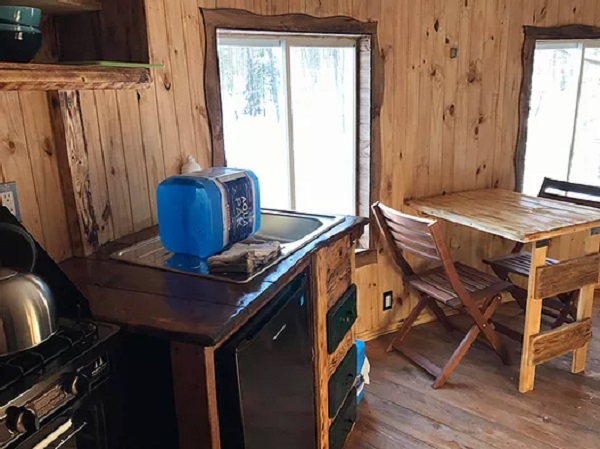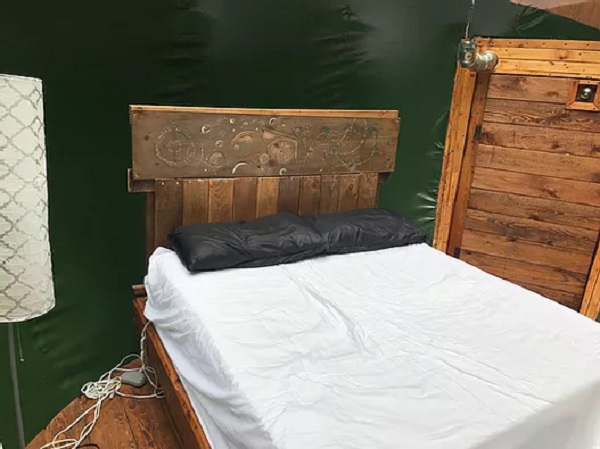 Located in: Saint-Calixte
Photo credit: Les pieds sur terre
Are you looking for a rustic yet very original chalet model? The lodging company Les pieds sur terre offers a unique mini-chalet concept that allows you to live... in a bubble! A guaranteed change of scenery!
Combined with a small wooden structure including a kitchen, a dining room and a bathroom, the transparent sphere invites you to sleep under the stars, while remaining inside.
To ensure that you can enjoy this room in any season and to provide maximum comfort, the bubble is heated in winter and contains a heated mattress cover. The miniature dwelling even has a private outdoor Jacuzzi.
6. The EXP Anemone cabin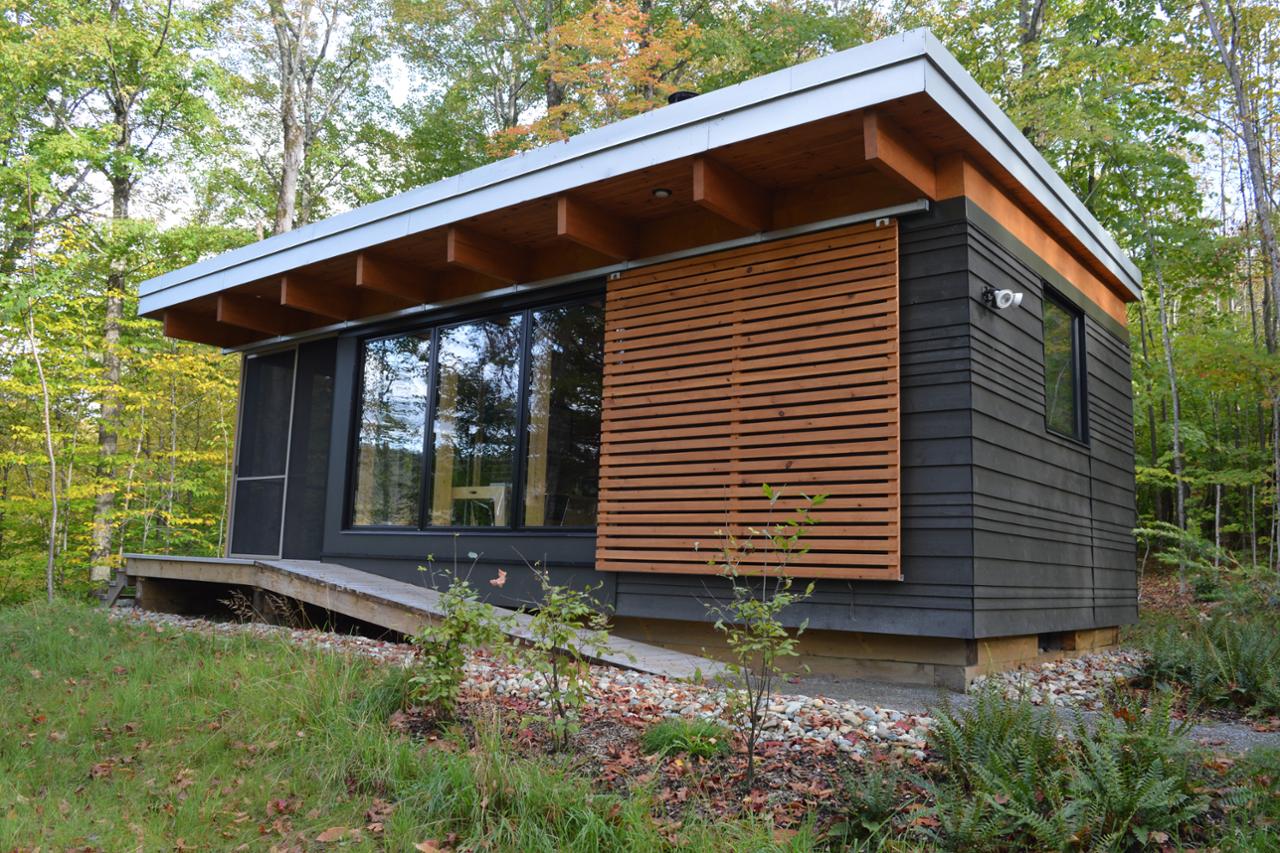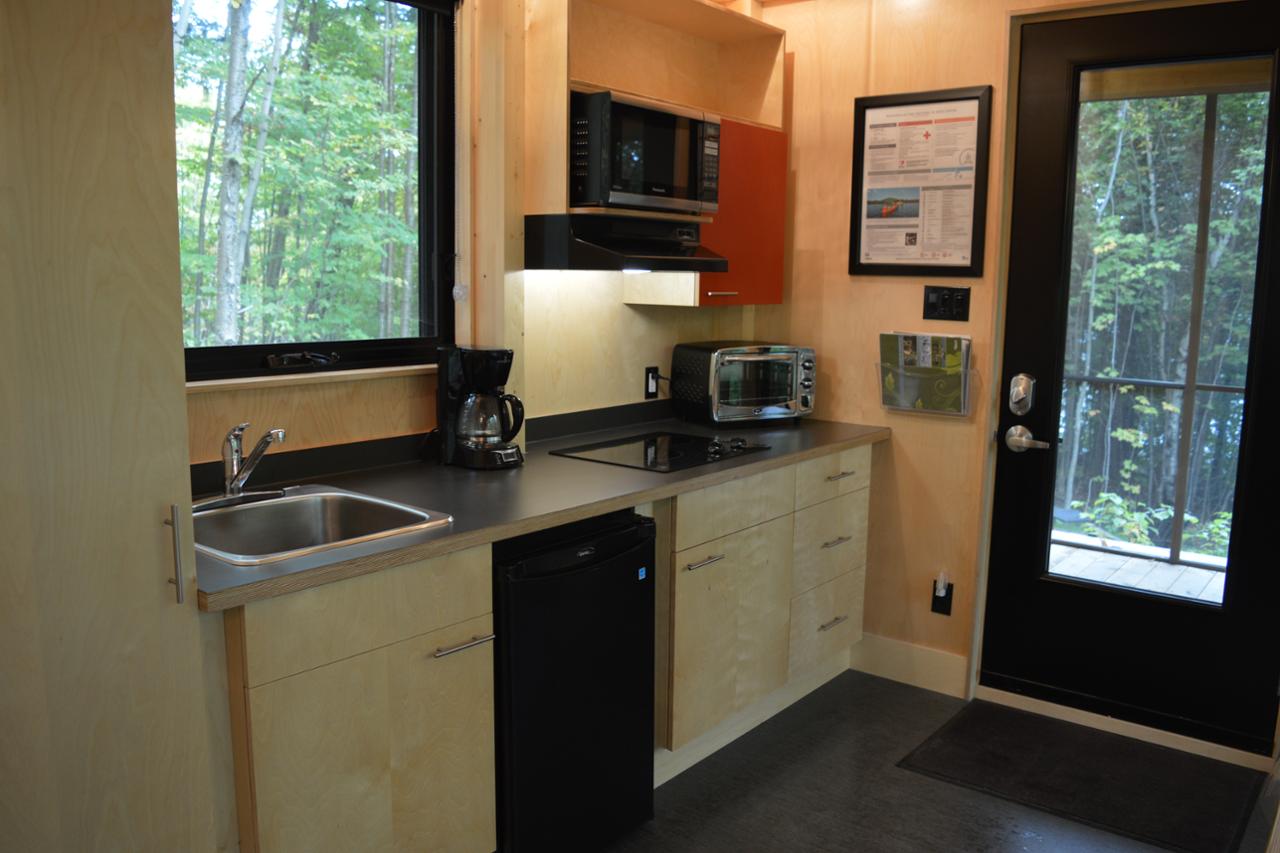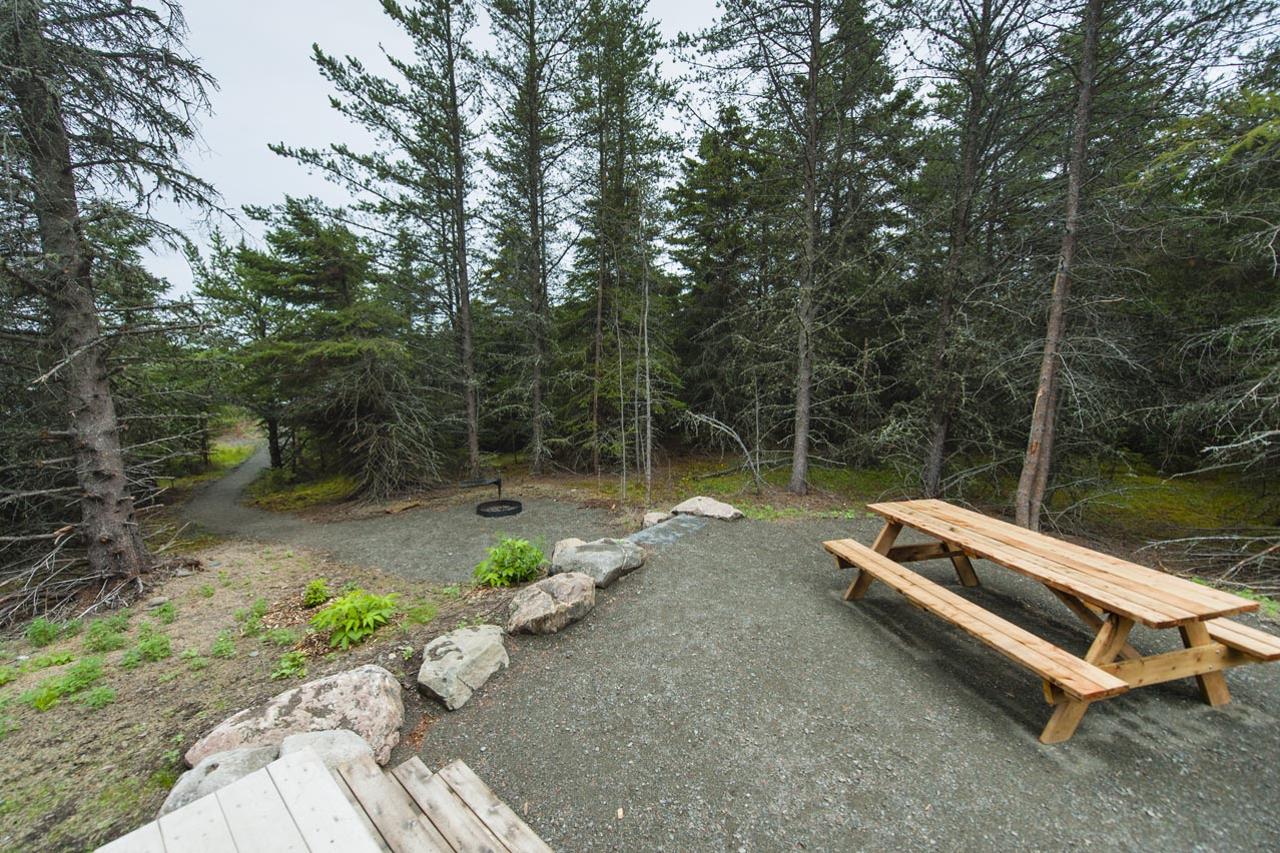 Located in: Parc national du Bic
Photo credit: Sépaq
Sépaq offers small cottages that are both modern and respectful of nature so you can enjoy all the attractions of Quebec's national parks.
With room for a maximum of 2 adults, the dwelling offers a friendly and relaxing experience to its tenants. Its design and the harmony created by the materials of its exterior siding make it a real attraction.
7. The Copenhagen Yurt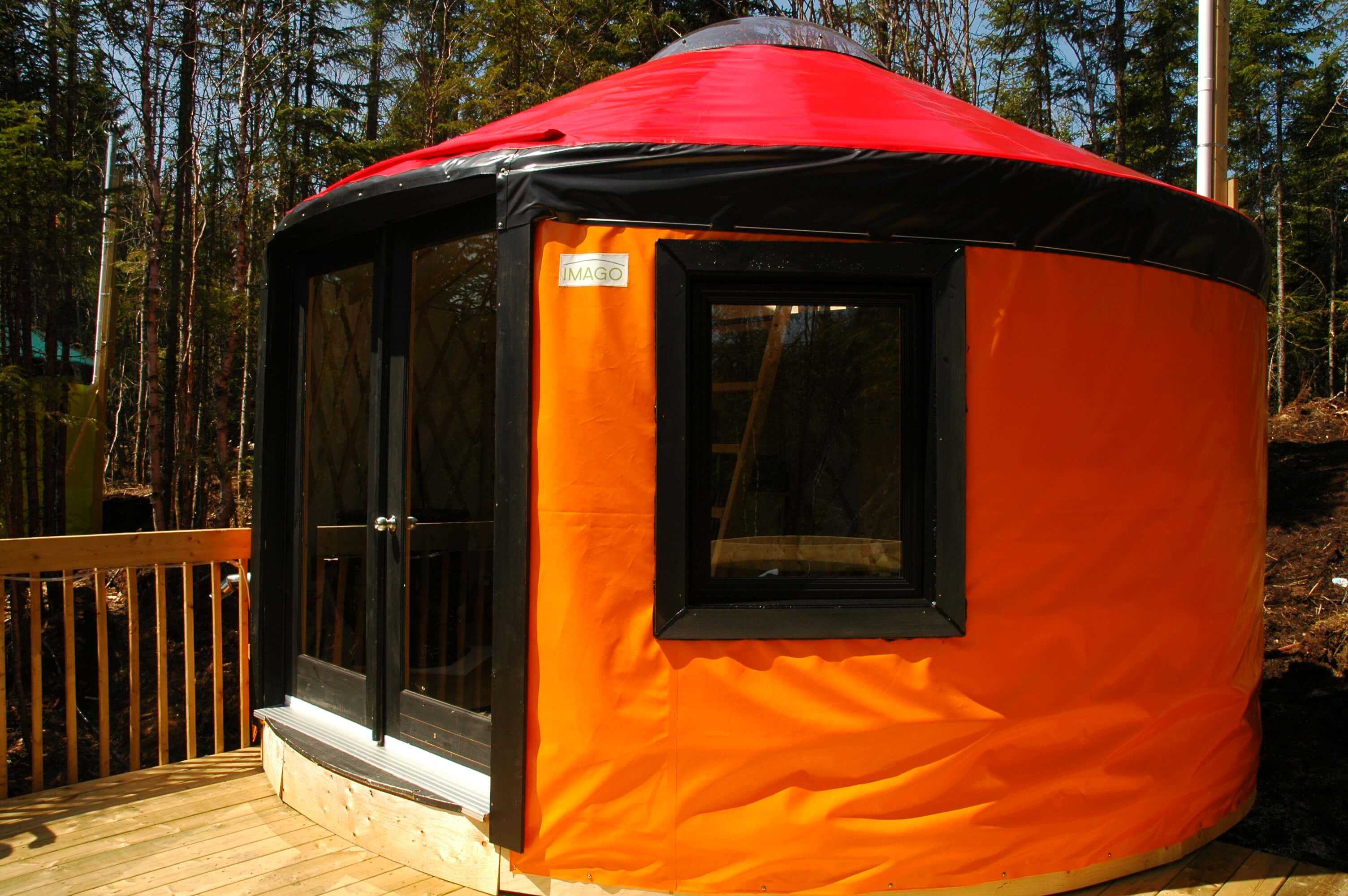 Located in: Saint-David-de-Falardeau
Photo credit: Imago Village
The Mongolia inspired yurt at Imago Village is without a doubt an original dwelling. Don't let its exterior confuse you: the wooden structure covered with canvas reveals a warm room that invites to relaxation.
Despite its small 16-foot surface, the lodge can accommodate up to 4 people thanks to its second floor, which houses the beds. A glass dome located above even allows you to observe the stars from the comfort of your covers.
8. Shepherd's Hut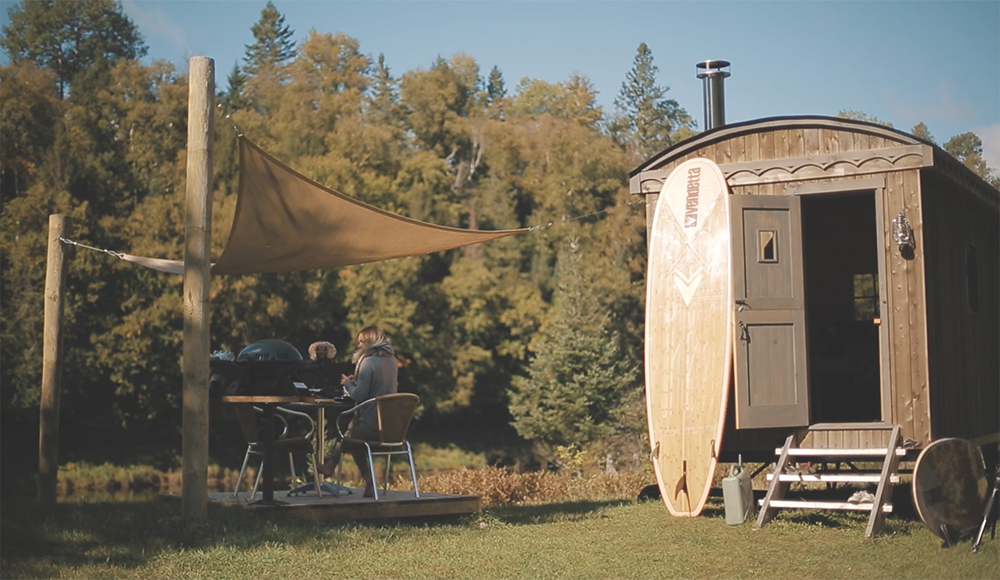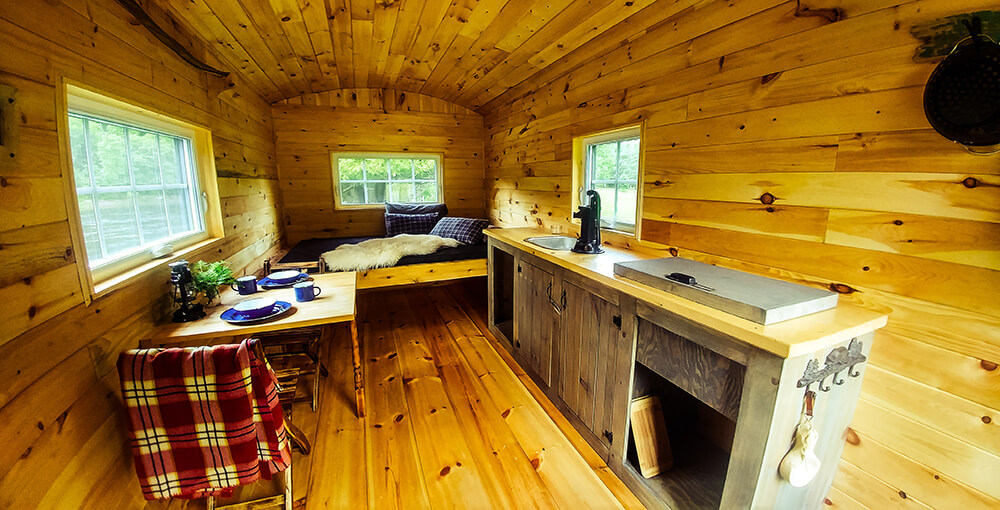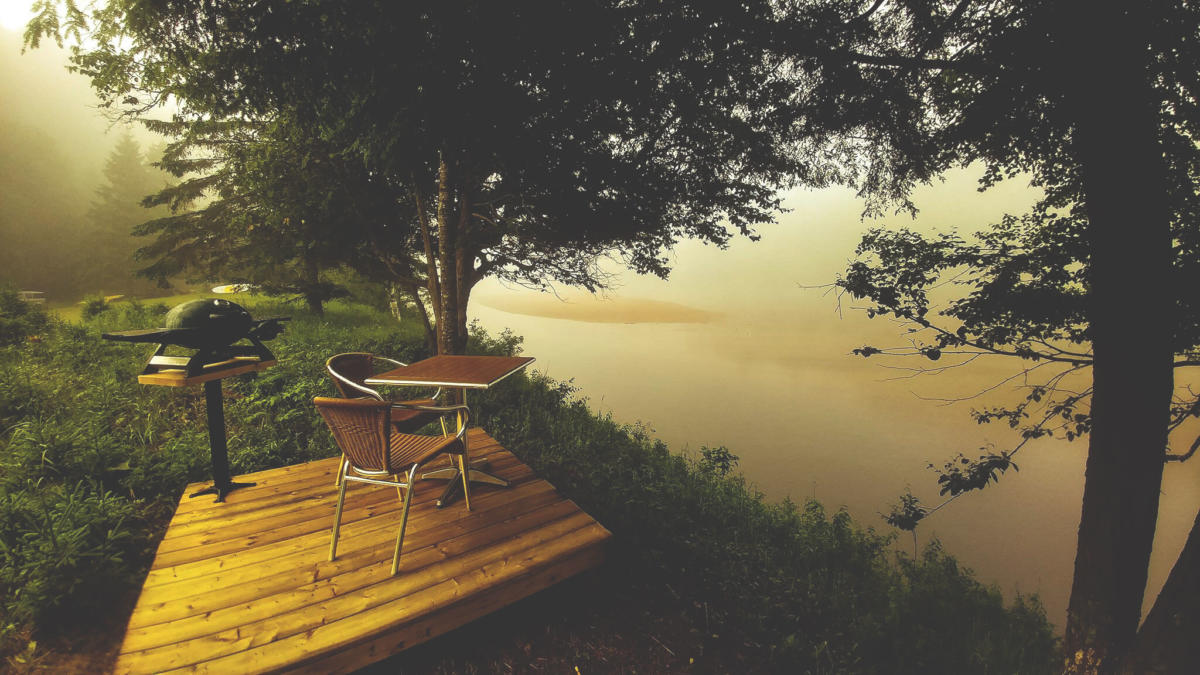 Located in: Labelle
Photo credit: Kayak-Cabana
For those looking to stay in a home that is halfway between a cottage and camper, Shepherd's Hut offers a minimalist living experience. Located on the banks of a river and inspired by the traditional Victorian sheep herder's hut, the accommodation appeals by its simplicity.
Designed for a maximum of two people, the Shepherd's Hut includes a double bed, a mini kitchen and a small dining table, as well as an outdoor rest area. However, it has no electricity and no bathroom (you will find dry toilets nearby and showers at the reception).
9. Le Forestier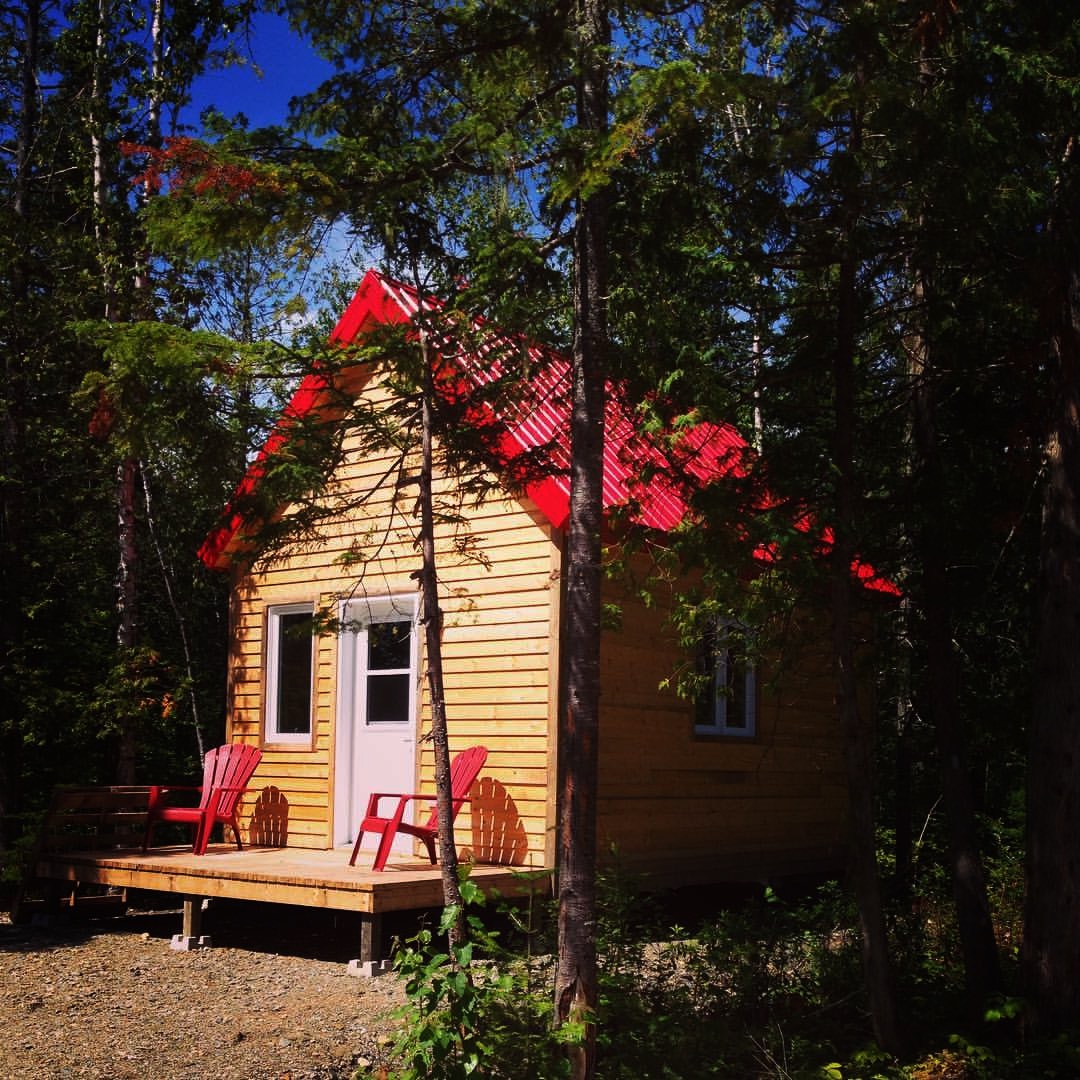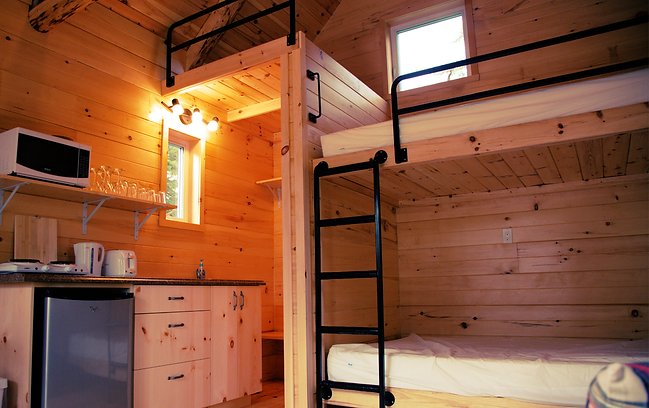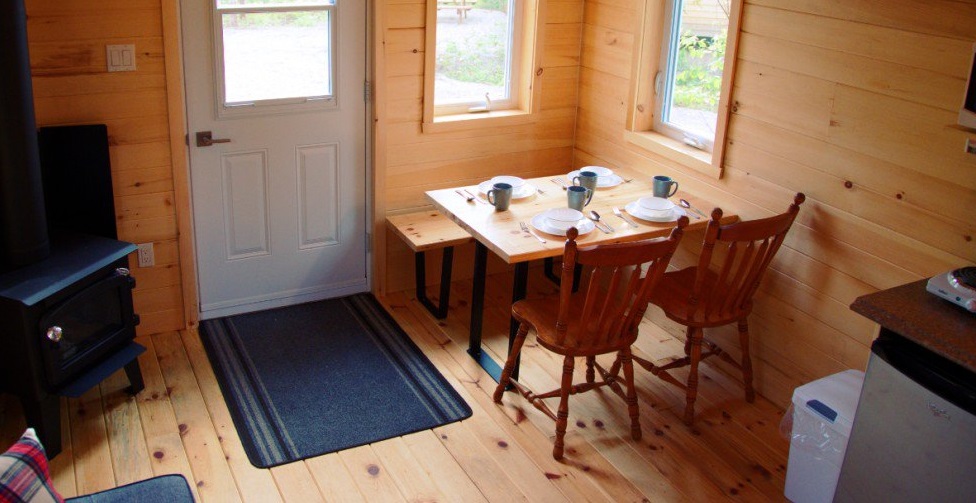 Located in: Sainte-Lucie-de-Beauregard
Photo credit: Micro-Chalets des Appalaches
Entirely built of wood, the interior of this cottage offers a warm and rustic atmosphere. Designed for 2 to 4 people, the dwelling will suit all who love simplicity and comfort.
The micro-cottage includes all the necessary amenities: electricity, toaster, refrigerator, 2 electric rings, kettle, microwave, wood fireplace, etc. You are welcome to bring your pets to enjoy the experience (a maximum of 2 dogs or cats is accepted).
10. A mini cottage on wheels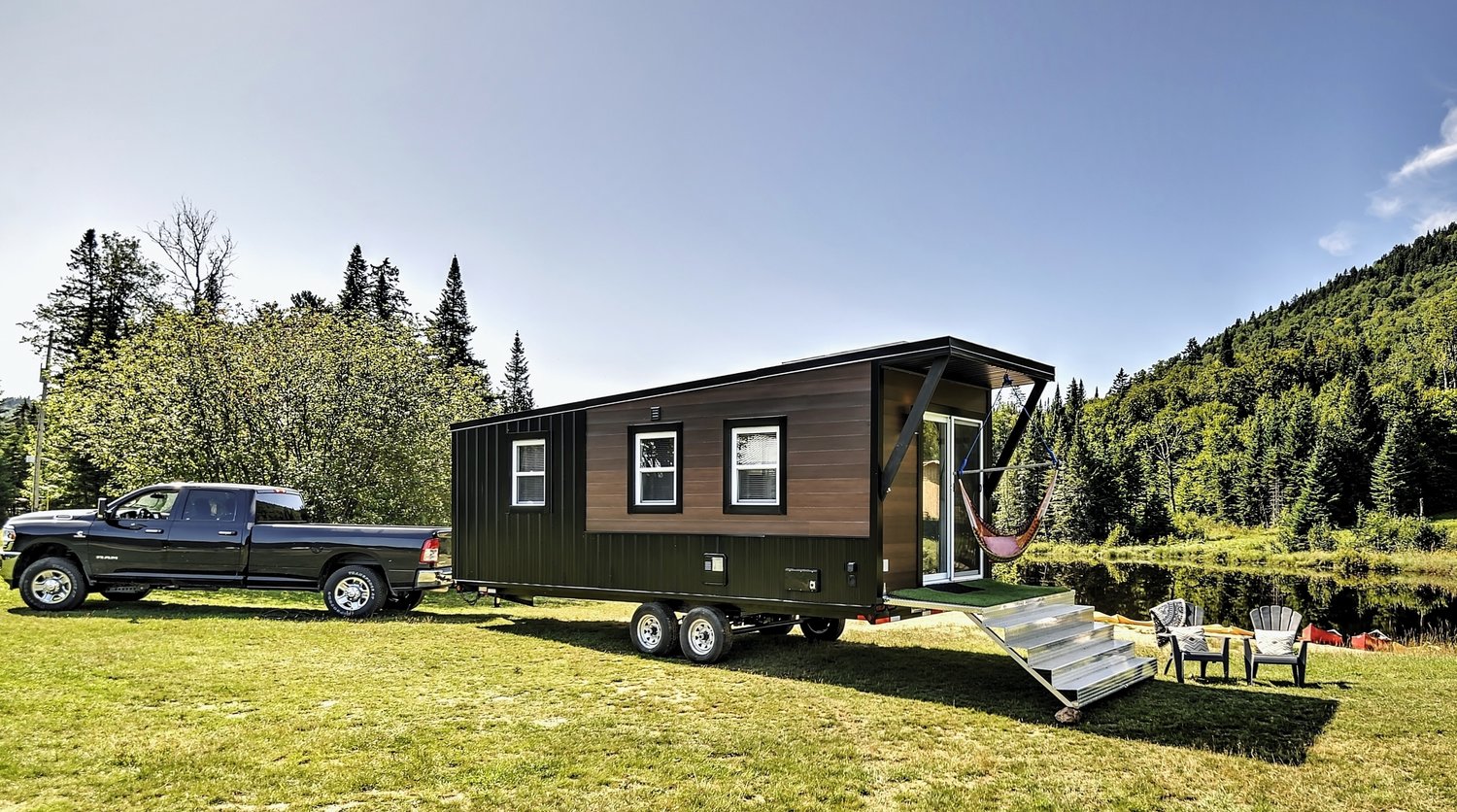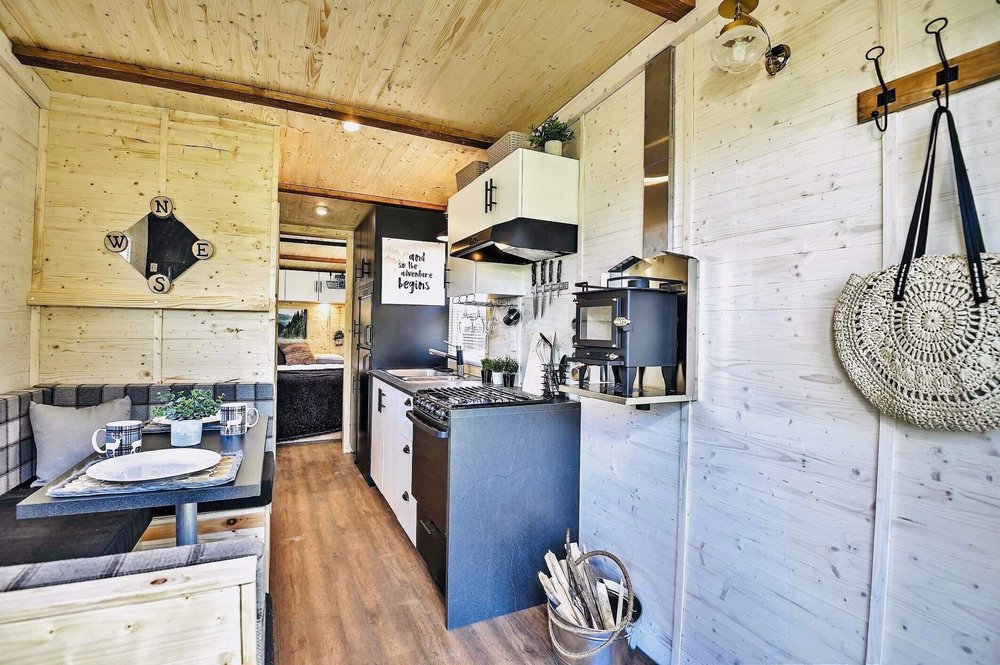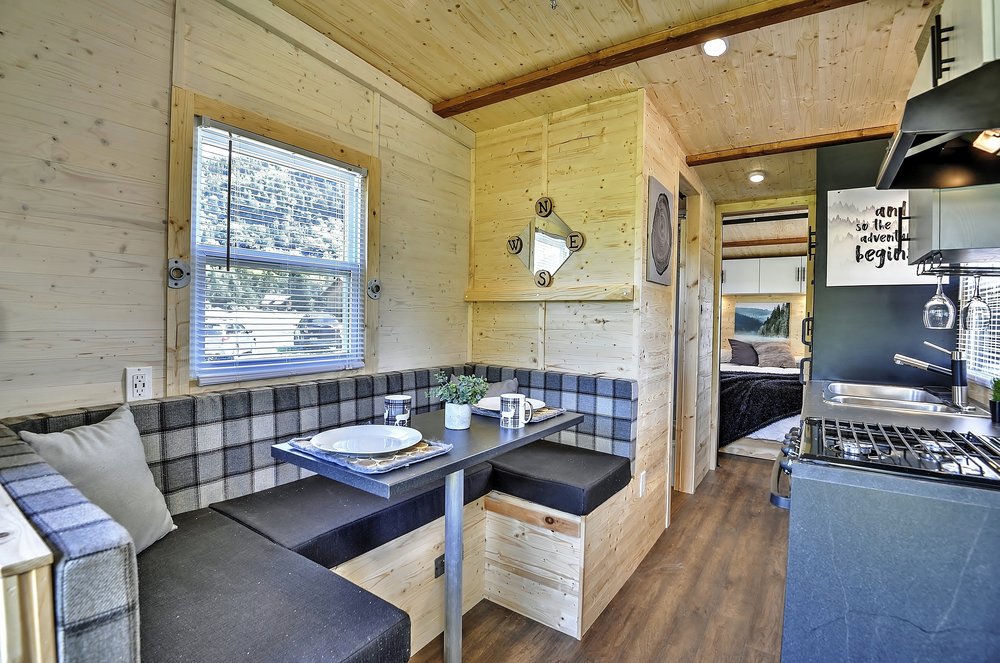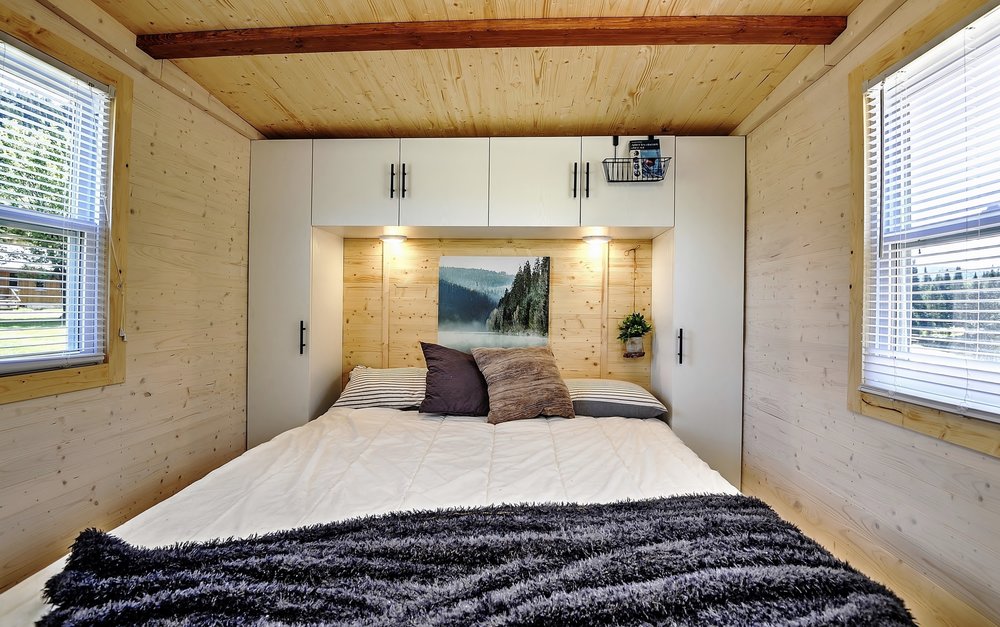 Located in: wherever you want! This is the advantage of being mobile.
Photo credit: Chalets en liberté (Jean Vaudreuil - Photographer)
You long to own a second home, but don't know where to settle? Why not invest in a mobile cottage? Chalets en liberté offers an affordable alternative, halfway between the classic trailer and a mini house, so you can enjoy nature wherever you want, whatever the season.
Combining comfort and contemporary decor, this 8.6 x 24 foot home on wheels can accommodate up to 4 adults. It has a kitchen and a full bathroom and can even be equipped with a washer-dryer duo and a rainwater recovery system (optional).
Looking to buy a mini cottage?
XpertSource.com can help you find a real estate expert. When you tell us about your project, we put you in touch with qualified resources for free. Simply fill out our form ( it only takes a few minutes ) and we will connect you with professionals.
Do you want to be put in touch with real estate professionals and get quotes? Contact us at 1 833 203-7768
---
---
Find the professional you need
Find your real estate professional by filling out the short form