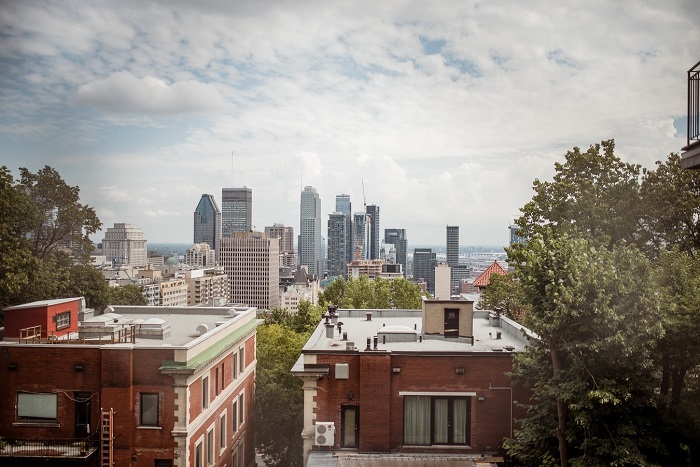 10 beautiful condos and town houses in Montreal
In the central areas of Montreal, many people live in condos or townhouses. This type of residence is adapted to the densely populated areas where developers tend to build high-rise structures and will use any land available.
Most condos and townhouses are smaller than typical single-family homes. Therefore, the layout must be created with the goal of maximizing the use of each room, the inclusion of storage and the access to exterior spaces (balconies, backyards, rooftop terraces).
In this list, you will find 10 condos and townhouses that have been created to ensure a good quality of life to the occupants. Our first observation: the homes that are presented in this article have nothing to do with the cold and mundane boxes that we often associate with condo developments found all around the city. Instead, these examples demonstrate a clear concern for the creation of bold and pleasant home designs.
1. Griffintown Penthouse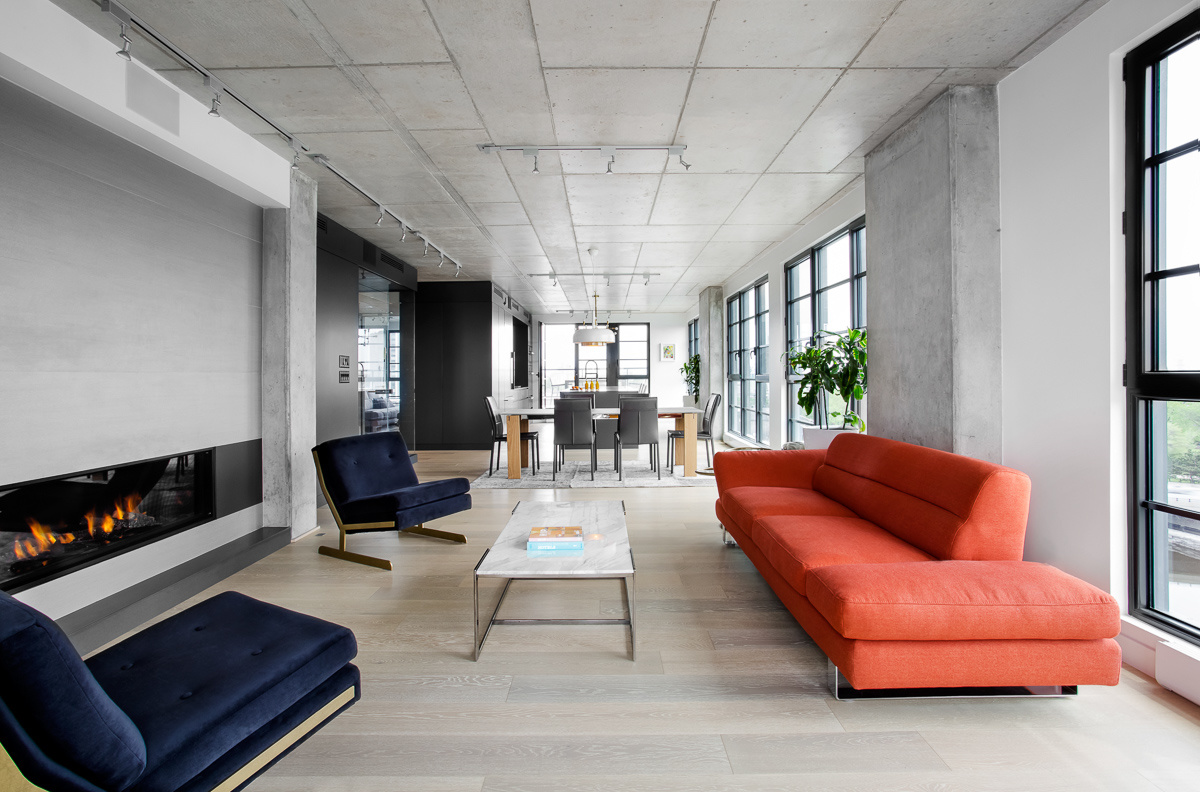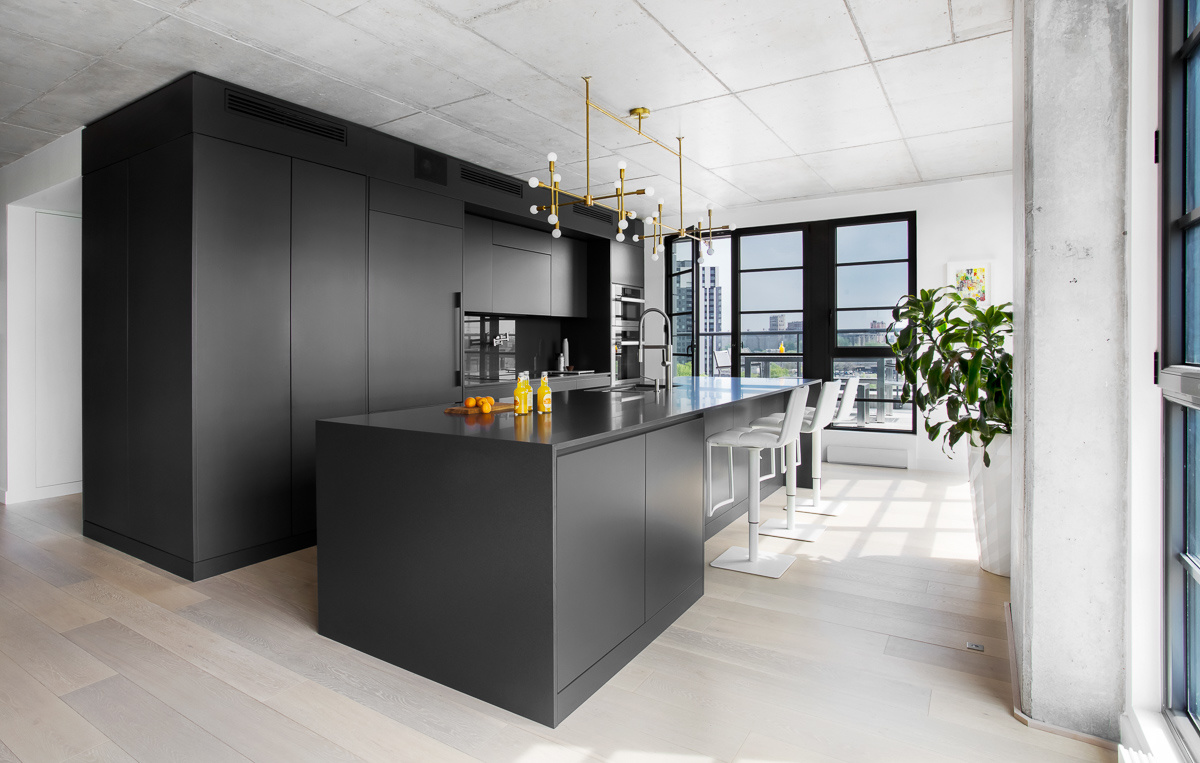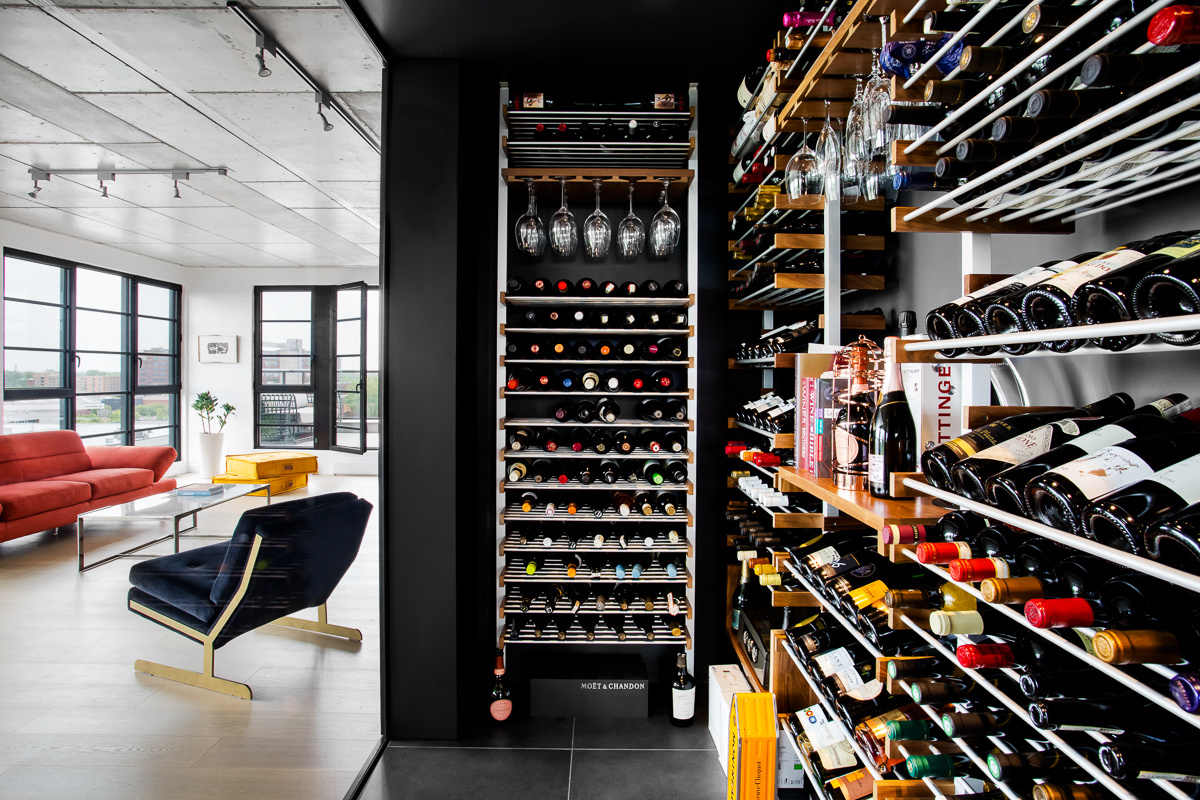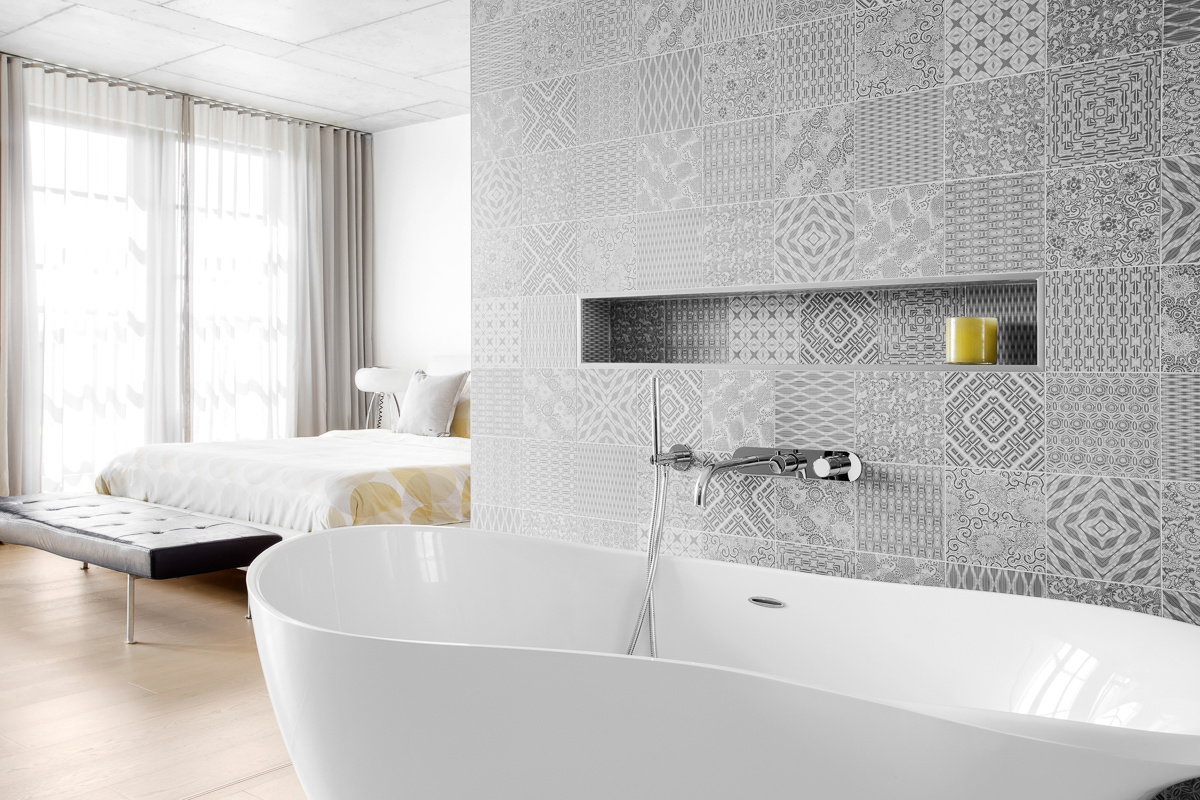 Architecture firm: MXMA
Located in: Griffintown
Construction year: 2016
Photo credit: Drew Hadley
We're starting things in a big way with a penthouse that is located in the dynamic neighbourhood of Griffintown, near the Lachine canal. The first thing that catches our attention when looking at the photos of this condo is the fact that there are so many floor-to-ceiling windows. These windows allow us to observe different facets of the Montreal landscape.
The layout is based on an open concept, but the sections are well defined. With an amazingly well-designed mix of textures and shapes, the architects were able to create a modern, luxurious and welcoming home!
2. LH Home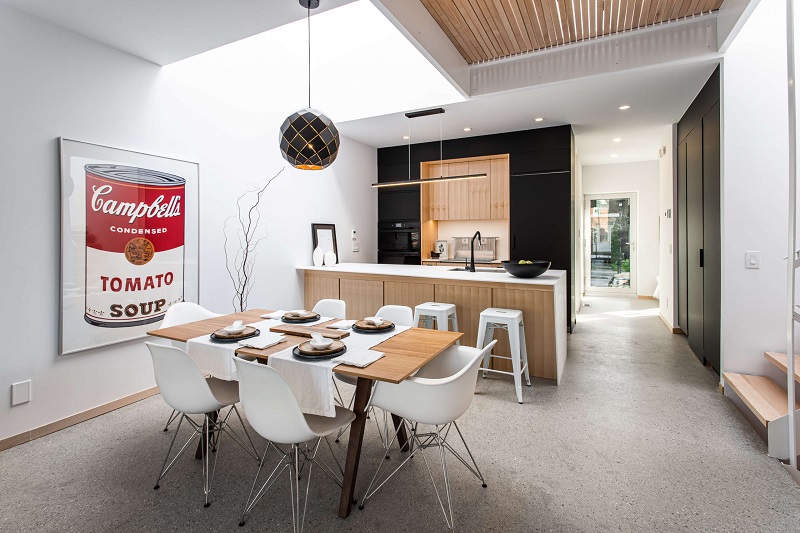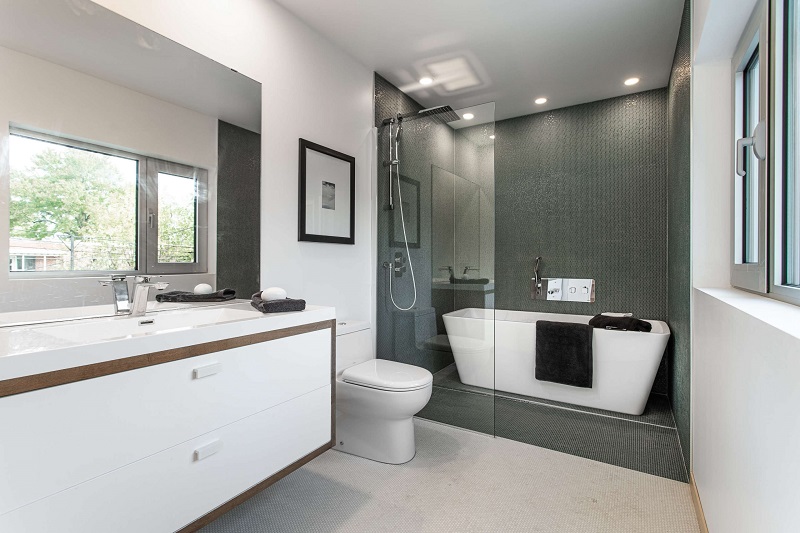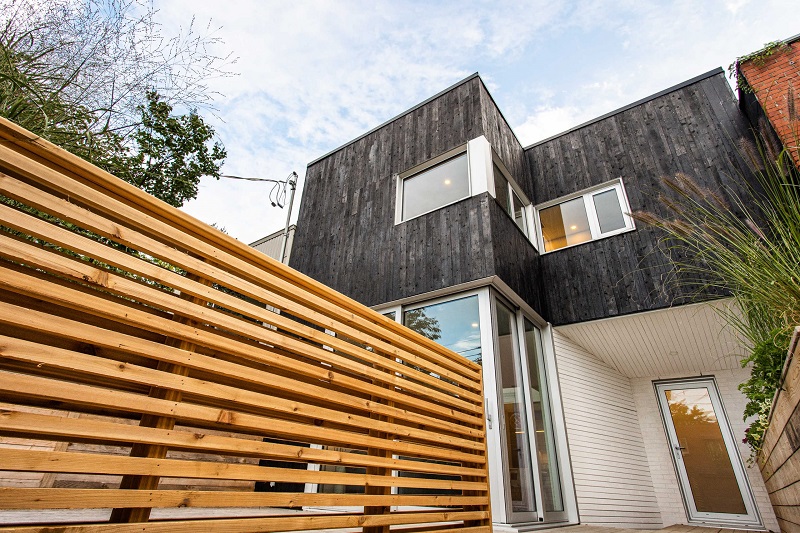 Architecture firm: Fugère Architecture
Located in: Montréal
Construction year: 2019
Photo credit: Félix Audette
The kitchen in this townhouse could have been very dark, but the designers were able to maximize the amount of natural light that comes in, whether through the roof or through the wooden bars that are not entirely closed.
These smart layouts are also found in other areas of the home, such as the living room or the bathroom, where a high window creates a room that offers privacy but is not closed off.
3. De Gaspé Project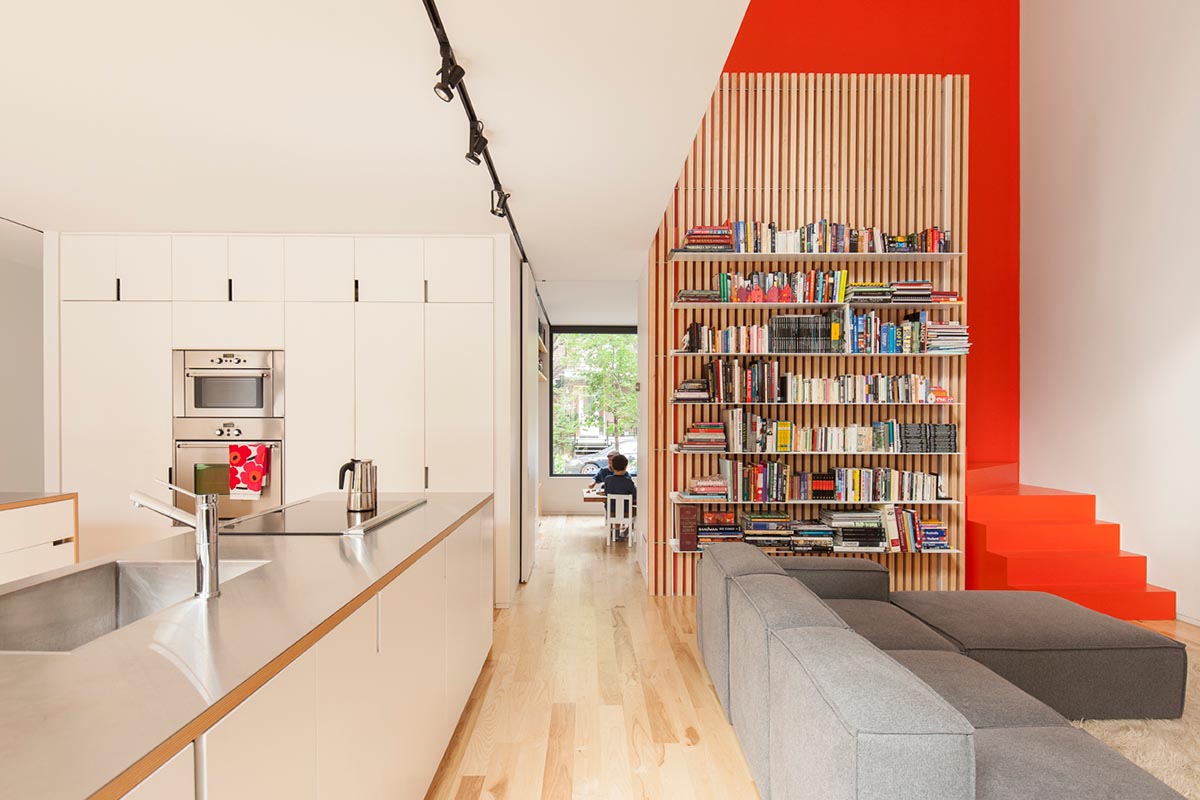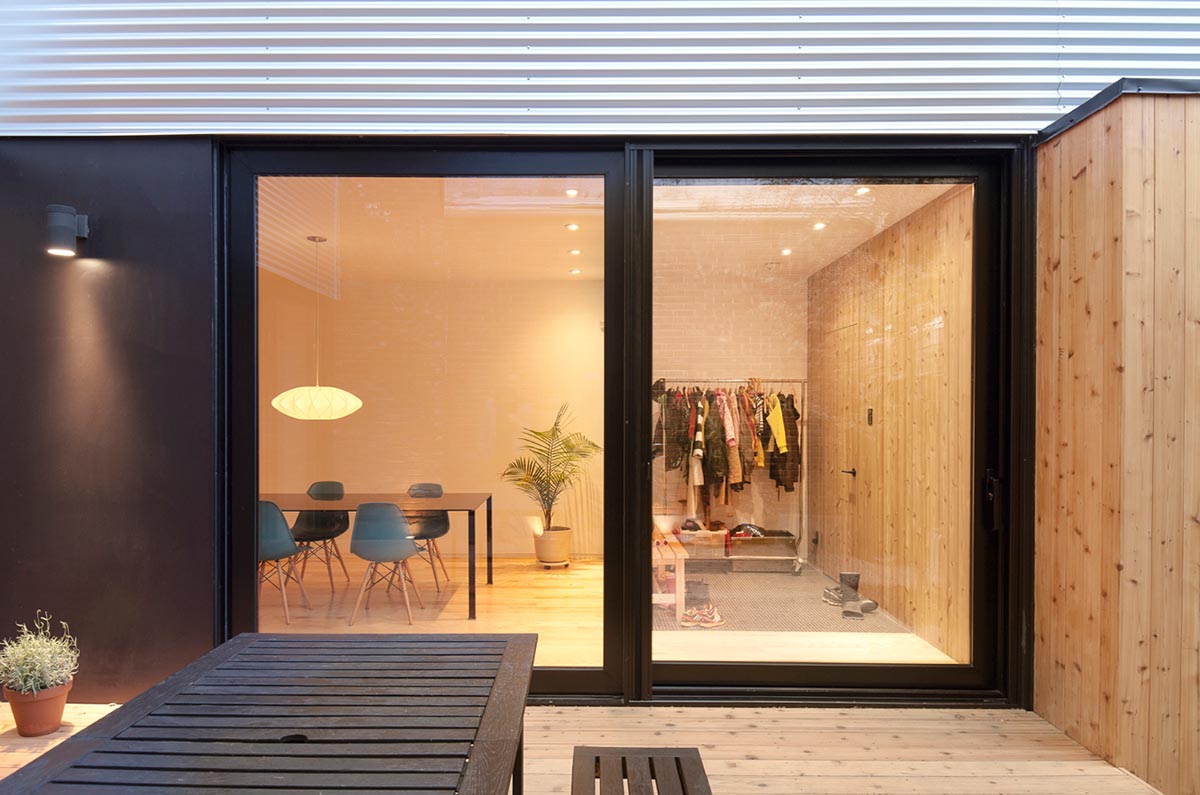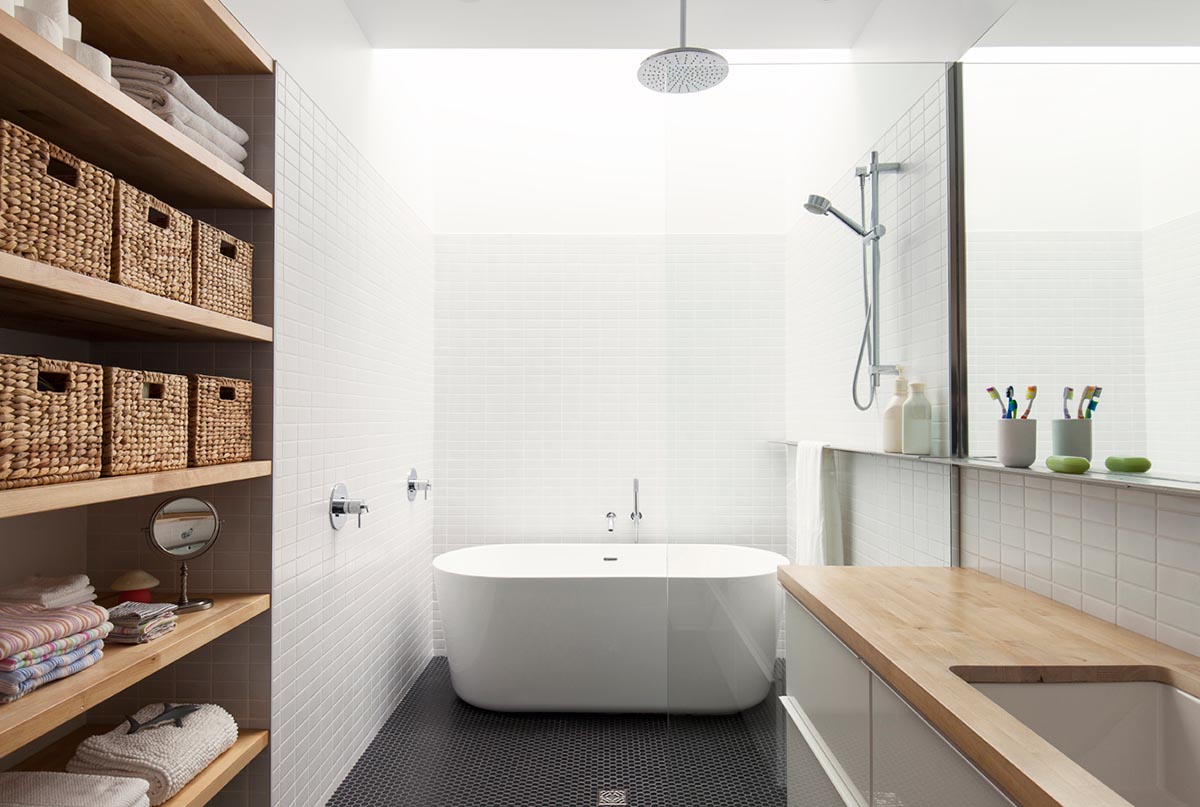 Architecture firm: La Shed
Located in: Montréal
Construction year: 2014
Photo credit: Maxime Brouillet
We've already cited the projects of La Shed in other articles of this series about the most beautiful homes in Quebec. This firm stands out with layouts that are clever and original. Their signature style often includes striking touches of colour, optimized storage systems and a strong focus on quality materials such as wood.
In this lovely family home, the red stairwell is what first attracts our attention. Next, we notice other interesting details such as the bookshelf that is integrated within a structure made of wood strips and a double island in the kitchen.
4. Mentana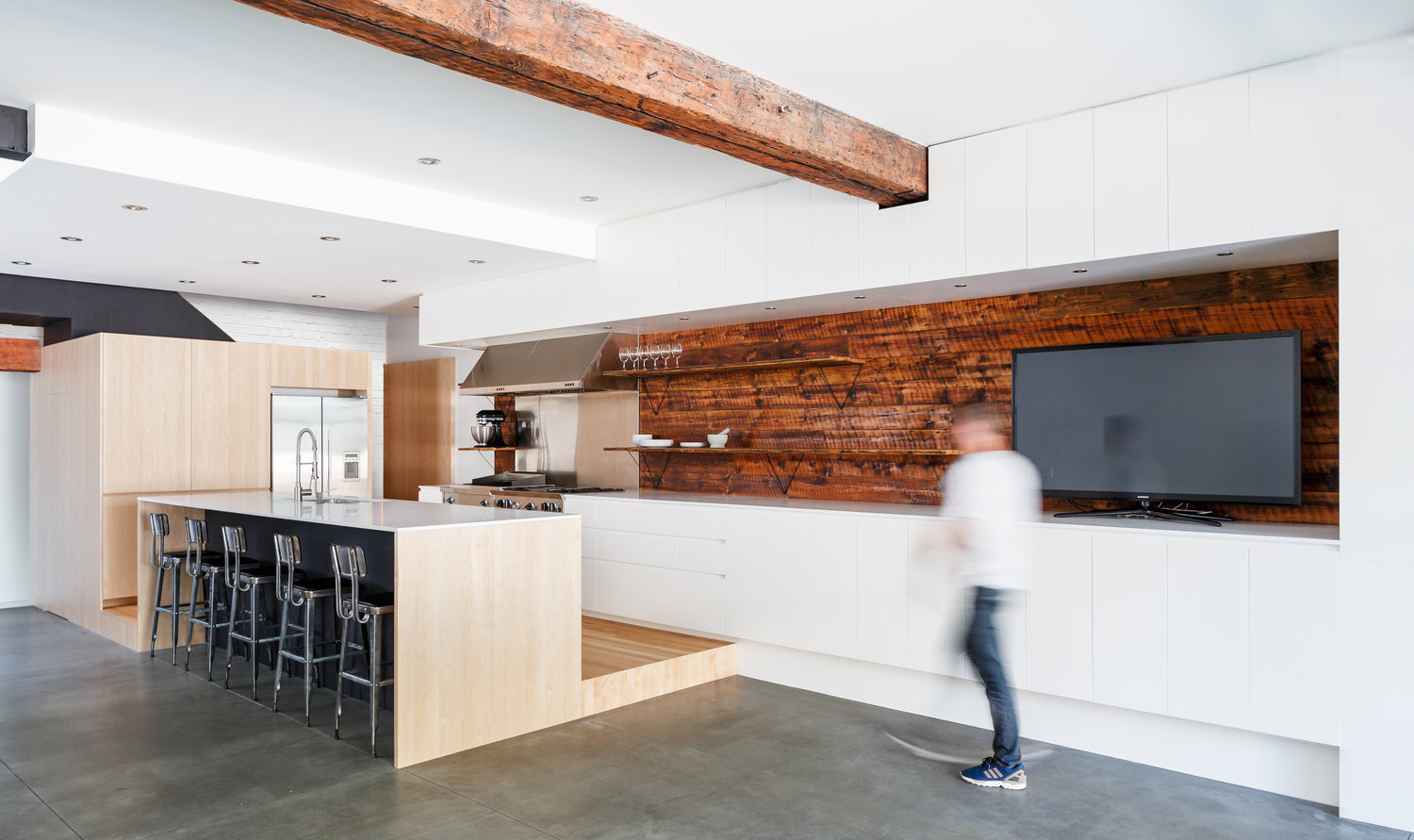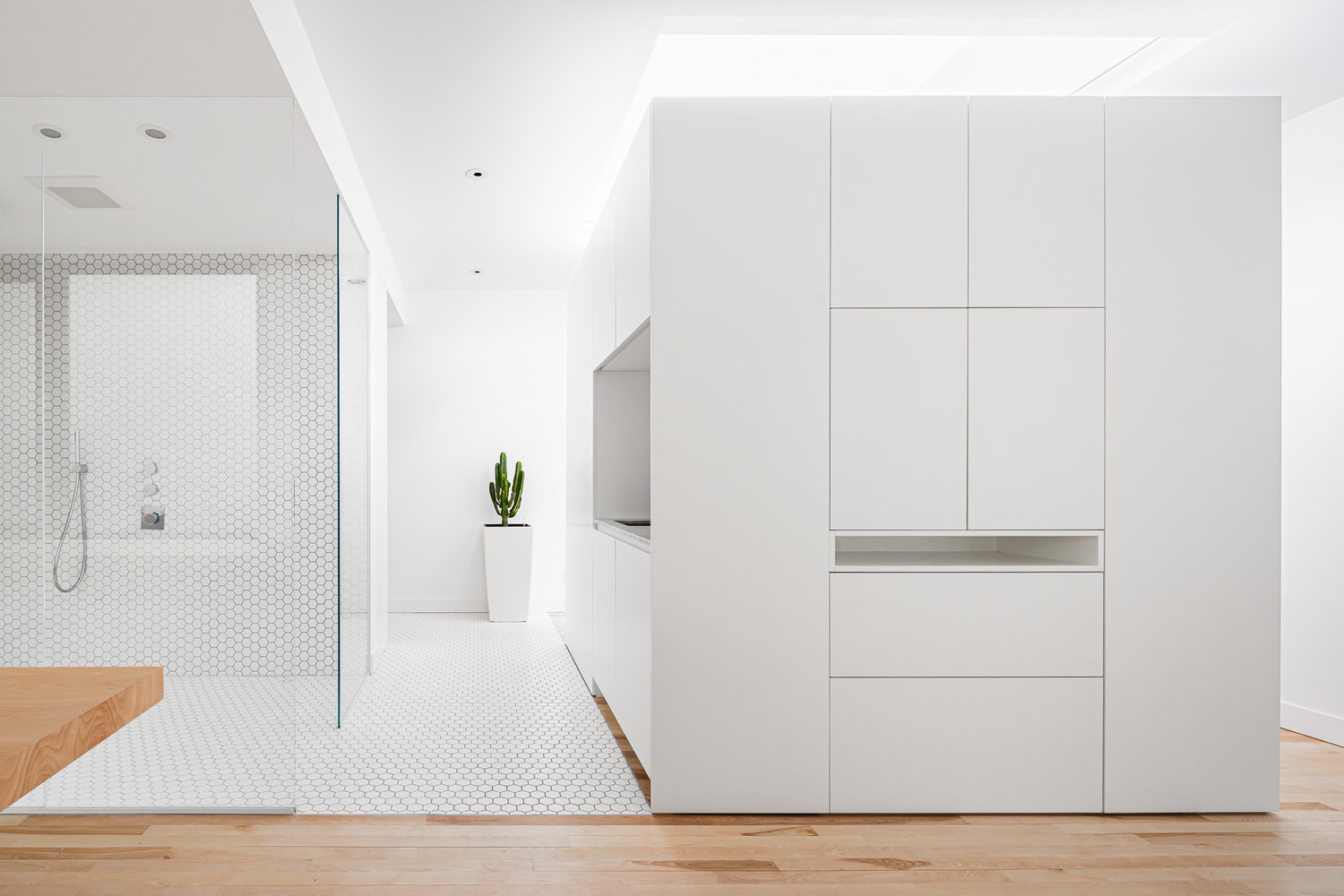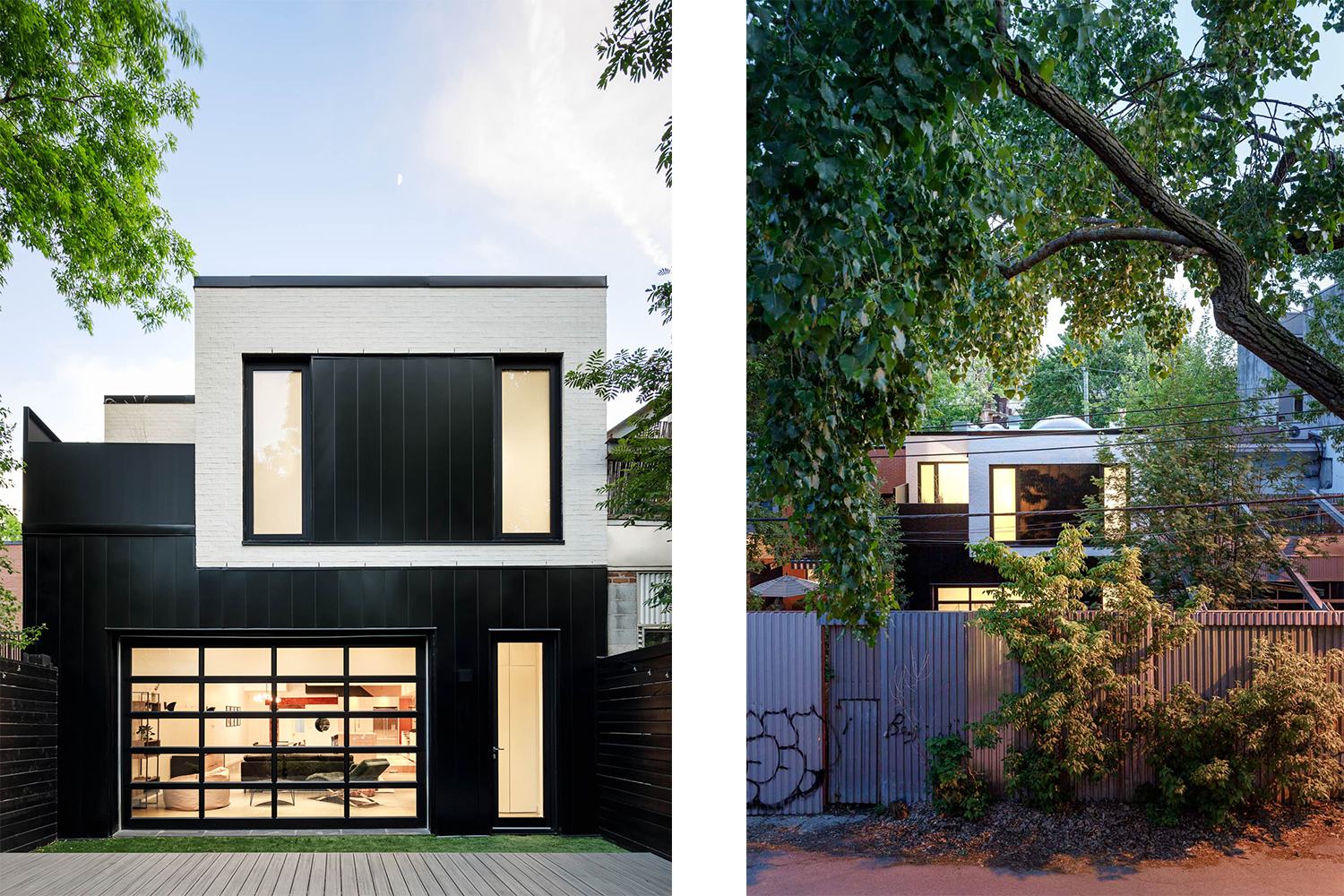 Architecture firm: La Firme
Located in: Plateau-Mont-Royal
Construction year: 2014
Photo credit: Ulysse Lemerise Bouchard
Before it was transformed into a home extension by the architects, this space was a metalworking shop. The project, which was rolled out in several phases, is quite interesting!
The surprising combination of pale, immaculate wood with a wall covering material that is made of a dark wood where the imperfections are left on display is a sight to be seen! We find the result very eye-catching.
5. Grosvenor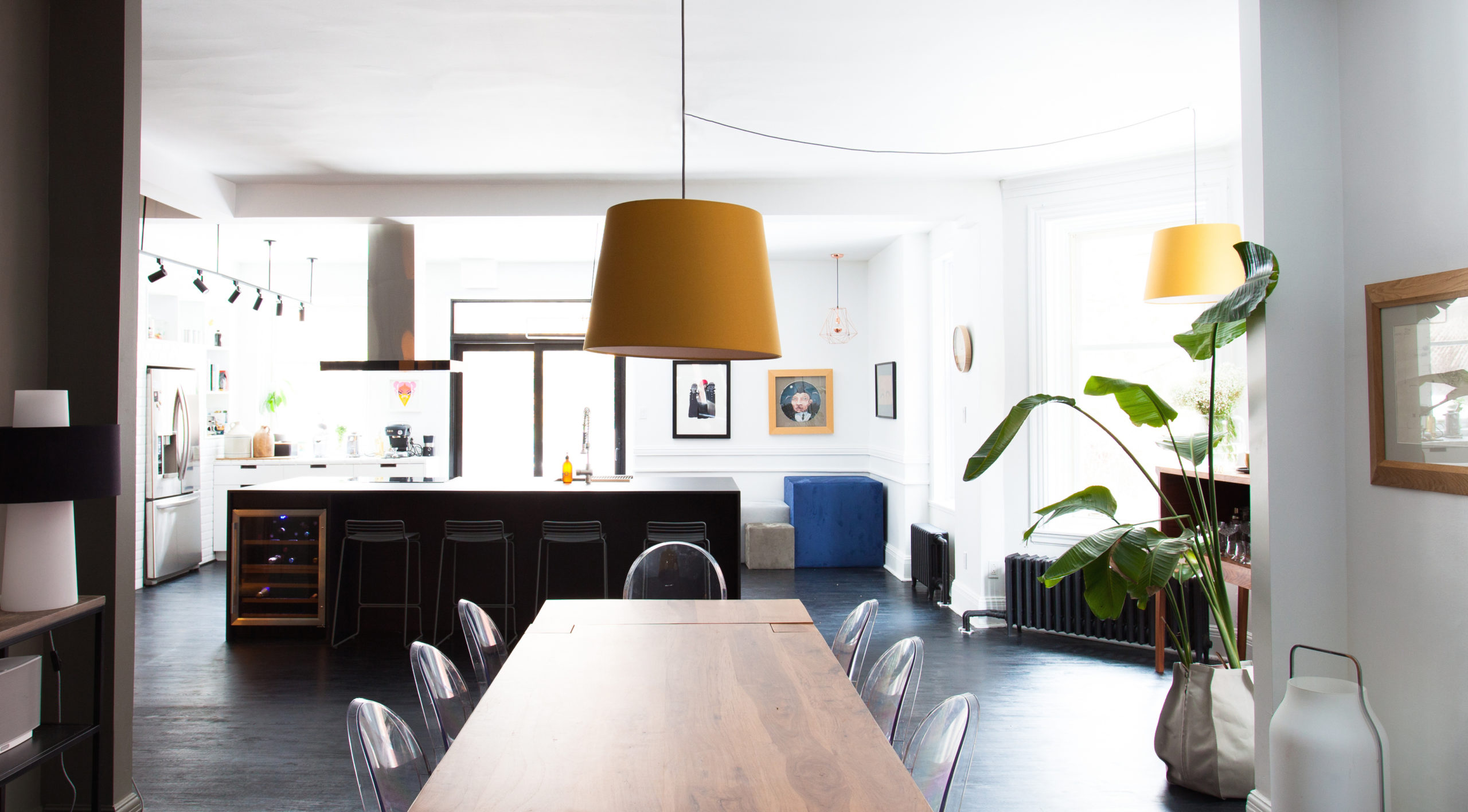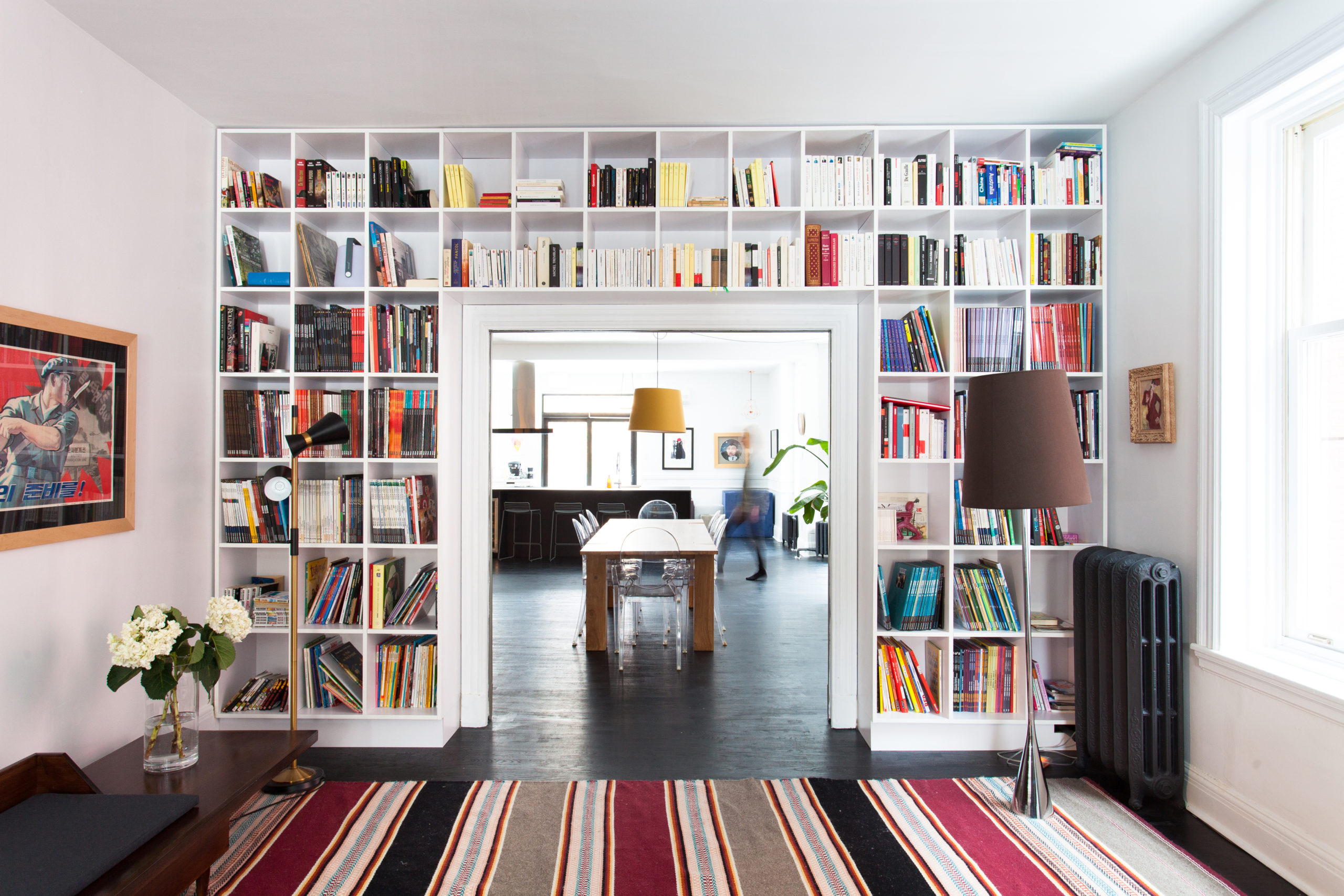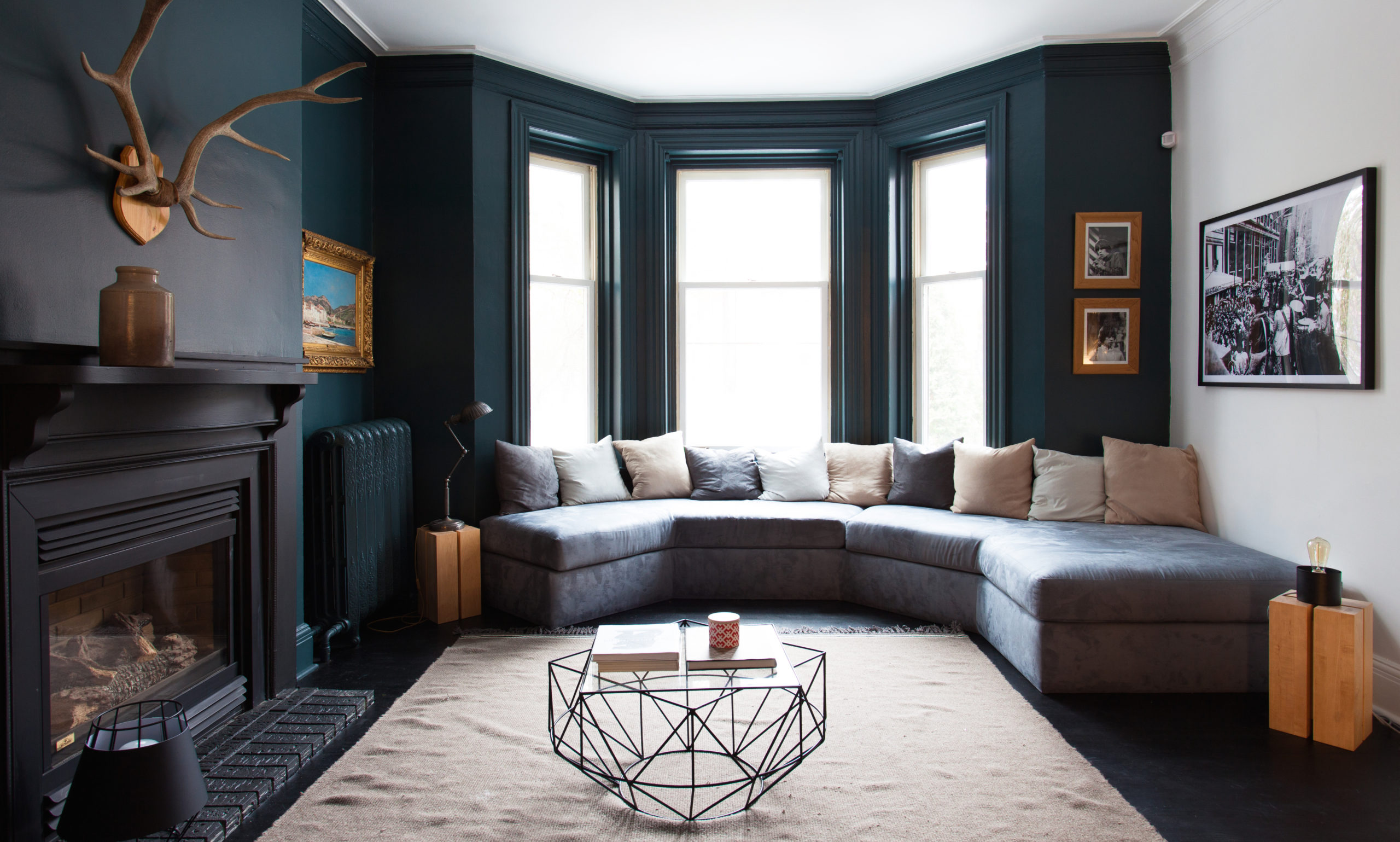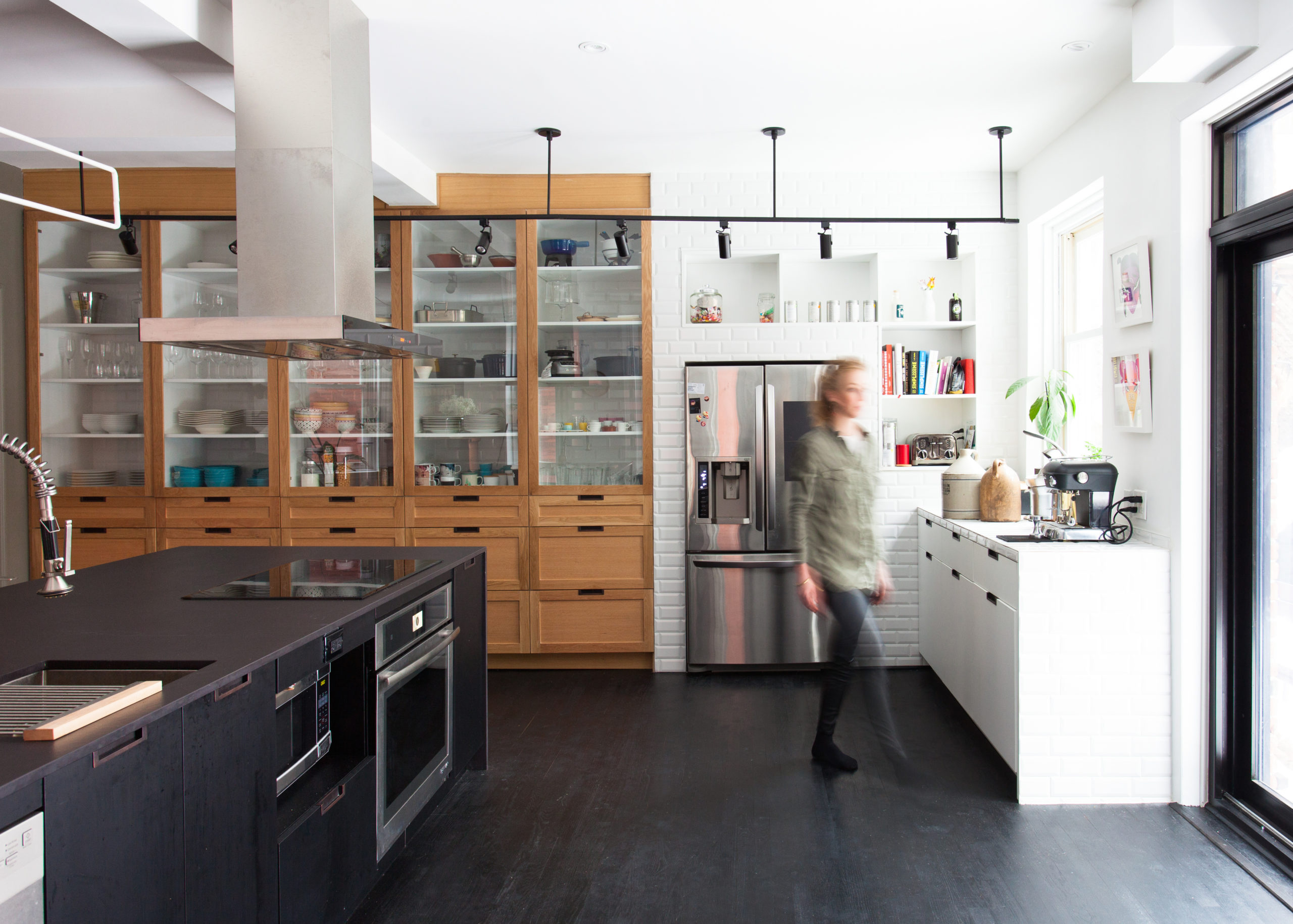 Architecture firm: Camille Daher
Located in: Westmount
Photo credit: Francis Pelletier
It appears that before this home was designed with an open concept, it had been arranged in a much less efficient manner. The owners are parents with several kids and they wanted to create a home that is more welcoming and practical. They are lucky to have a huge kitchen, which is not common in urban residences.
The other rooms in the home have been divided to create privacy for each of the occupants, but there are smartly designed openings meant to avoid the creation of areas that are overtly closed-off. This is an interesting characteristic to think about when looking for a condo or a townhouse.
6. ORO Condominiums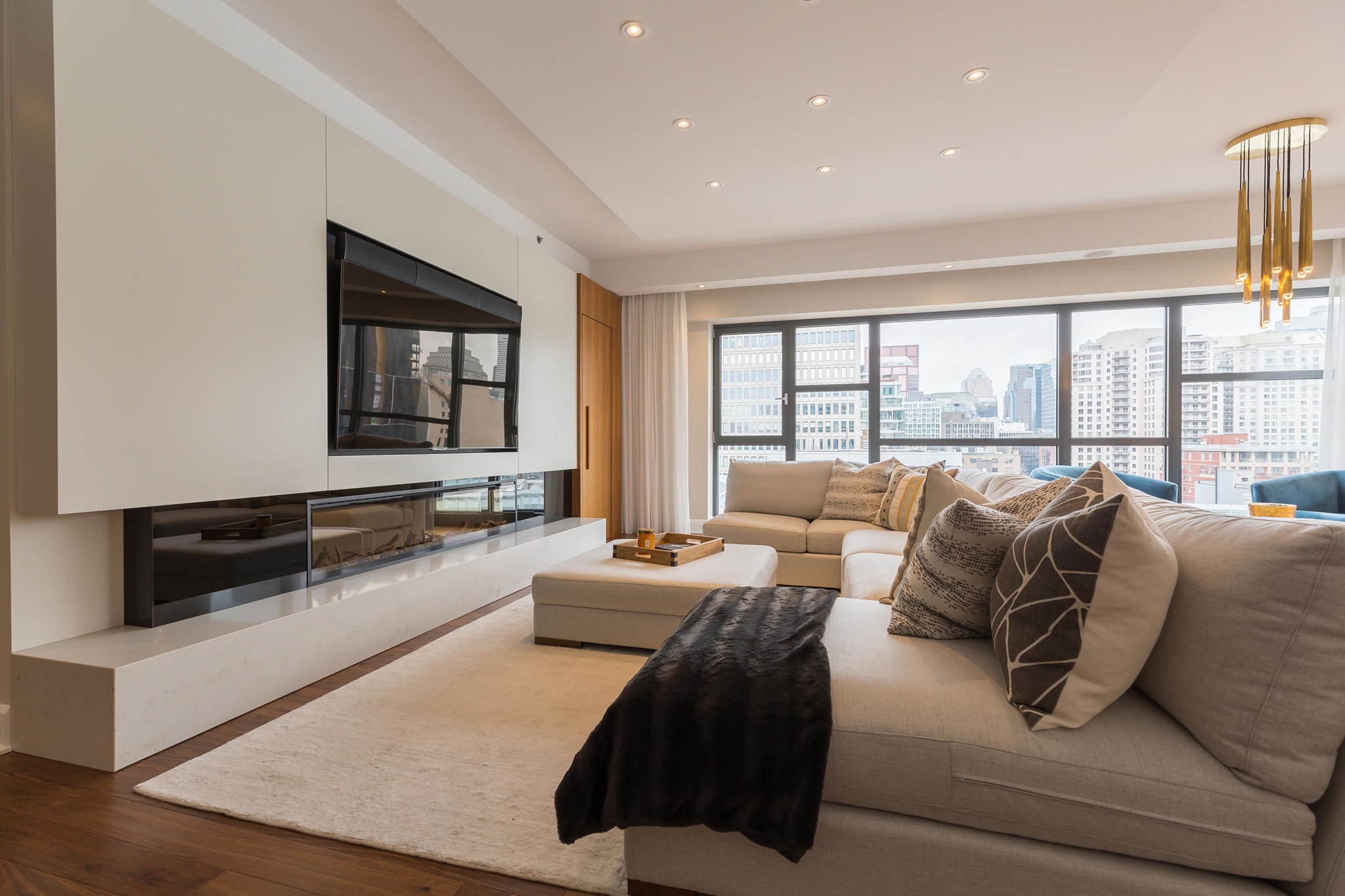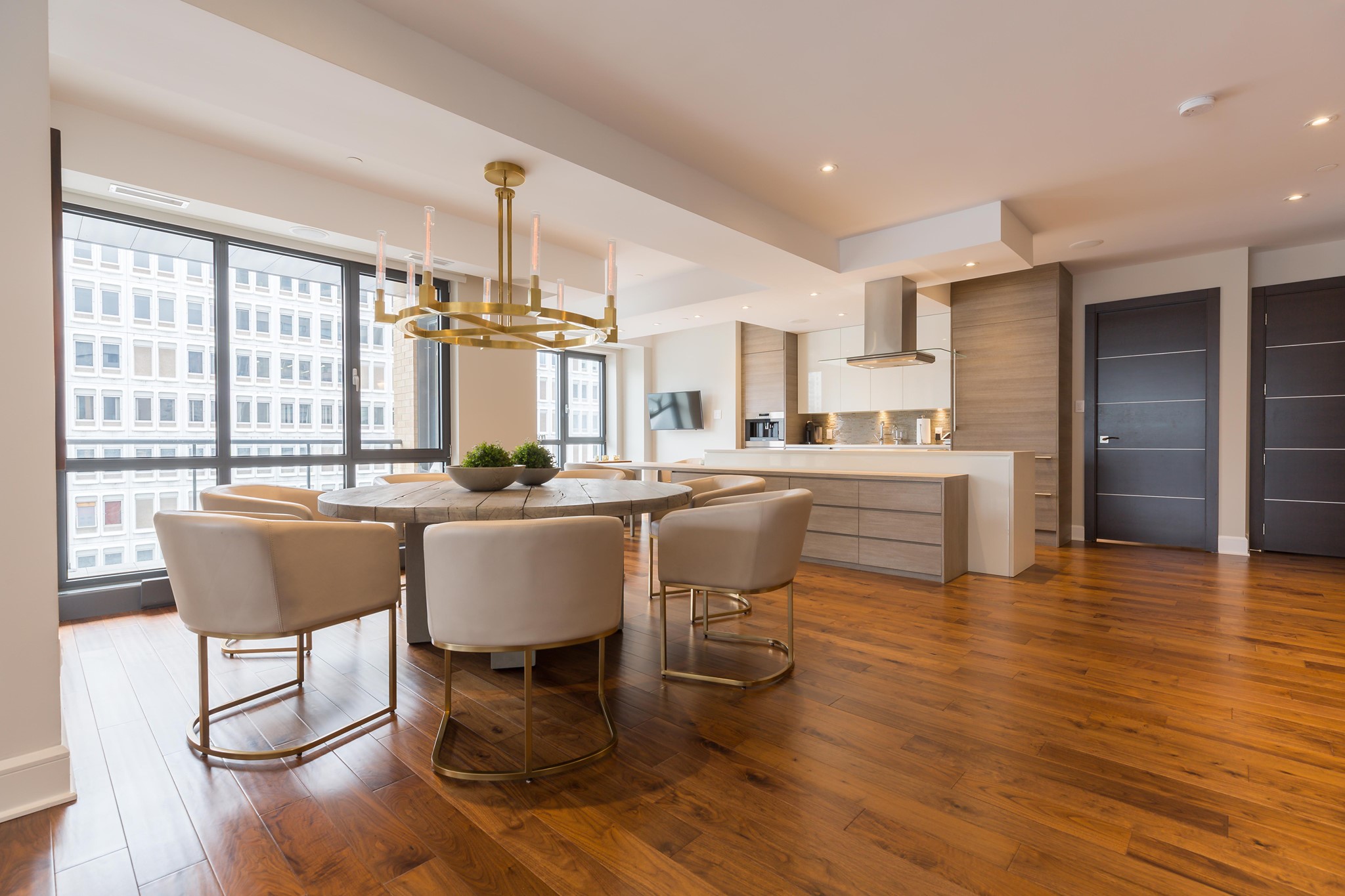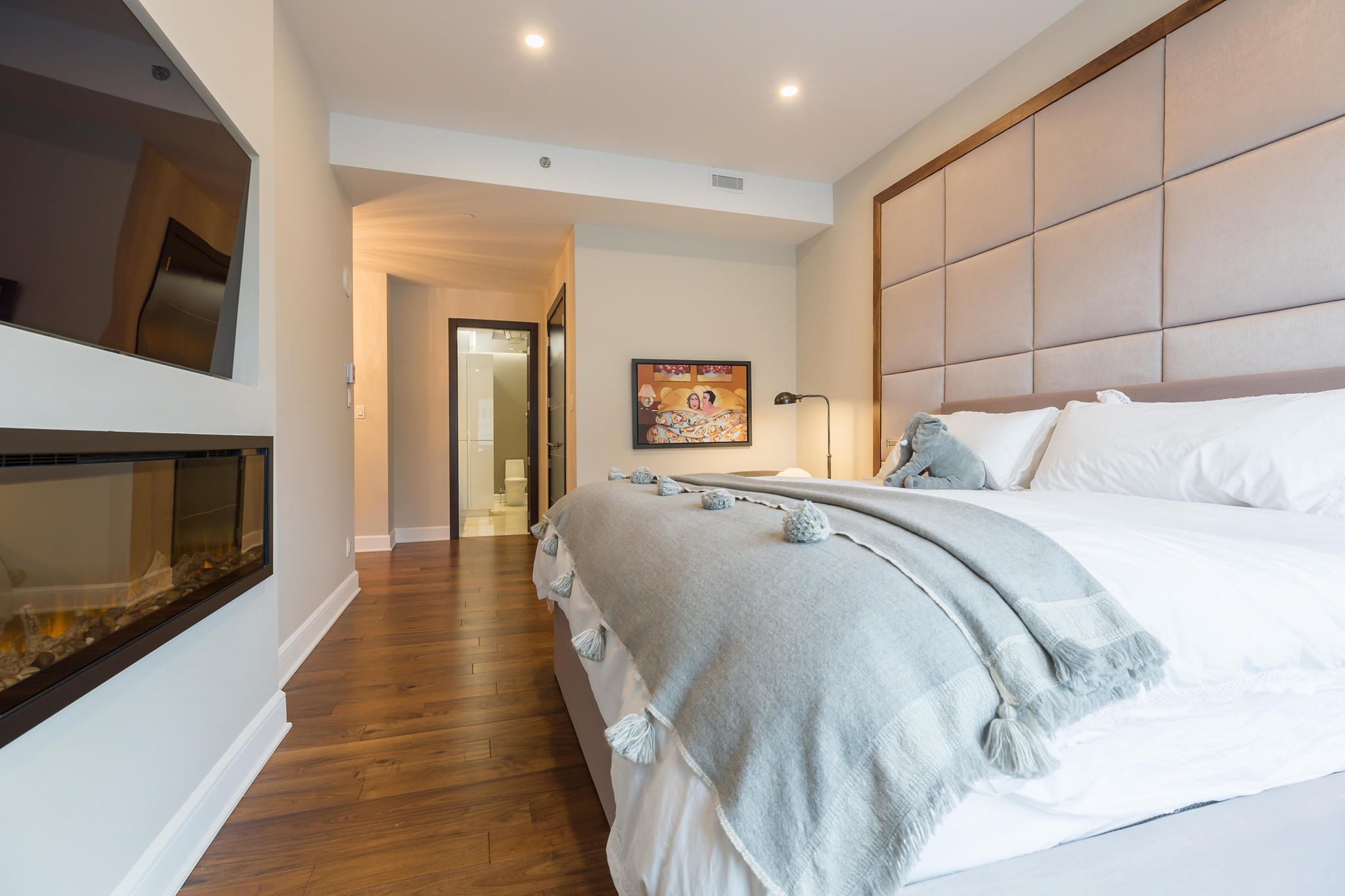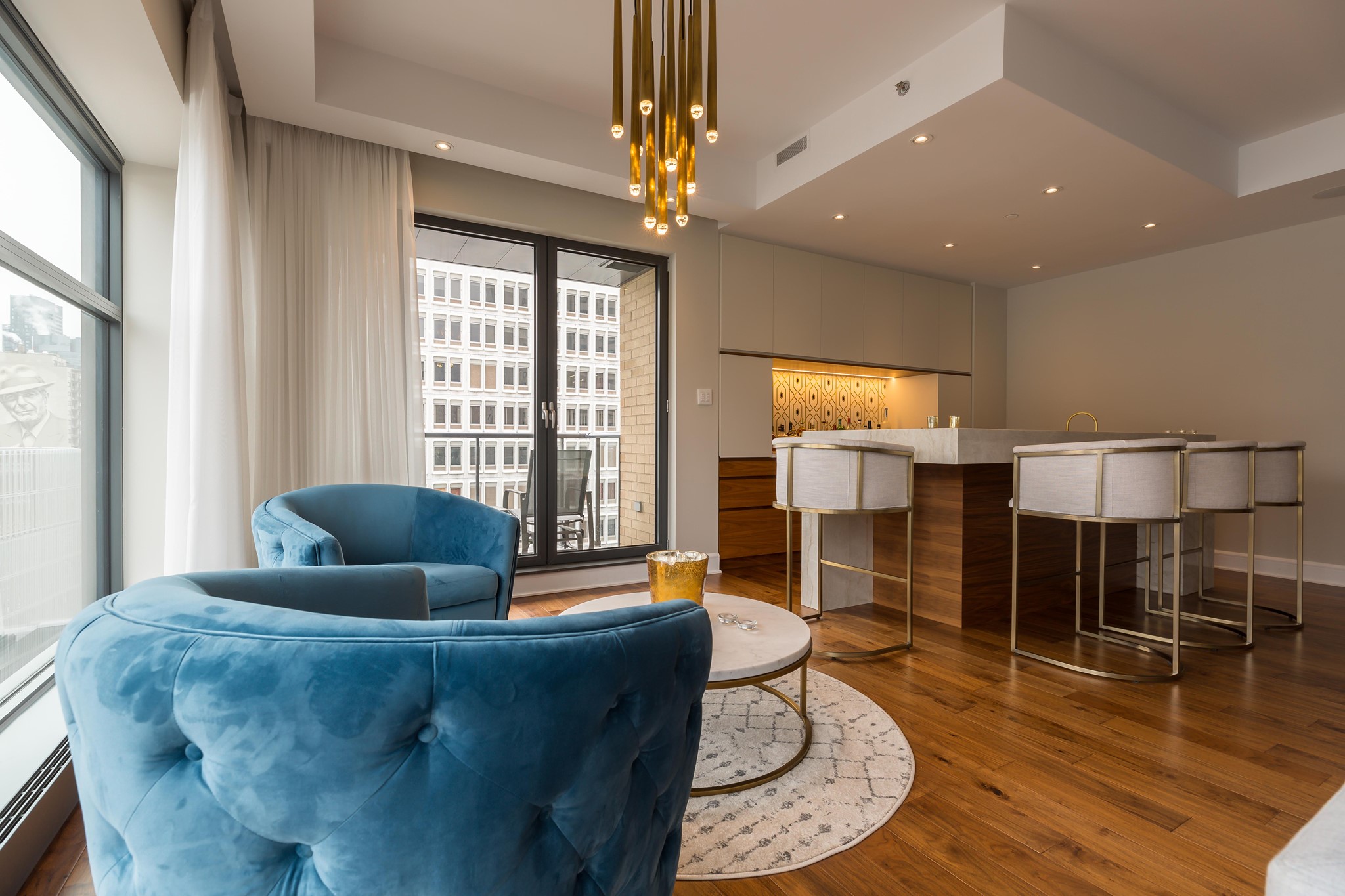 Architecture firm: Ghoche Architects
Located in: Golden Square Mile
Construction year: 2016-2017
Photo credit: Ghoche Architectes
This condo has a classic but strikingly beautiful layout. Once again, the open kitchen helps to create a space that is open and airy. The main bedroom is worthy of the most beautiful hotels and the living room is so cozy that it promises relaxing moments, far from the hustle and bustle of the city.
7. Y-C residence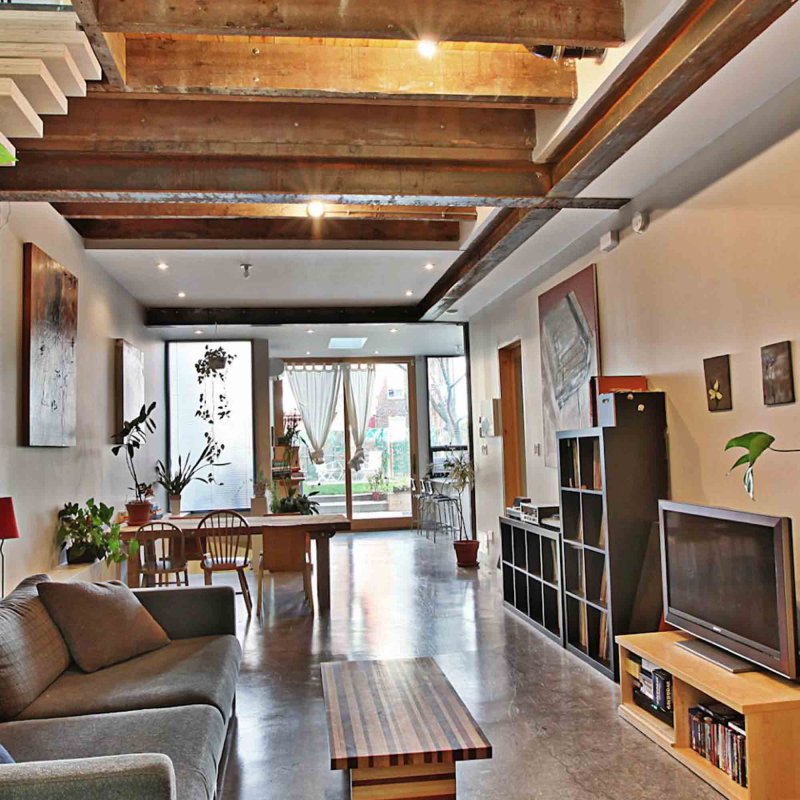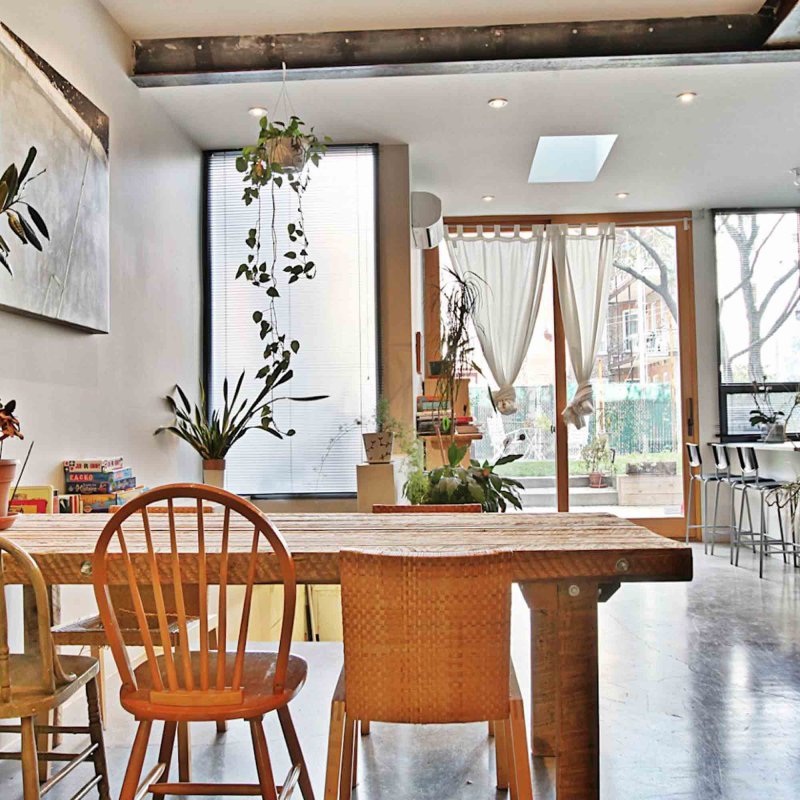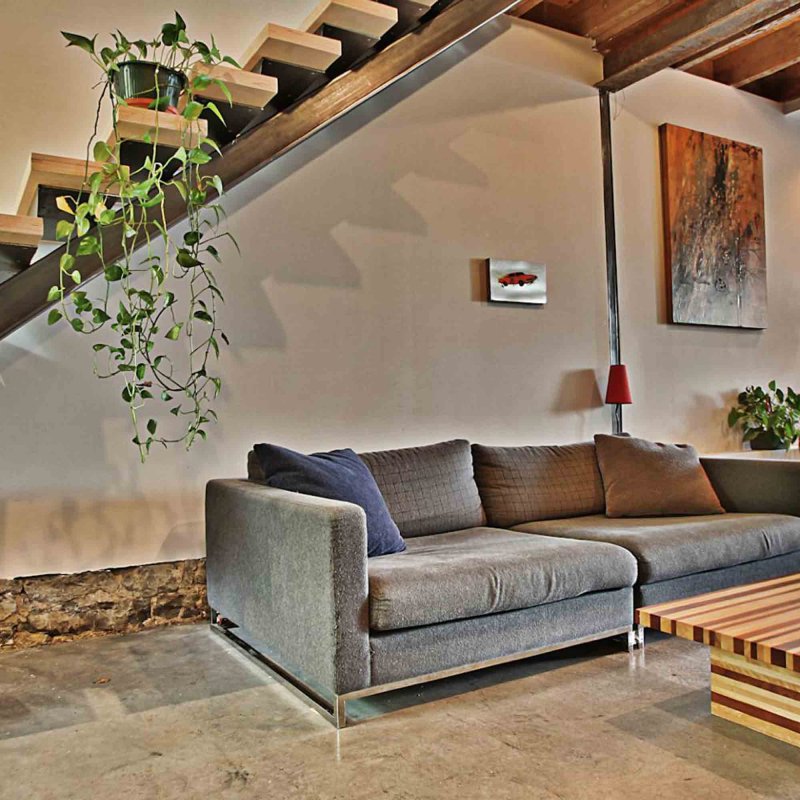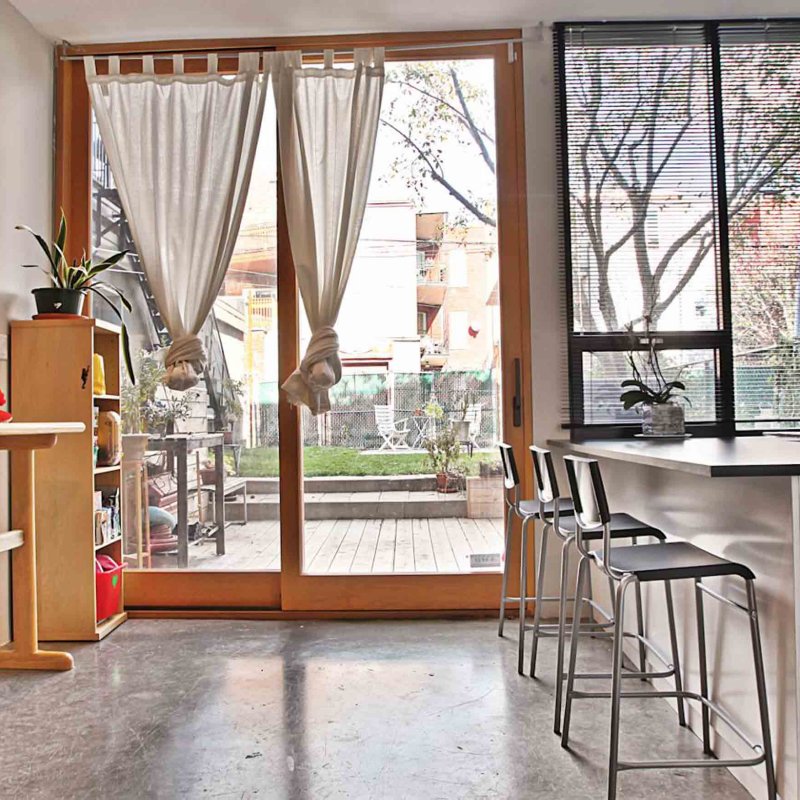 Architecture firm: FABRIQ architecture
Located in: Montréal
Photo credit: FABRIQ architecture
Creative, bohemian, welcoming: here are a few words that come to mind when describing this townhouse which was designed by the FABRIQ architecture firm.
This is an unconventional home, with a perfect blend of rustic, modern and industrial styles. Raw materials are in the spotlight, with wooden beams in the ceiling and cement floors where the imperfections have not been concealed (on purpose).
8. Elmwood Home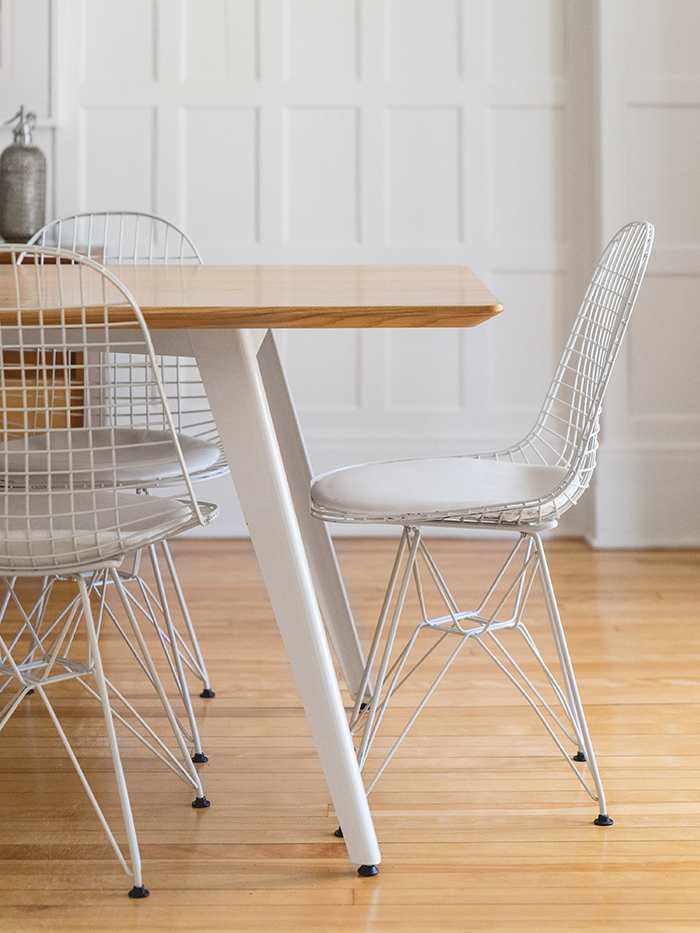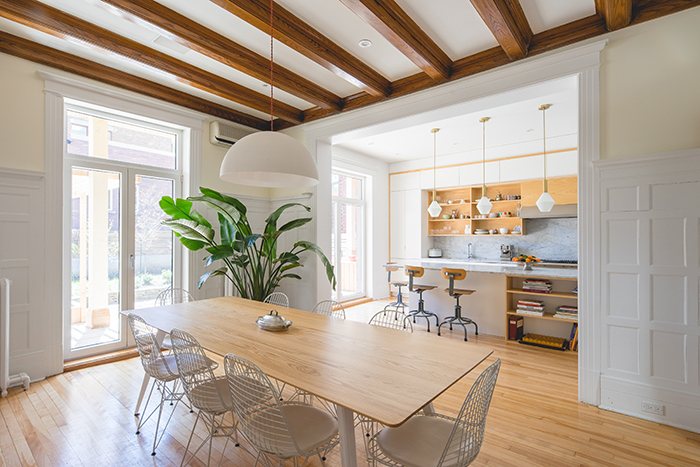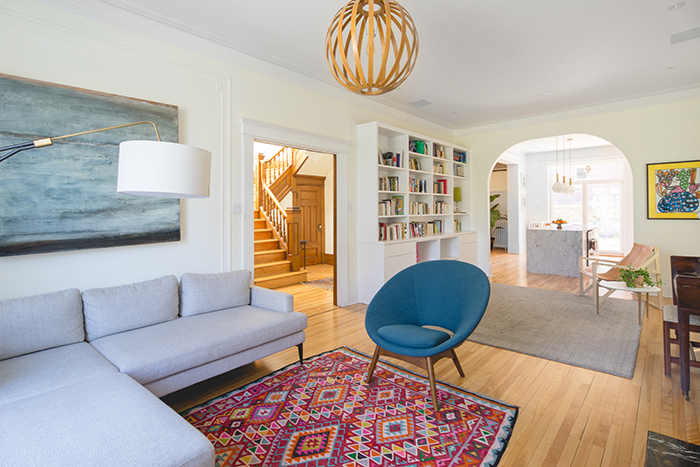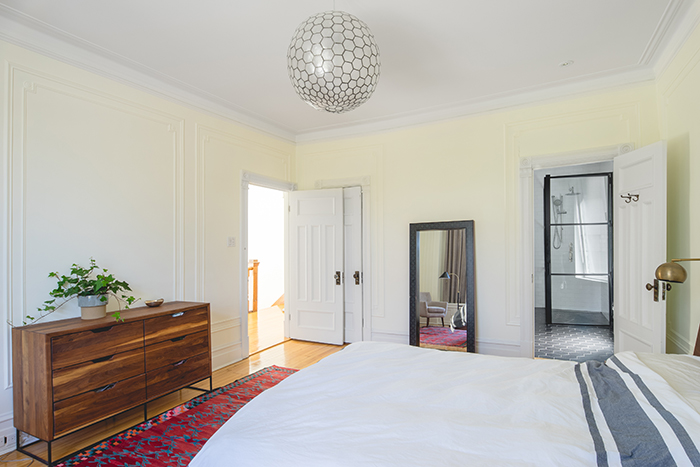 Architecture firm: Bipède
Located in: Outremont
Photo credit: Raphaël Thibodeau
What first attracted our attention when discovering this beautiful home is the impeccable transition between the dining room and the kitchen. The house is full of classic but timeless architectural details, such as the wood beams on the ceilings and the arch that splits the two rooms.
Bipède, the firm that carried out the transformation project, aimed to optimize the configuration of the home. They were able to integrate a lot of storage and update the decor, all while respecting the original structure.
9. Cours Le Royer Loft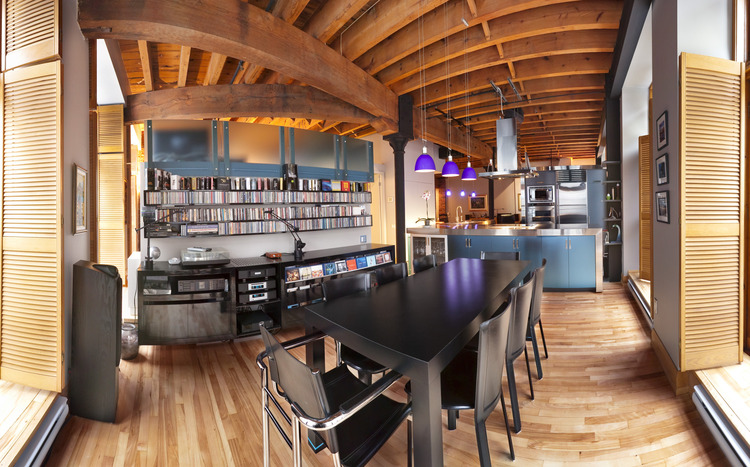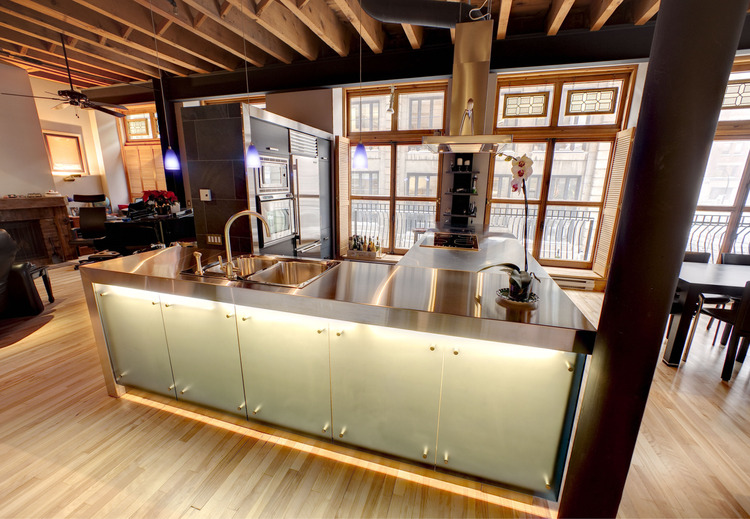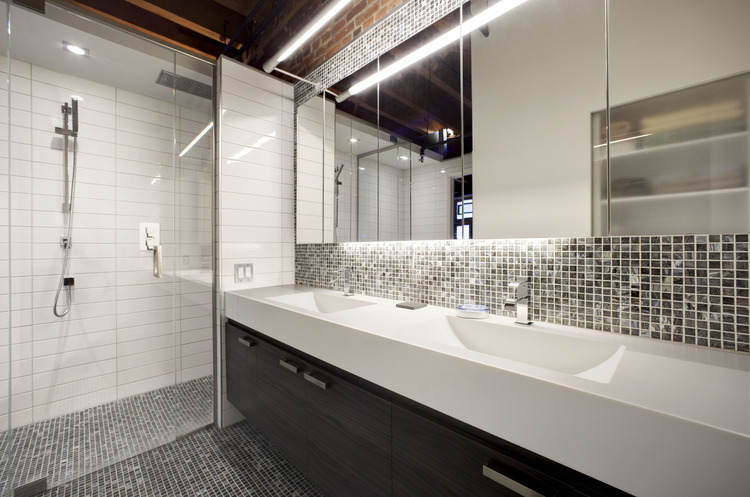 Architecture firm: Boom-town
Located in: Vieux-Montréal
Photo credit: Pierre Charron
Lofts are often found in the downtown area of a city. Although their layout is not adapted to several people sharing a home, lofts are popular with couples and those living alone, looking for a space that is open and located in the most dynamic parts of the city.
This loft, which is built on the upper floors of the Cours Le Royer, is no exception. With a simple look through the window, the homeowners can admire the hordes of tourists that are exploring Old Montreal. However, indoors, the atmosphere is quite calm and enjoyable!
10. Drolet Project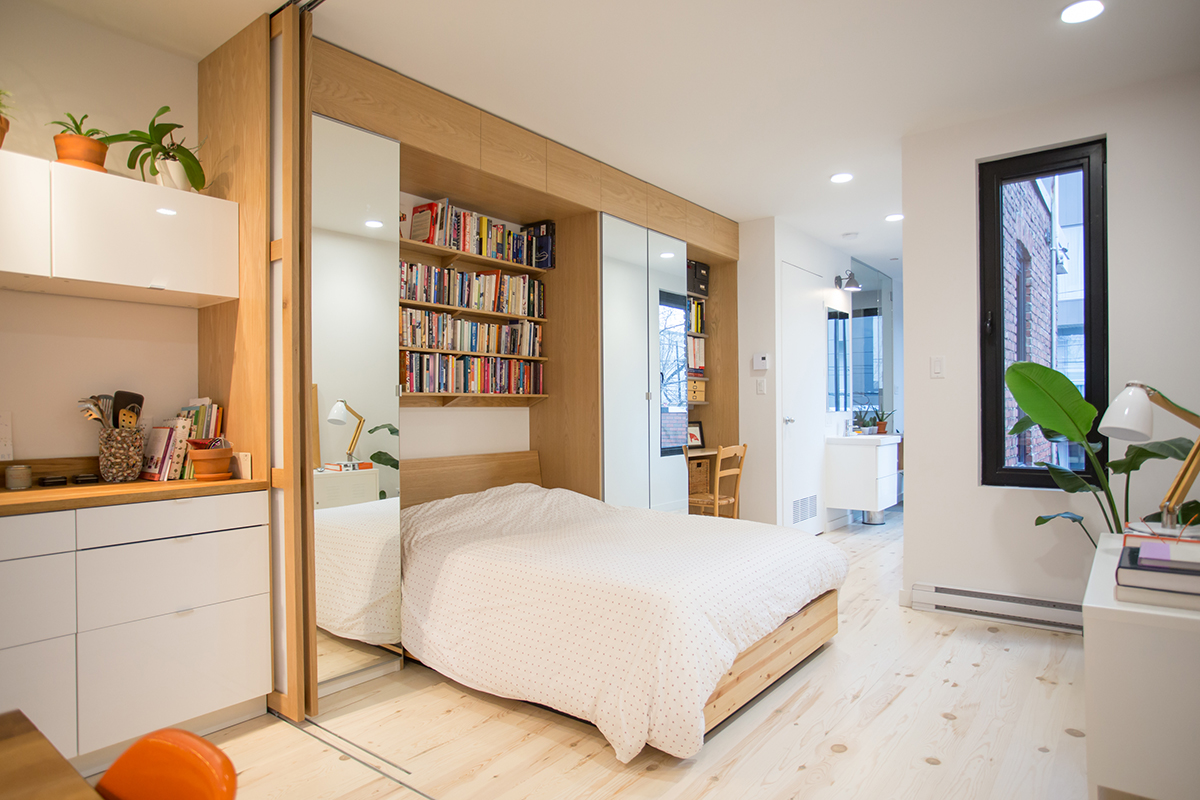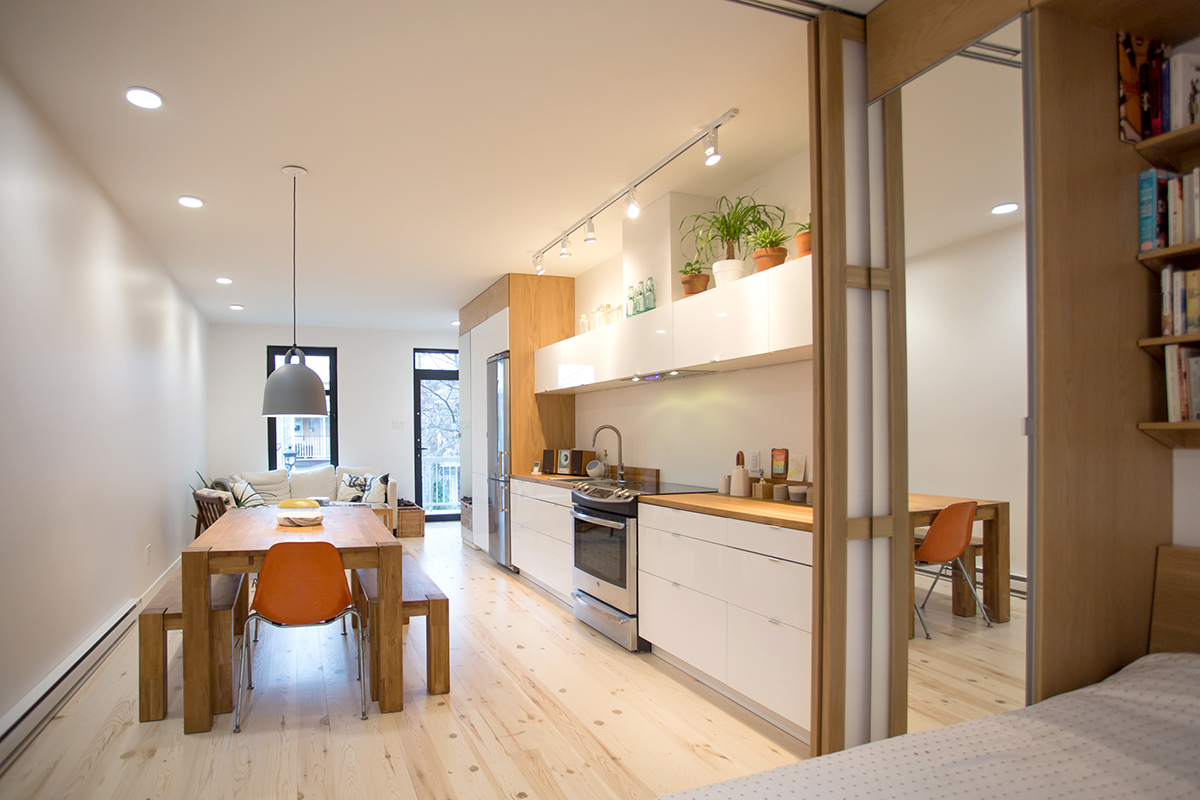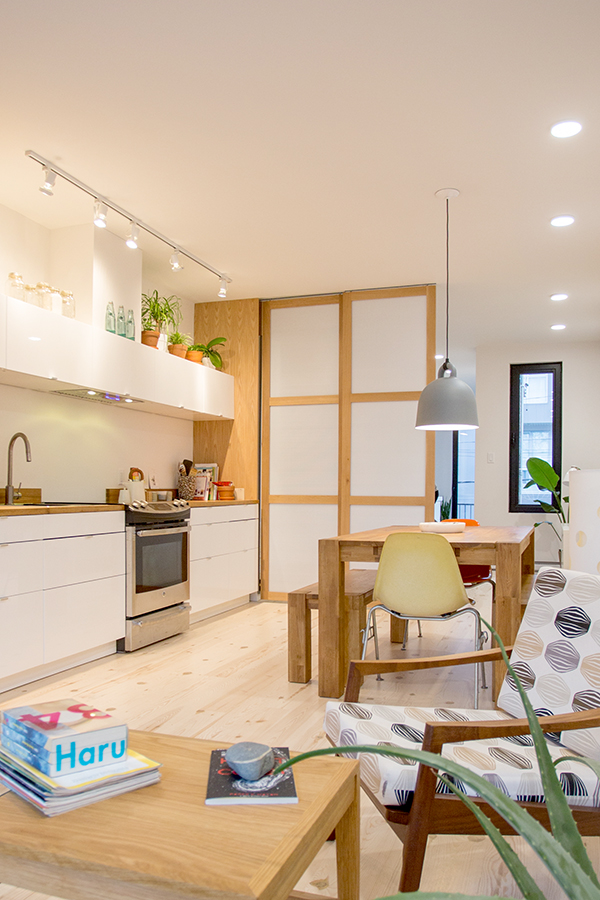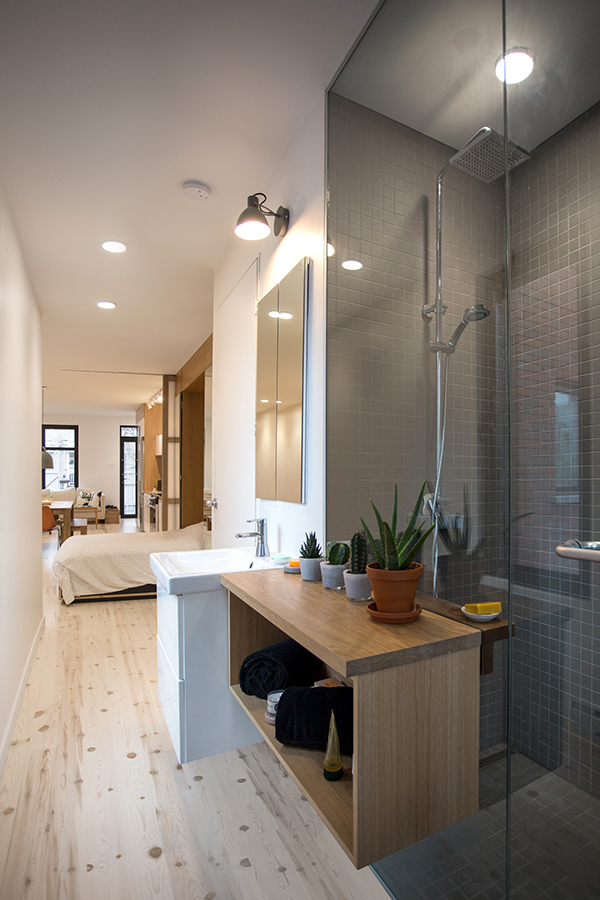 Architecture firm: L'Abri
Located in: Villeray
Construction year: 2015
Photo credit: Alex Godbout
Some of the examples presented on this list could be categorized as luxury homes. This type of home is not accessible and does not suit the tastes of everyone, so we've decided to close this list with a Montreal condo that is more attainable.
This studio makes up in charm and efficiency what it lacks in size. The designers responsible for this space have been able to maximize the layout that stretches in length by installing adjustable partitions and including storage whenever possible.
Cover photo: Unsplash - Tobias
Buying a condo or a townhouse in Montreal
Have these beautiful condos and townhouses convinced you to go forward with the project of buying a property in Montreal? We can help you with your next real estate transaction! First, download the house buying guide (and the selling guide of course!).
We will be there to put you in touch with several experts, including real estate brokers, notaries, mortgage brokers, inspectors and surveyors.
Also, check out our blog for other articles about real estate in Quebec.
---
---
Find the professional you need
Find your real estate professional by filling out the short form