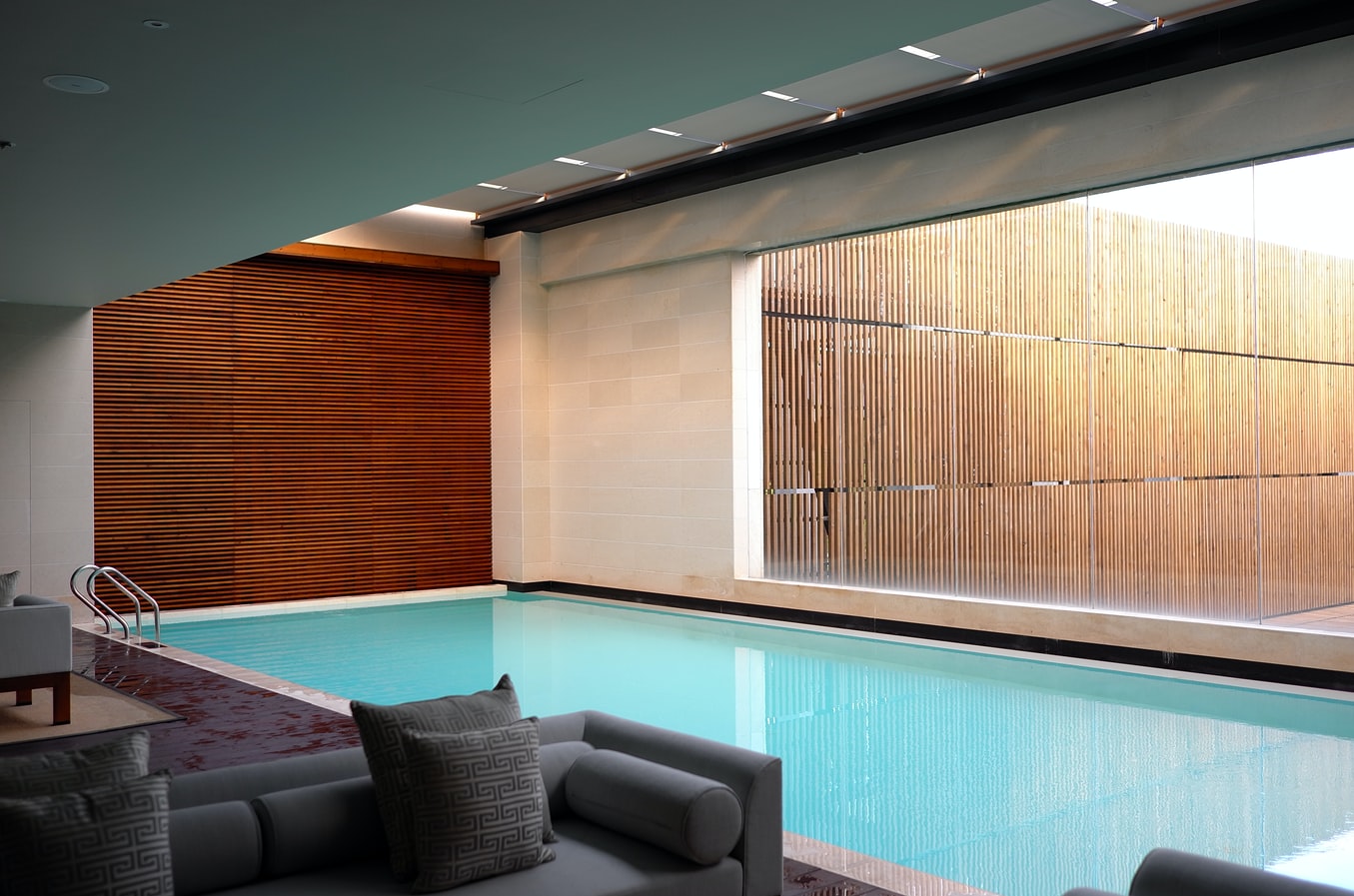 10 magnificent luxury houses located in Quebec
High-end real estate has been on the rise in Quebec for several years. Yet in the not-so-distant past, luxury residences were reserved for a handful of members of the upper middle class. Now, more and more people are affording large houses designed by famous architects.
You can find everything in the catalog of prestigious houses, from the manor house inspired by the great castles of Europe to the ultra-modern residence inspired by the precepts of the great Frank Lloyd Wright.
In this series, we have already presented several types of residences, namely beautiful condos, welcoming chalets and contemporary houses. Today, we are going to present 10 houses whose architecture and decor evoke luxury and elegance.
High-end real estate in Quebec: 10 prestigious homes to discover
1) De la montagne residence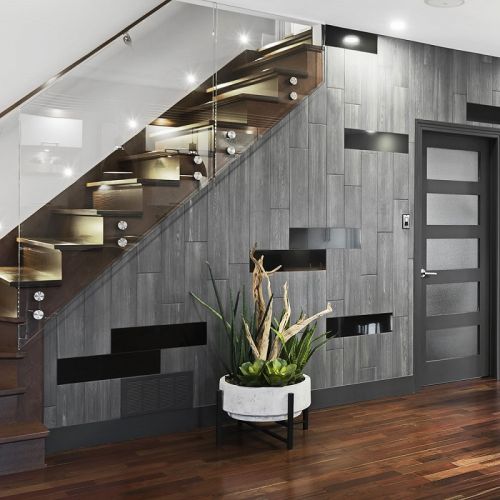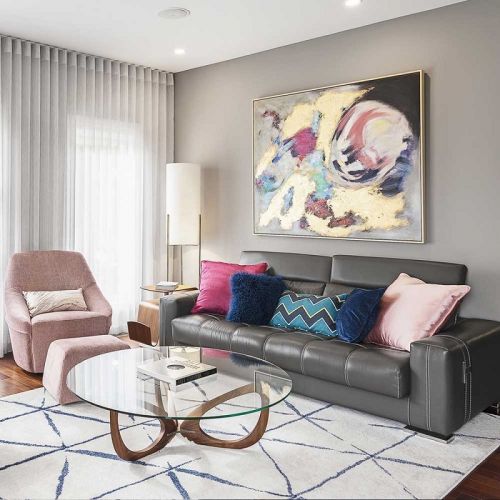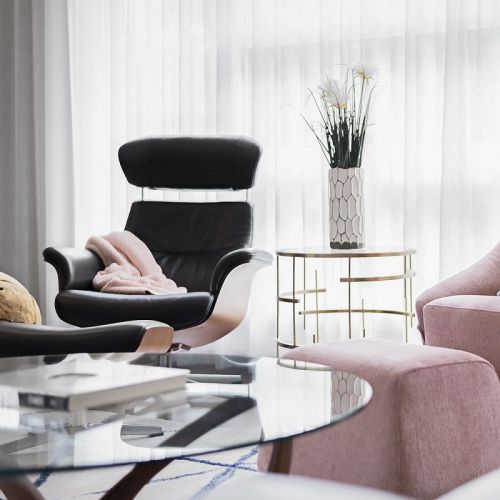 Design firm: Ainsley Design
Located at: St-Joseph du Lac
Year Built: 2018
Photo Credit: Ainsley Design
We're starting the list with a home that isn't the size of a mansion, but still spreads an aura of luxury and sophistication. The decor was designed by a renowned interior design firm. This one is full to the brim with touches of originality, including the wall covering which spans the length of the staircase, the coloured decorative elements of the living room, and the wooden slats which stretch across the kitchen ceiling
2) The Richelieu river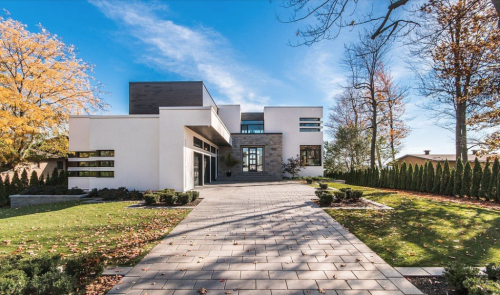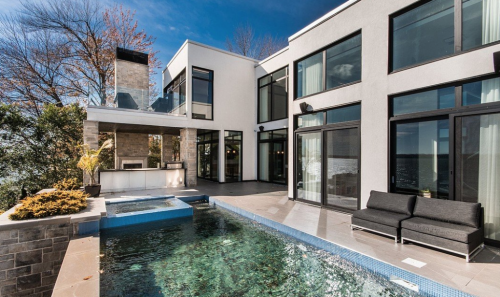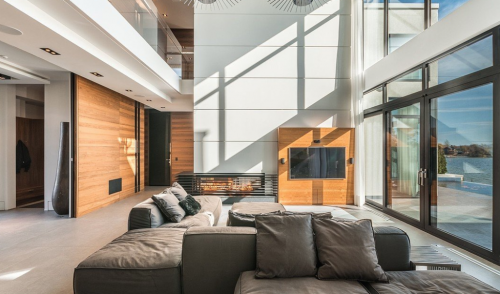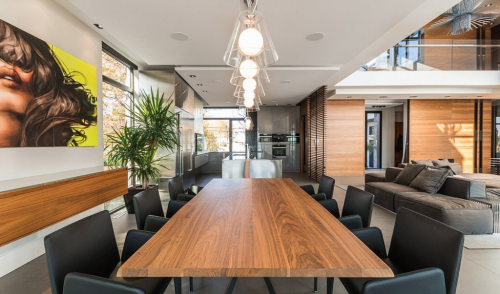 Architectural firm: Mario Adornetto
Located at: Carignan
Year built: 2015
Photo credit: Sothebys
In this series, we have already published an article about the most beautiful contemporary houses. This house could certainly have been on the list! Considering the size of the property, we instead decided to put it on this list of luxury homes.
Large properties are often associated with a more classic and highly ornate architectural style. However, there is an increasingly varied architectural diversity in luxury real estate. This magnificent property was designed by architect/designer Mario Adornetto, known for his daring, yet timeless designs.
3) St-Hippolyte project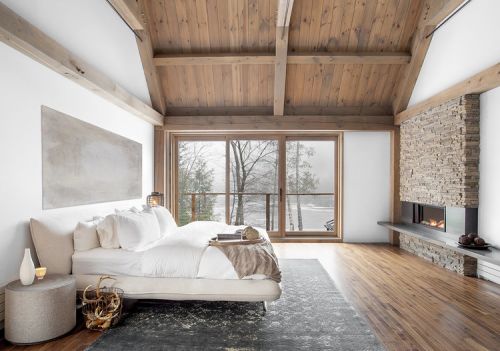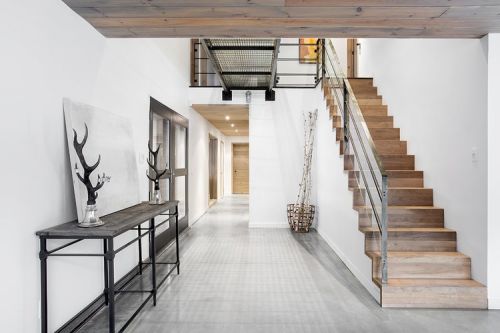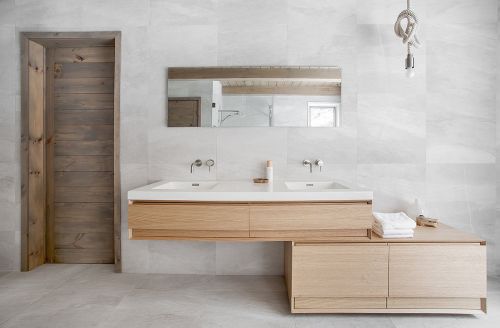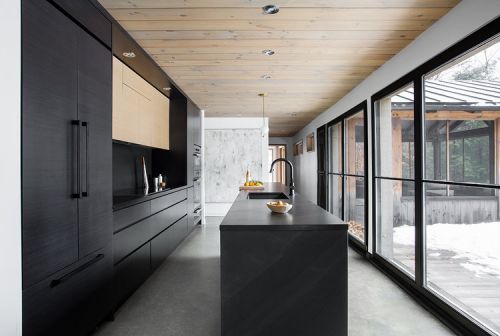 Architectural firm: Catlin Stothers Design
Located at: St-Hippolyte
Year built: 2015
Photo credit: Catlin Stothers
In this property located in the heart of the countryside, contemporary architecture rubs shoulders with rustic-style decor. Calm reigns in all the rooms of the house, from the entrance hallway to the master bedroom, including the bathroom and the kitchen, where the occupants enjoy a beautiful view of the exterior landscape. When you live in a beautiful natural environment, you must make the most of it and that is what has been planned in this magnificent residence.
4) Residence Hemmingford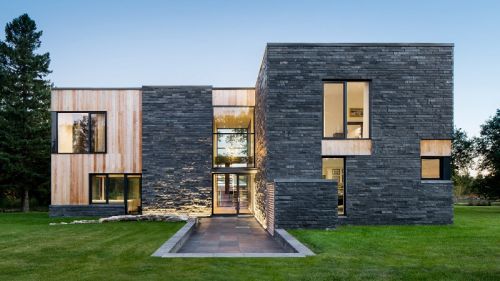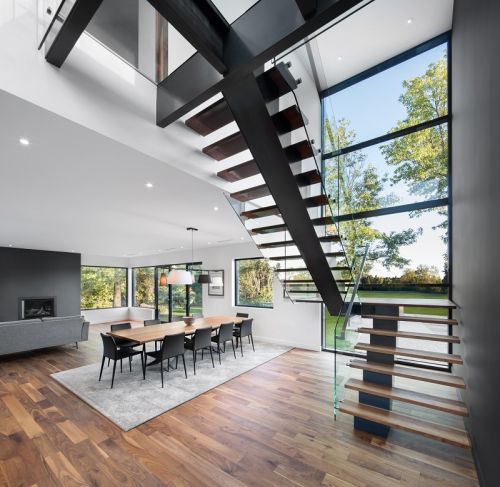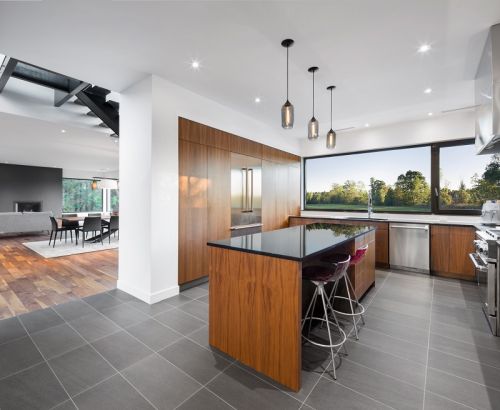 Architectural firm: Simard Architecture
Located at: Hemmingford
Photo credit: Stéphane Brügger
This house would easily find its place in the Hollywood mountains, with large mansions owned by celebrities. However, it is instead located in Hemmingford, in the heart of the Montérégie countryside. This is another contemporary architectural concept where the natural environment is highlighted with large windows as well as a set of organic materials including wood and stone.
Building a large house often makes it possible to dare to integrate structures with bold shapes and this is the case in this house, where the stairwell is completely open and where the floor of the corridor on the second floor is glazed.
5) Residence of the Tournaments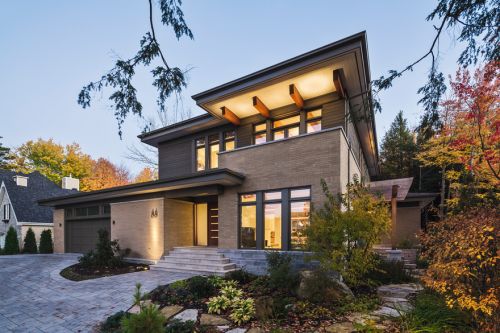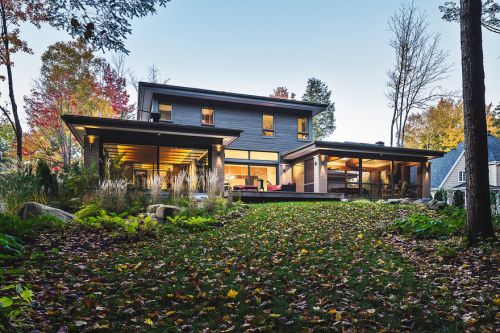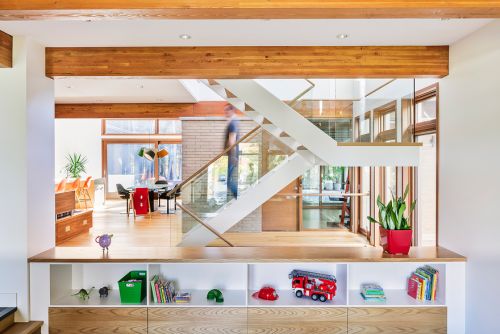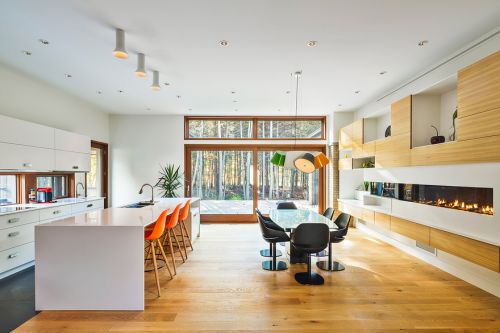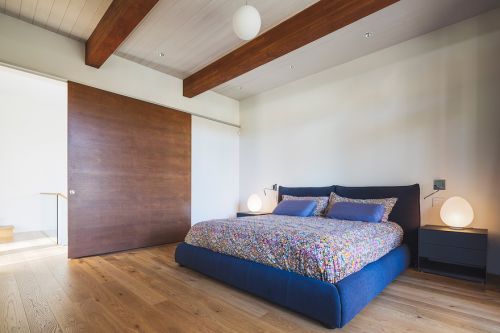 Architectural firm: Martin Dufour Architecte
Located at: Blainville
Year built: 2013
Photo credit: Ulysse Lemerise
Once again, the stereotype that prestigious houses must adopt a classic and overloaded decor is disproven. The exterior layout is pretty, but rather understated. It is inside that we discover touches of bright colours, an airy floor plan and spaces that exude joy.
It is the third photo that particularly caught our attention, with the beautiful visual play that unfolds between the view of the kitchen, the staircase, the windows and the small storage shelves that accommodate the children's toys that are part of this collection.
6) New England Residence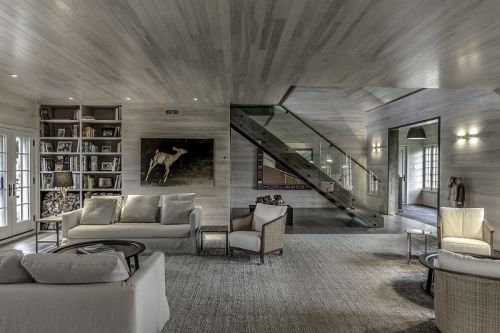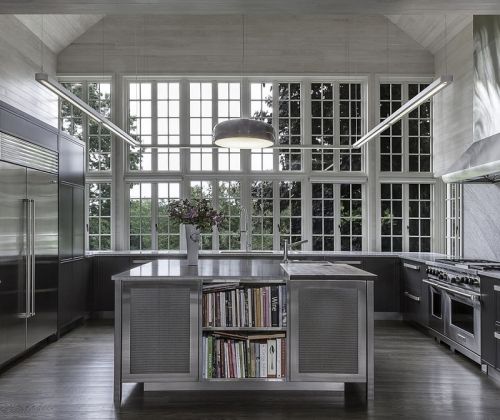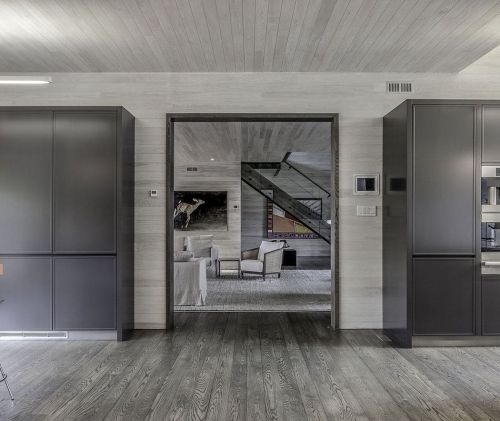 Architectural firm: Desjardins Bhérer
Located at: Magog region
Year Built: 2013
Photo Credit: Paul-André Larocque
It is rare to see a decor based on a single colour and its different shades that is successful. Grey is in the spotlight here, but the house we see in these photos is by no means dull! The play of lighting, the varied textures and the decorative accents add a warm touch imbued with softness.
What emanates from the images is an impression of softness, understatedness and elegance. Additionally, you may find that we use the word "daring" too much to describe the homes featured in this series, but we sincerely believe that the architectural and aesthetic choices made for this home are bold.
7) The workshop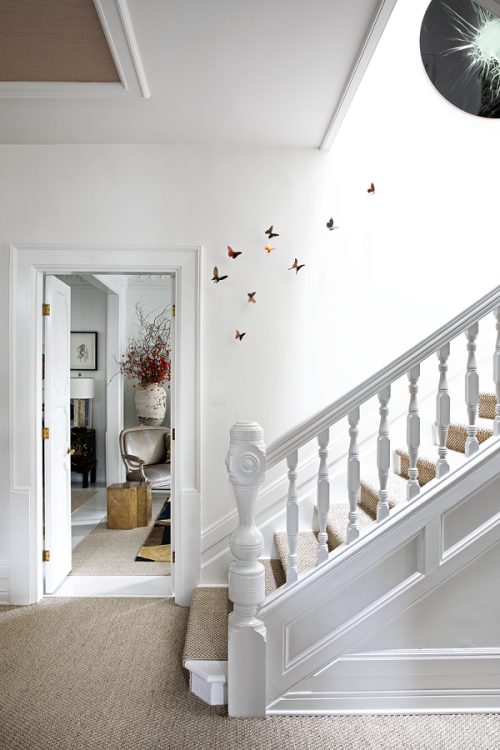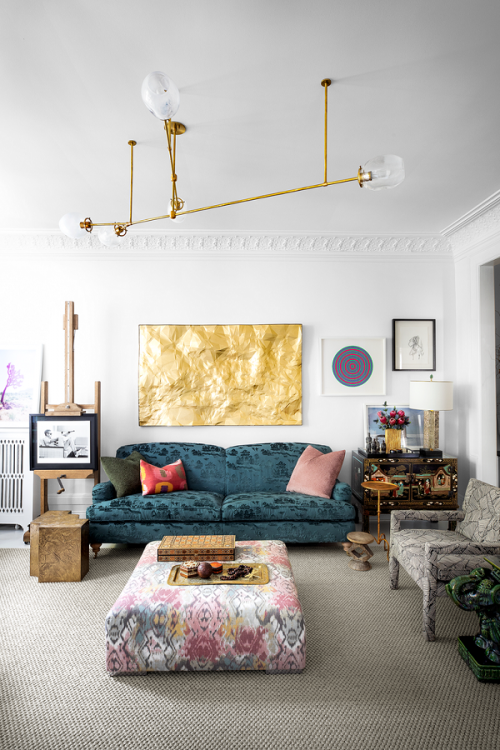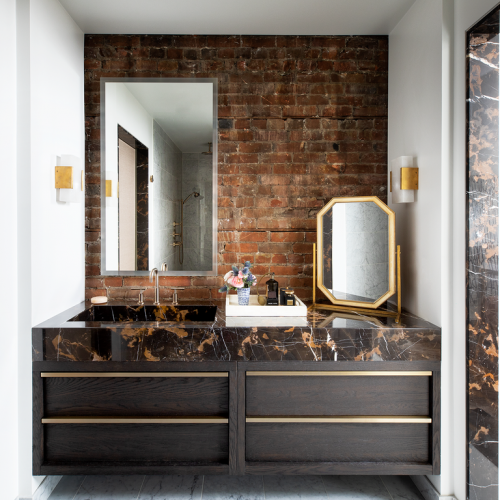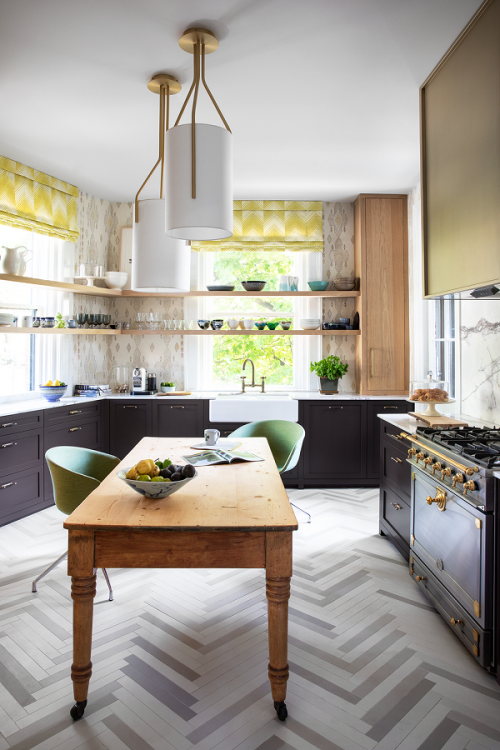 Architectural firm: Les Ensembliers
Located in: Montreal
Year built: 2018
Photo credit: Paul Raeside
We go completely elsewhere in terms of style of decor and furnishings. In this Montreal home designed and furnished by the firm Les Ensembliers, we find elements of "rococo", bright colours and impressive antiques, worthy of the decorations of the time of Louis XVI, such as this majestic bed installed in the master bedroom.
Alive and ornate without being overloaded, this interior evokes luxury and elegance while incorporating a nice layer of whimsy that keeps the whole thing from being too pretentious. This is a very interesting planning tactic for those who love luxury properties, but don't want to take themselves too seriously in everyday life!
8) Town Villa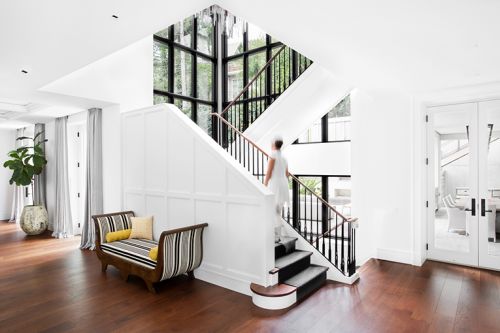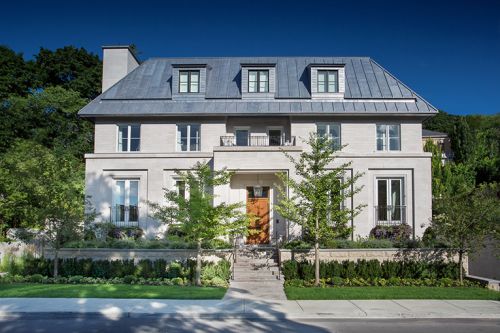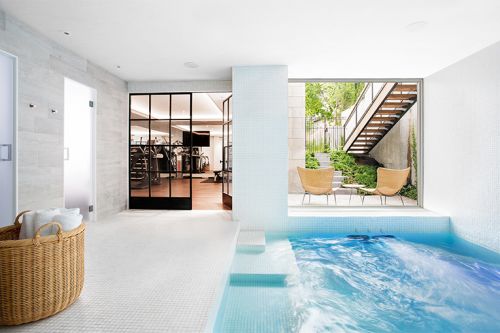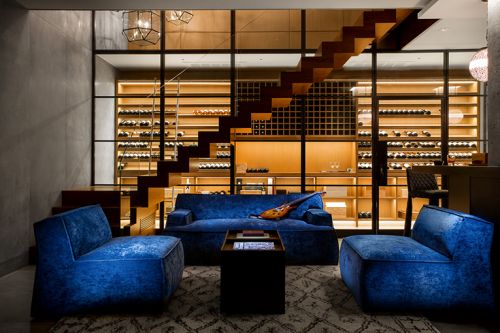 Architectural firm: Architem (Wolff Shapiro Kuskowski architects) and Scott Yetman
Located in: Montreal
Photo credit: Architem
This city villa was designed through a collaboration between the architectural firm Architem and the highly regarded interior designer Scott Yetman. The result: huge rooms, but not intimidating. The different sections of the villa have been designed to create atmospheres that vary according to the needs and desires of the occupants, but all imbued with a feeling of calm and beneficial light.
During the day, it is in the pretty indoor/outdoor swimming pool that we take advantage of the beautiful natural light and in the evening, we discover a very pleasant, subdued atmosphere near the magnificent cellar. What better way to end the day on a high note?
9) Abercorn Residence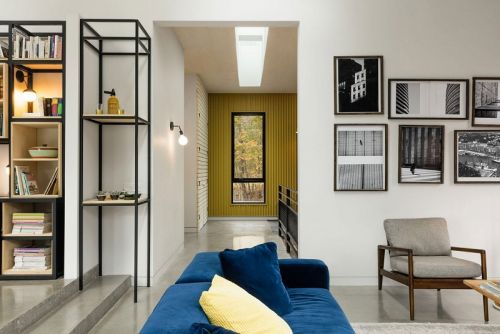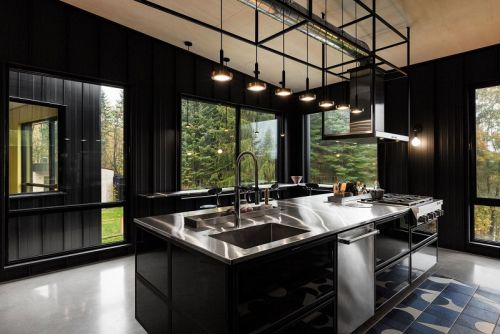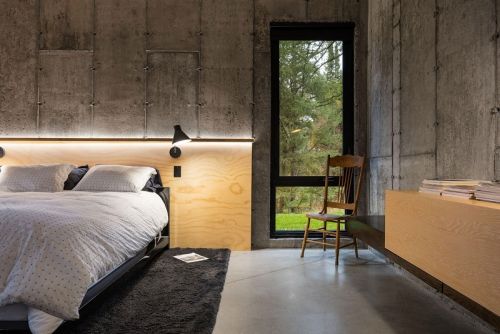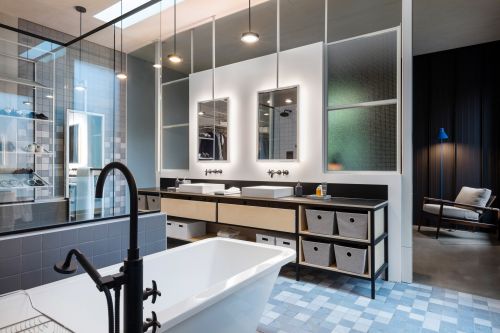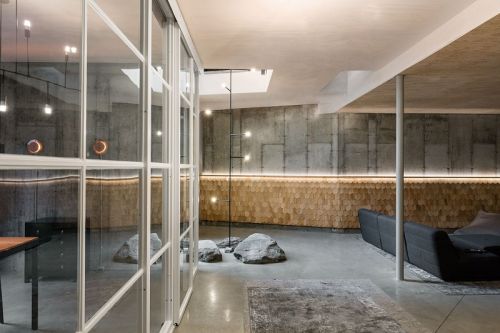 Architectural firm: Tux Creative and Guillaume Kukucka
Located at: Abercorn
Photo credit: Maxime Brouillet
In this large house located near the village of Abercorn, the interior layout is designed to create a nice balance between the rooms, while offering ambience that differs depending on where you are. Sometimes we have the impression of being in a contemporary art gallery, in a restaurant kitchen or in an artist's living room. The common point that unites all these elements is the creative spirit that emanates from these arrangements.
We particularly appreciate the combination of raw concrete and warm wood in the bedroom and in the basement.
10) Léry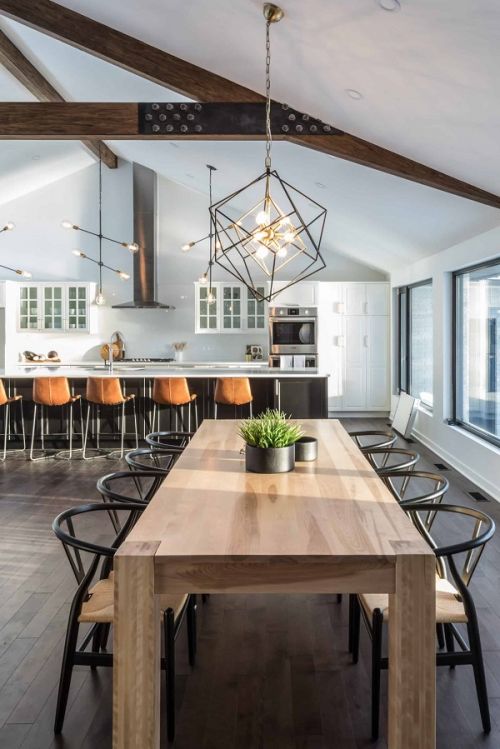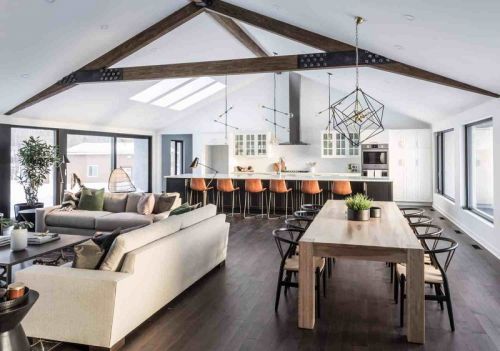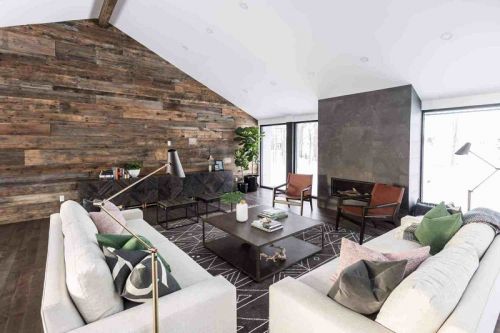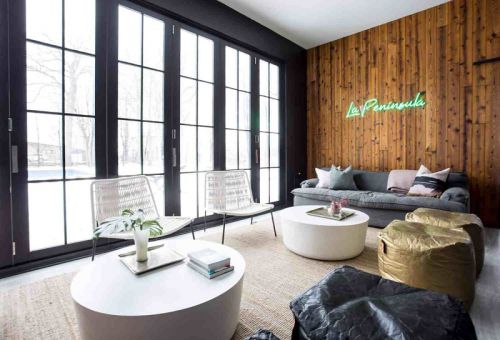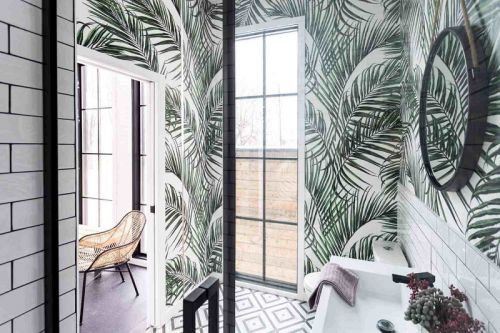 Design firm: Lux Décor
Located at: Léry
Photo credit: Lux Décor
Often, in prestigious real estate, we see houses with decorations worthy of decoration magazines or the most beautiful Pinterest accounts. Here is an example of a house where the decor is particularly successful. Modern, adorned with a few touches of colour, but all in all quite understated, the style of decor is suited to the tastes of many people, especially those who prefer a more classic layout.
We are showing just four photos of the interior of this great house, and we can already see how creative the designers have been. We invite you to follow the link below to see more and to find some design ideas for your future home, whether or not it is a large mansion!
Buy a prestigious house in Quebec
Have all these beautiful houses made you dream? We can help you with your next real estate transaction project! First, download the home buying guide (and the selling guide of course!).
XpertSource.com can help you find a real estate expert. When you tell us about your project, we put you in touch with qualified resources for free. Simply fill out our form ( it only takes a few minutes ) and we will connect you with professionals.
Do you want to be put in touch with real estate professionals and get quotes? Contact us at 1 833 203-7768
---
---
Find the professional you need
Find your real estate professional by filling out the short form