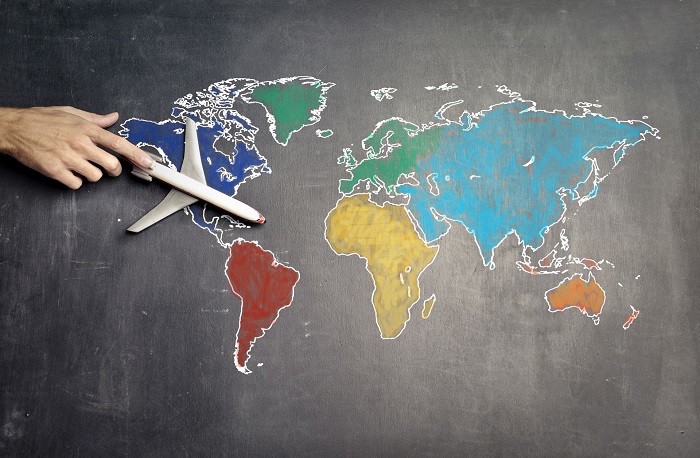 Around the World in 50 Beautiful Houses
In 1890, a young and bold journalist by the name of Nellie Bly came up with the challenge of travelling around the world in less than 80 days, achieving what then seemed like an imaginary journey, only possible in the novels of Jules Verne. Years later, not only can we go around the world in a few days, but with the internet, we can be anywhere on earth in a matter of seconds.
Of course, nothing can replace a trip in person, but the amount of information, images, videos, documents and data available to all, passing through the cables and networks that connect every corner of the planet allows everyone to imagine oneself there, if for a few fleeting moments.
During this period when travel is restricted, we feel the need to satisfy our thirst for discovery by using this great tool that is the internet to go and see what is happening elsewhere. At XpertSource, we are passionate about real estate and that's why we decided to organize our world tour by presenting 50 beautiful houses in 47 countries located on 6 of the 7 continents. The journey will be much smoother and more peaceful than that described by Mrs. Bly!
Hang tight, we're on our way!
Note: Click on the names of the architects to see more photos for each house
3 HOMES IN OCEANIA
1. Australia: Killcare House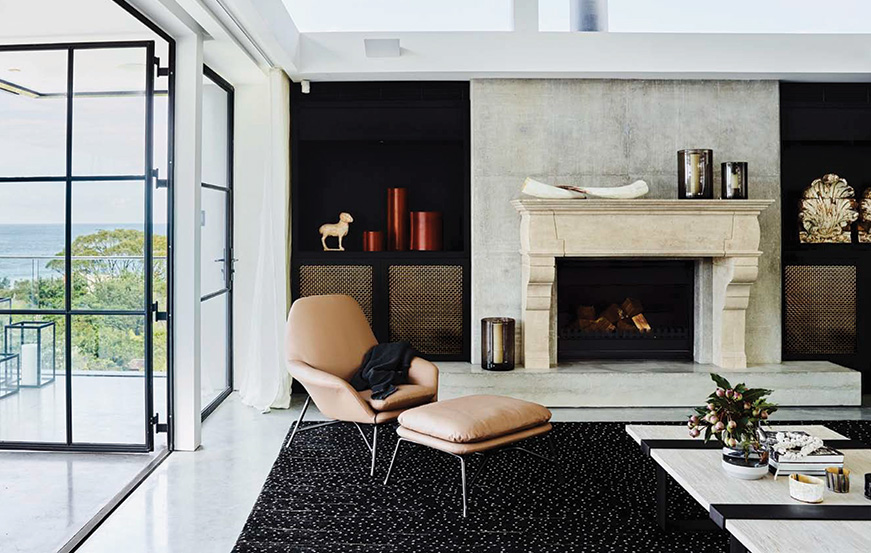 Interior designers: Decus Interiors
Place: Bouddi National Park, Killcare, Australia
Photo: Anson Smart
Our first stop is in Australia, just over an hour's drive north of Sydney City. This boldly designed house is a second home belonging to a family from Sydney. The owners collaborated with Decus Interiors, an interior design firm. Their "mood board" is the natural environment that surrounds the house.
2. New-Zealand: Bradnor Road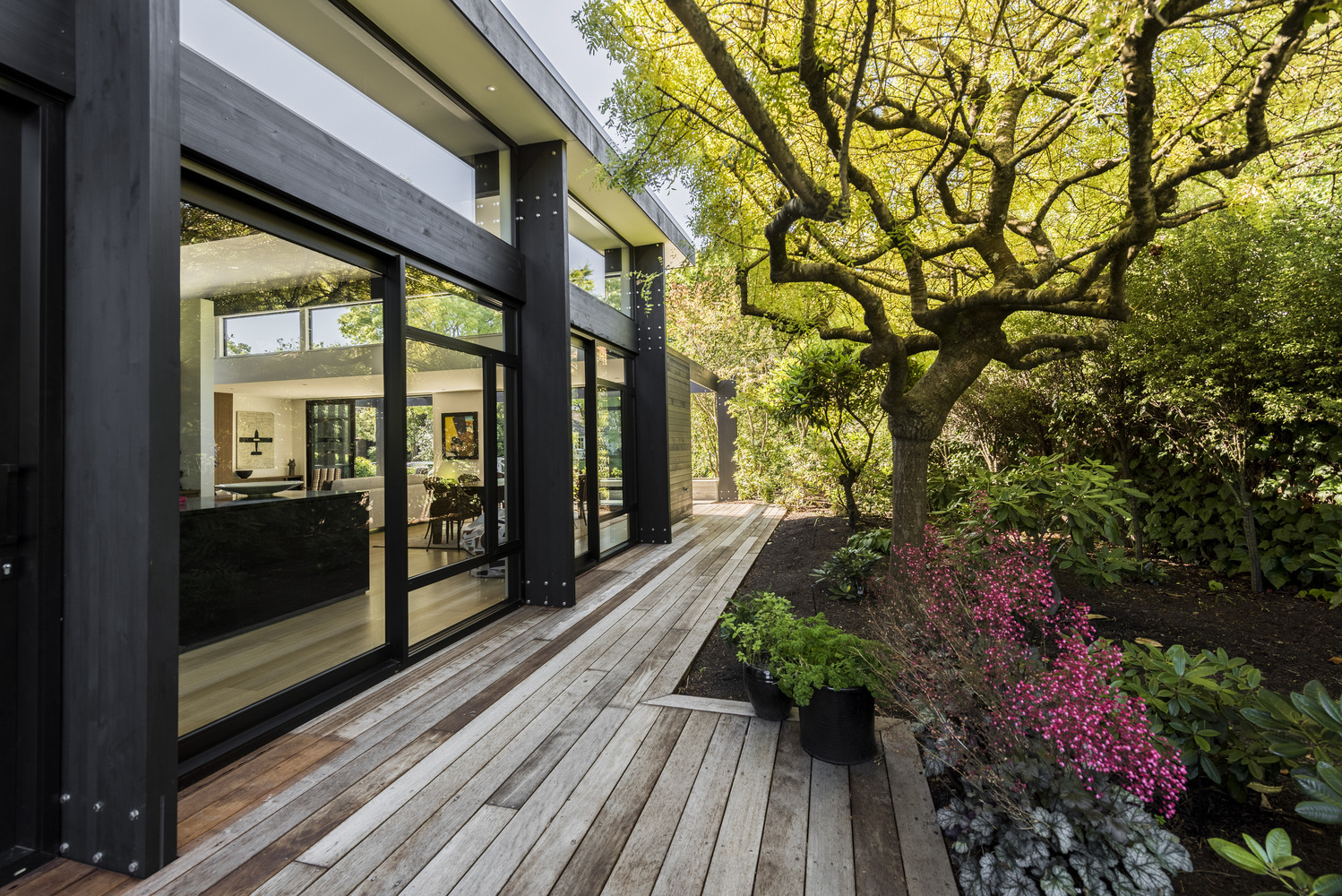 Architect firm: Cymon Allfrey-architects
Place: Christchurch, New-Zealand
Photo: Stephen Goodenough
New Zealand is a place with a natural environment that is filled with contrasts. Between the borders of this country that is home to 5 million inhabitants, one can explore volcanoes, beaches, glaciers and immense national parks. There are also a few big cities, including the capital (Wellington) and the city of Christchurch. The house that we have chosen to explore is located in the latter, which is located on the South Island.
Designed by Cymon Allfrey Architects, the building was built to replace a house that had been destroyed in the 2011 earthquake. This new place is airy and well-integrated into its natural environment. Some windows are also oriented to offer a view of the adjoining river.
3. Papua New-Guinea: Brise Soleil Home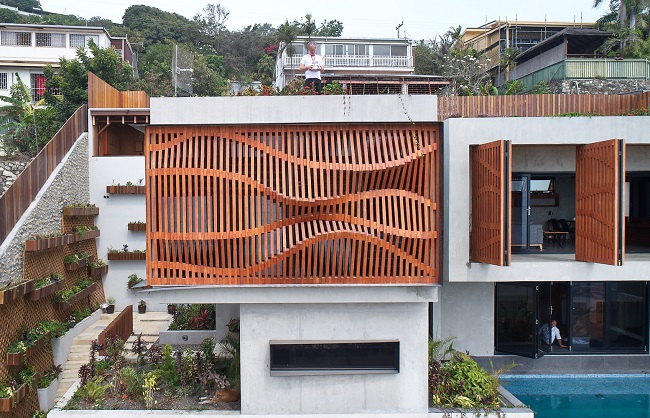 Architect firm: Studio Workshop
Place: Port Moresby, Papua New-Guinea
Photo: Peter Bennetts
Papua New Guinea is a much less well-known country than the others mentioned in this list. Therefore, it's quite an intriguing place to discover! This area is rich in history, with evidence of human presence dating back more than 50,000 years. It is still home to several tribes whose lifestyles remain deeply rooted in ancient traditions.
Even if the house that we have chosen to present adopts precepts of contemporary architecture, it is well specified in the building's description that the designers wanted to pay tribute to certain traditional artisanal practices, including woodworking.
9 HOMES IN EASTERN, SOUTHERN AND SOUTH-EAST ASIA
4. Singapore: Cornwall Gardens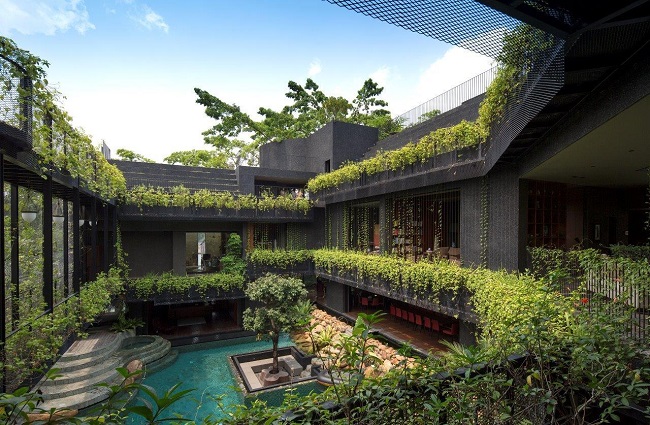 Architect firm: CHANG Architects
Place: Singapore
Photos: Albert Lim KS
Singapore is a city-state that is known, among other things, for its gardens and urban planning focused on integrating flora among the many skyscrapers. The territory of Singapore is very small, so you have to know how to incorporate elements of nature wherever possible.
This is exactly what was done by Chang architects, the firm that is behind the design of this house, which is also a garden. The house is intergenerational and in addition to accommodating several people, it also creates a perfect environment to promote biodiversity.
5. India: Pakhaniyil residence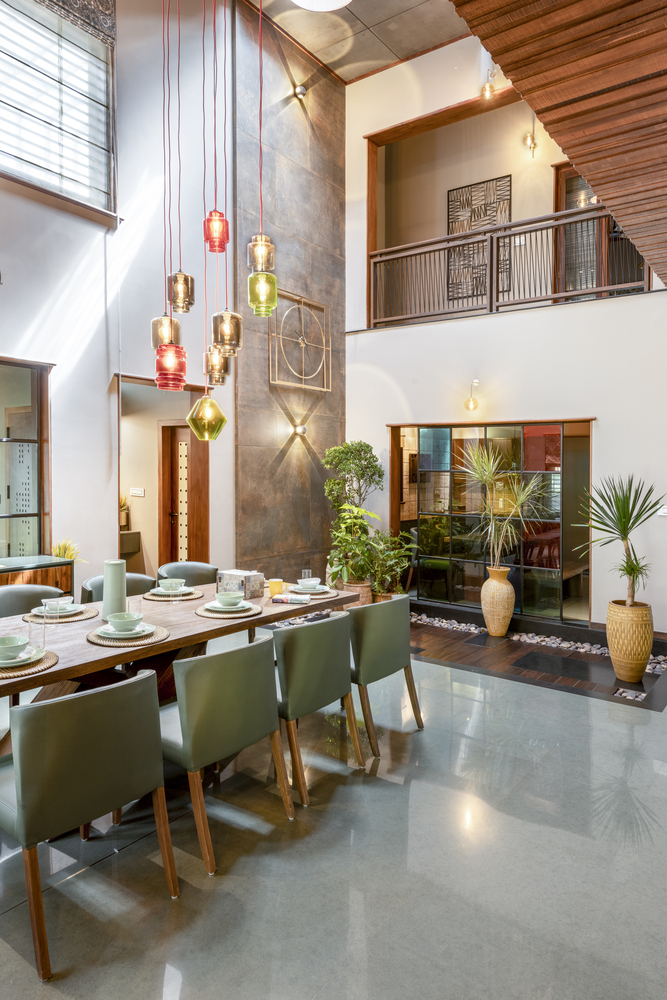 Architect firm: Nufail Shabana Architects
Place: Chemmad, India
Photos: Justin Sebastin
Instead of choosing one of the big cities of this populous country, we invite you to discover this lovely house located in Chemmad, in the state of Kerala. This state is in the southwestern part of the country, in a very hot and humid tropical climate.
These climatic characteristics were taken into account in the design of the house. For example, certain zones were created to reduce the amount of heat accumulated inside the home and the choice of materials (concrete, wood and greenery) were also picked with this in mind.
6. China: Tree House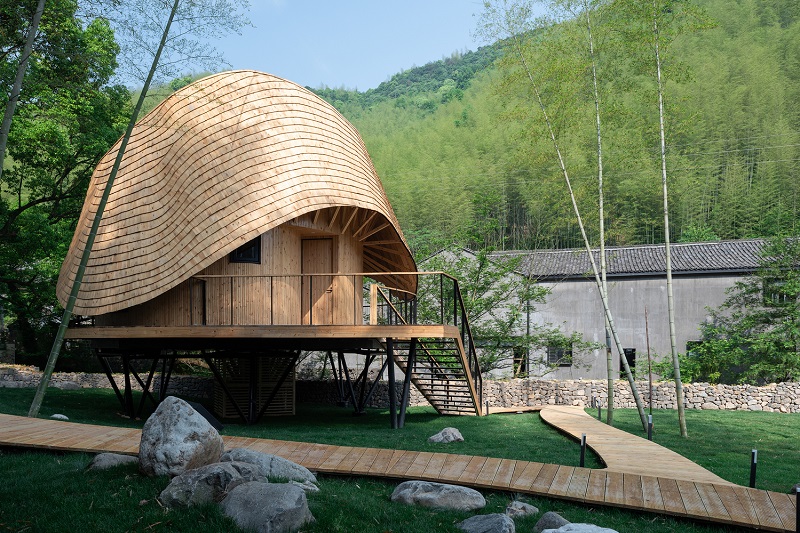 Architect firm: MONOARCHI
Place: Yuyao, China
Photo: Hao Chen, Xiaodan Song
Located in a mountainous section of the Zhejiang province, this real estate project is like something out of a fairytale. First is the magnificent natural environment which looks like a set for legends and fantasies. And of course, there are the houses, including this tiny abode that looks like a treehouse. The building is curvy, an intriguing choice that is very relaxing to look at.
7. Philippines: Bahay Sibi House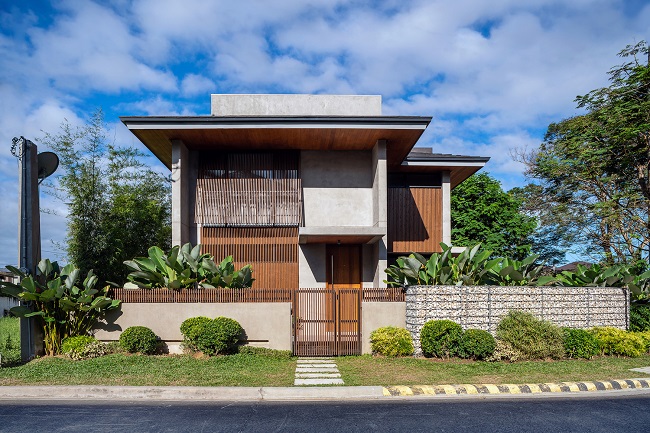 Architect firm: Platform 21 Architecture
Place: Baliuag, Philippines
Photo: Benson Go
This lovely home is located in a remote suburb of the Philippines' capital, Manila. Far from the frenzy and extreme density of the streets of the big city, this residence is spacious and well ventilated. The architects were inspired by some archetypal elements of local architecture, integrating traditional materials, shapes and structures into a more contemporary concept.
8. Indonesia: Alam Sutra Residence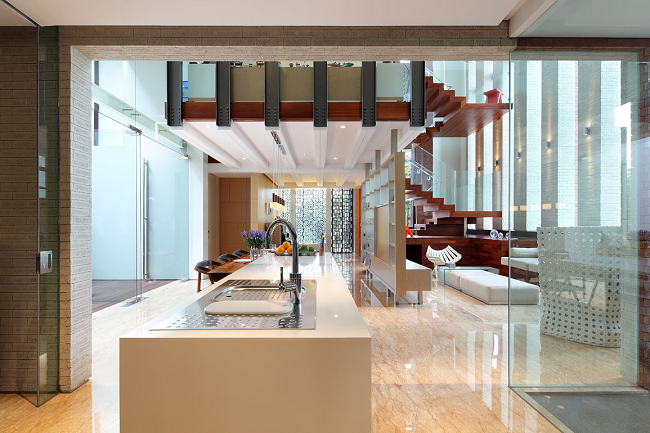 Architect firm: Wahana Cipta Selaras
Place: Tangerang, Indonesia
Photo: Fernando Gomulya
Indonesia is a country with a tropical climate and rich and colourful biodiversity. Although it is one of the most densely populated countries in the world, there are some places where buildings are more widely spaced out, such as in this sector of the city of Tangerang which has a population of nearly 2 million people.
The owners of this residence are lucky enough to be able to enjoy a magnificent home in a contemporary style that is installed on a welcoming and very lush piece of land. While being sheltered from the extreme heat when they are indoors, they can also enjoy the beautiful landscapes thanks to the generous amount of windows.
9. Vietnam: K-Villa+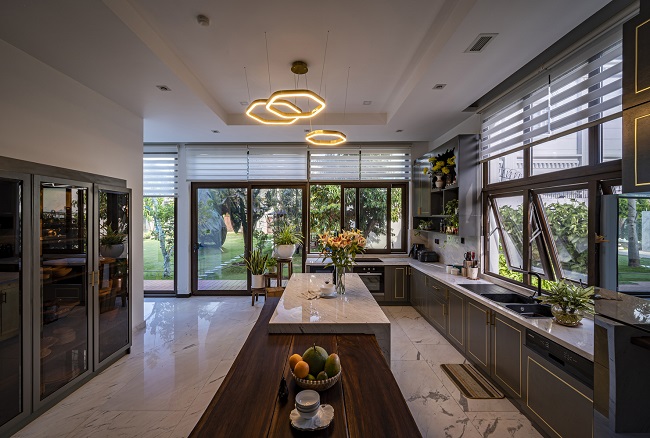 Architect firm: Space+ Architecture
Place: Cần Thơ, Vietnam
Photo: TOMQAST
Garden lovers will fall in love with this home and its outdoor facilities. Located near a river branch that is connected to the Mekong River, this house received a green construction certification (Lotus Home Standard for Green Building) by prioritizing spaces dedicated to flora. There are even gardens on the roofs and inside the house.
10. Sri Lanka: Cul-de-sac Residence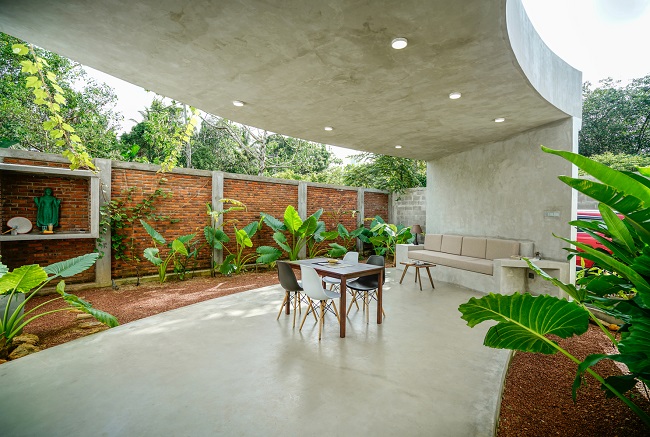 Architect firm: Chathurika Kulasinghe - Architect
Place: Hokandara, Sri Lanka
Photos: Ramitha Watareka Photography
The weather is hot and humid in Sri Lanka, with an average annual temperature of 27 degrees Celsius. Aiming to create homes that are pleasant and comfortable for their occupants, the architects created the design of this home by taking into account this very important factor.
With this in mind, they selected materials that favour temperature control. You will also notice that the shape of the house is rather unique, and this is because the configuration of the plot is atypical, as it is located in a cul-de-sac.
11. South Korea: Ga on Jai House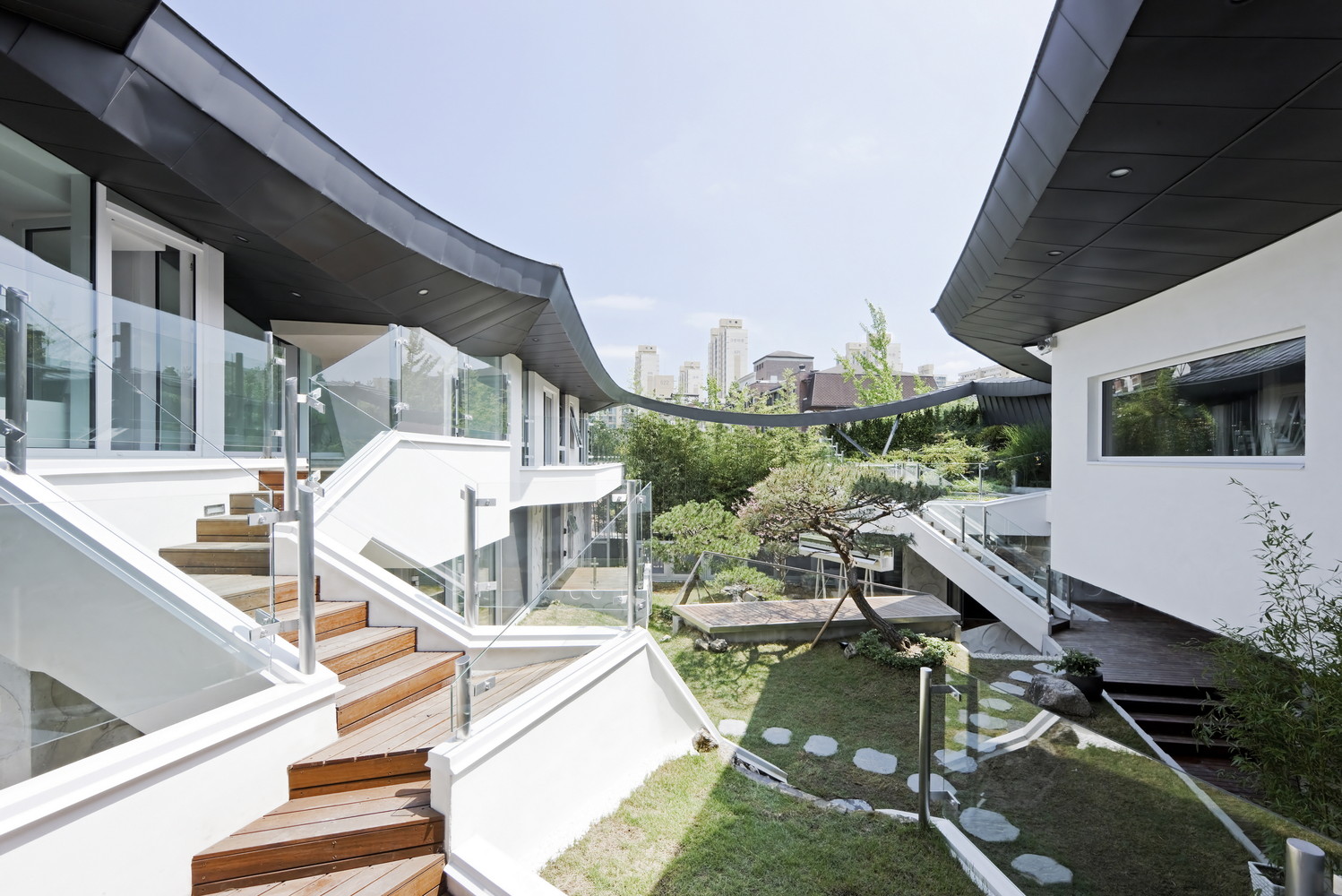 Architect firm: IROJE KHM Architects
Place: Seongnam-si, South Korea
Photo: Jong Oh Kim, Sergio Pirrone, Jeong Sik Mun
Here, we've got another example of green architecture, this time in South Korea, in the city of Seongnam. Even if this house, which is in the shape of a complex, is located in a populated area of ​​the city, it appears to be a peaceful haven. The private yard is located in the middle of the structure, instead of being around it.
Each section of the land is optimized and the interior spaces are in constant dialogue with the exterior, which creates magnificent natural lighting indoors.
12. Japan: T3 House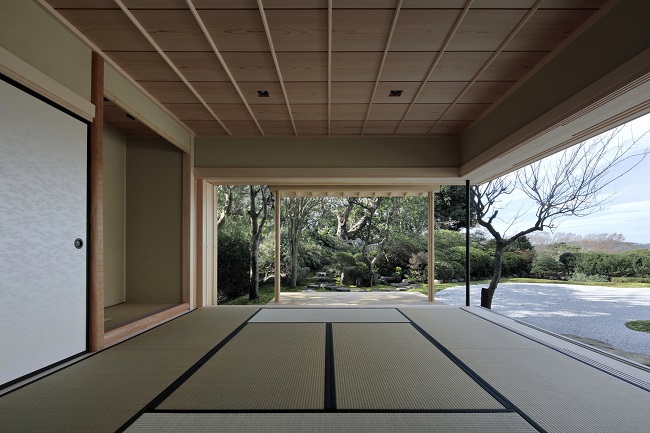 Architect firm: CUBO design architect
Place: Kamakura, Japan
Photo: Koichi Torimura
Japanese architecture is one of the most recognized styles around the world. It combines a minimalist style, a very precise conception of landscaping and a respectful perspective when selecting materials. This residence is a fine example where the main tenets of Japanese architecture have been combined with contemporary elements. The result is a space with a calm, comforting atmosphere that fosters contemplation.
5 BEAUTIFUL HOMES IN NORTH AMERICA
13. United States (California): Skyline House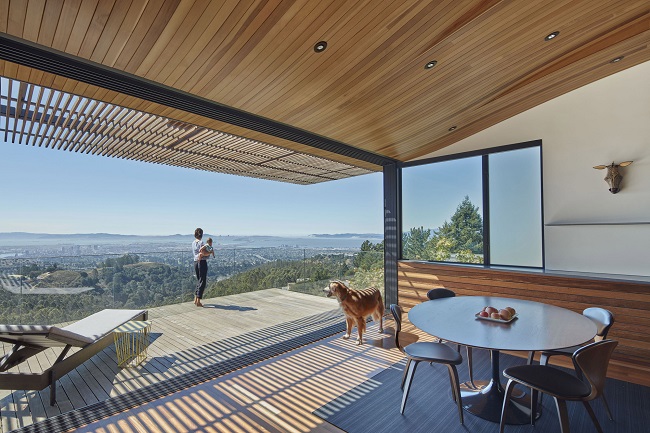 Architect firm: Terry & Terry Architecture
Place: Oakland, California, United States
Photo: Bruce Damonte
We've made our way to North America, with our first stop set in California, a sort of logical continuation after Asia, due to its location bordering the Pacific Ocean. This modern house offers a breathtaking view of the city of Oakland, which is located next to San Francisco.
The home is built on a mountain, allowing occupants to have unobstructed views of the bay, even seeing as far as the famous Golden Gate Bridge. The curved ceiling, which is particularly highlighted in the central room, is what caught our attention. If we take a good look at the shapes of this ceiling, we notice the presence of skylights that create a magnificent balance in the structure.
14. United States (Colorado): House in the mountains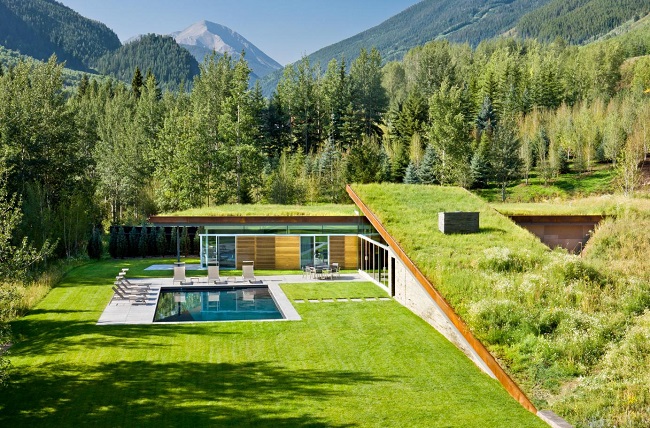 Architect firm: Gluck +
Place: Rocky Mountains, Colorado, USA
Photos: Steve Mundinger, GLUCK+
A little further east, you cross the Rocky Mountain range, which stretches nearly 5,000 kilometres between northern British Columbia (Canada) and the state of New Mexico. Some American states are therefore located along this immense mountain range, including Colorado, where this house is found.
It is always intriguing to see homes that have been designed to blend in with the landscape, whereas we are generally used to the contrary, especially in urban settings. This residence is hidden in the grass to leave (almost) all the limelight to nature. It is only by getting closer that we discover its pretty modern and refined shapes.
15. United States (Florida): Brillhart House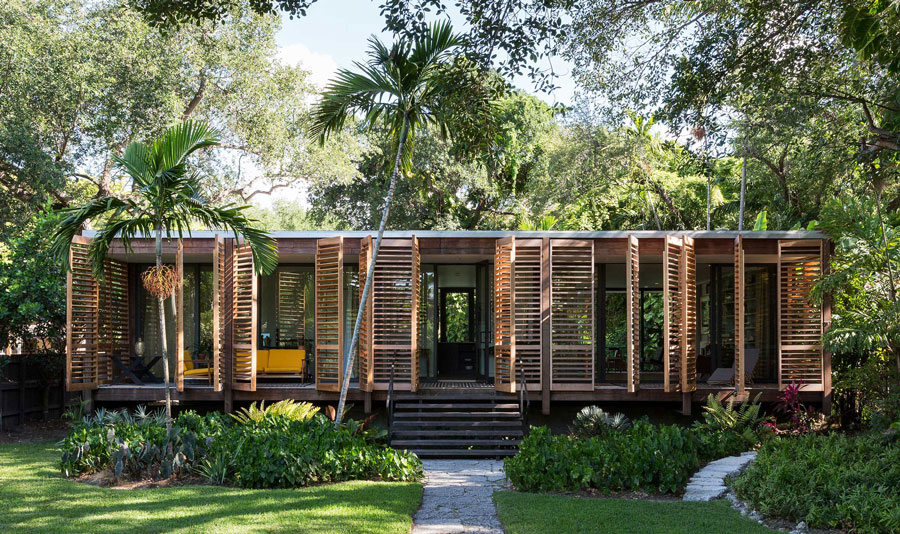 Architect firm: Brillhart Architecture
Place: Miami, Florida, USA
Photos: Claudia Uribe
Here is another example of organic architectural design, designed to be integrated into its surroundings. Of course, this house is not intended to be camouflaged behind the plants, but we can say that it is well incorporated into its environment!
Open, warm and airy, the house is perfectly suited to a subtropical environment such as that found in South Florida.
16. Canada (British Columbia): Floating House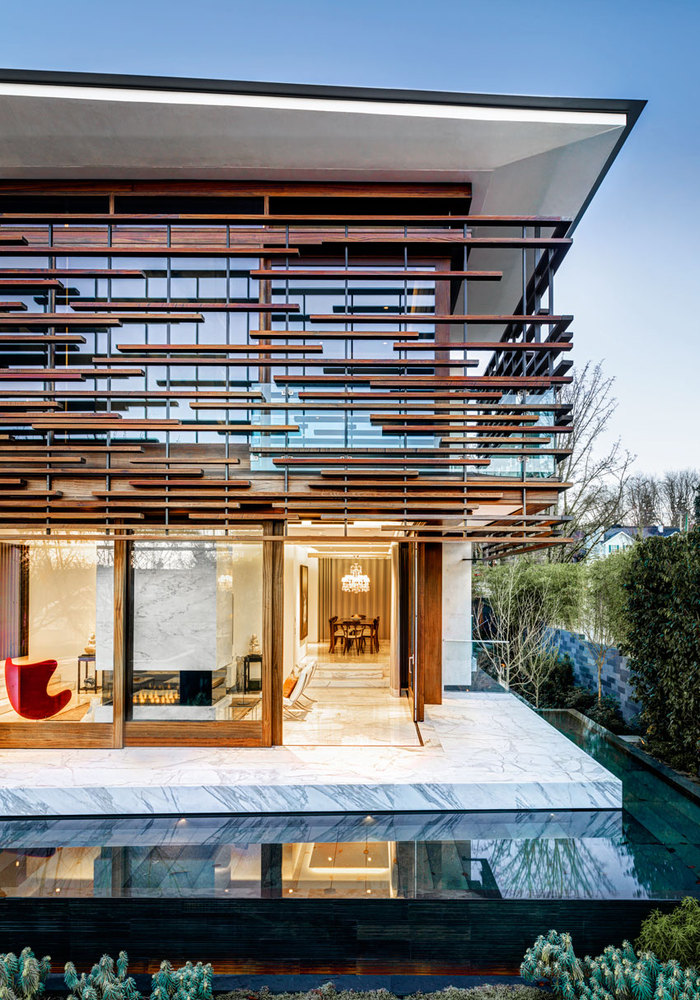 Architect firm: Arno Matis Architecture
Place: Vancouver, British Columbia, Canada
Photo: John Sinal, Michael Elkan
We return to the West for our first stop in Canada. We are now in Vancouver, a city that is recognized as a hotbed of architecture in the country. This metropolis is located near the West Coast and its culture is strongly marked by its proximity to nature, the presence of a large Asian population and the indigenous traditions that are part of the region's history.
The house we have chosen to feature in this list is inspired by a happy blend of West Coast spirit and East Asian architectural concepts. This can be seen both inside and outside the house, with the landscaping and the choice of materials.
17. Canada (Quebec): The Rock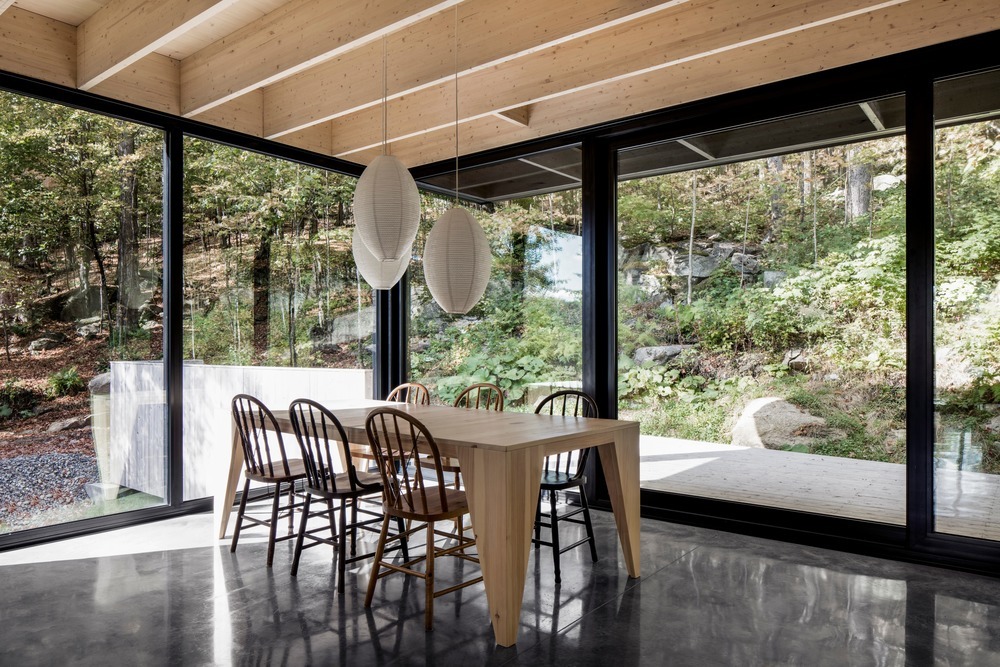 Architect firm: Atelier Général
Place: Shefford, Quebec, Canada
Photo: Adrien Williams
We're heading to the other side of the country, landing in a nice area of ​​Montérégie, Quebec. This region is surrounded by small mountains and there are many private residences and second homes set up on large lots that are isolated in nature.
This contemporary-style house is nestled on a wooded lot. Large windows allow you to observe the natural environment at any time of the day. The property offers great privacy despite the large windows and we imagine that the owners have a hard time leaving it when they have to go back to the city!
4 BEAUTIFUL HOMES IN CENTRAL AMERICA AND THE CARRIBEAN
18. Mexico: Vida House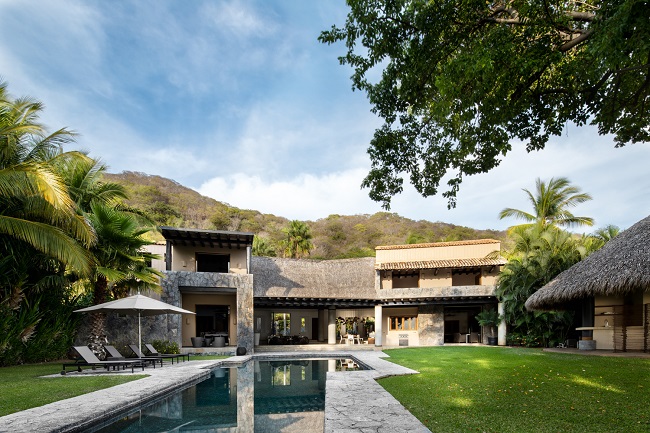 Architect firm: Zozaya Arquitectos
Place: Troncones, Mexico
Photo credit: Cesar Belio
The Vida house is located in a small village on the southwest coast of Mexico. Far from the big hotel centers of Acapulco or the east coast of the country, the village of Troncones is a place that the architects of this pretty villa describe as "magical".
The architectural style of the house is very modern, but its designers wanted to integrate traditional shapes and materials from the area, notably stone and palm wood.
19. Costa Rica: Casaval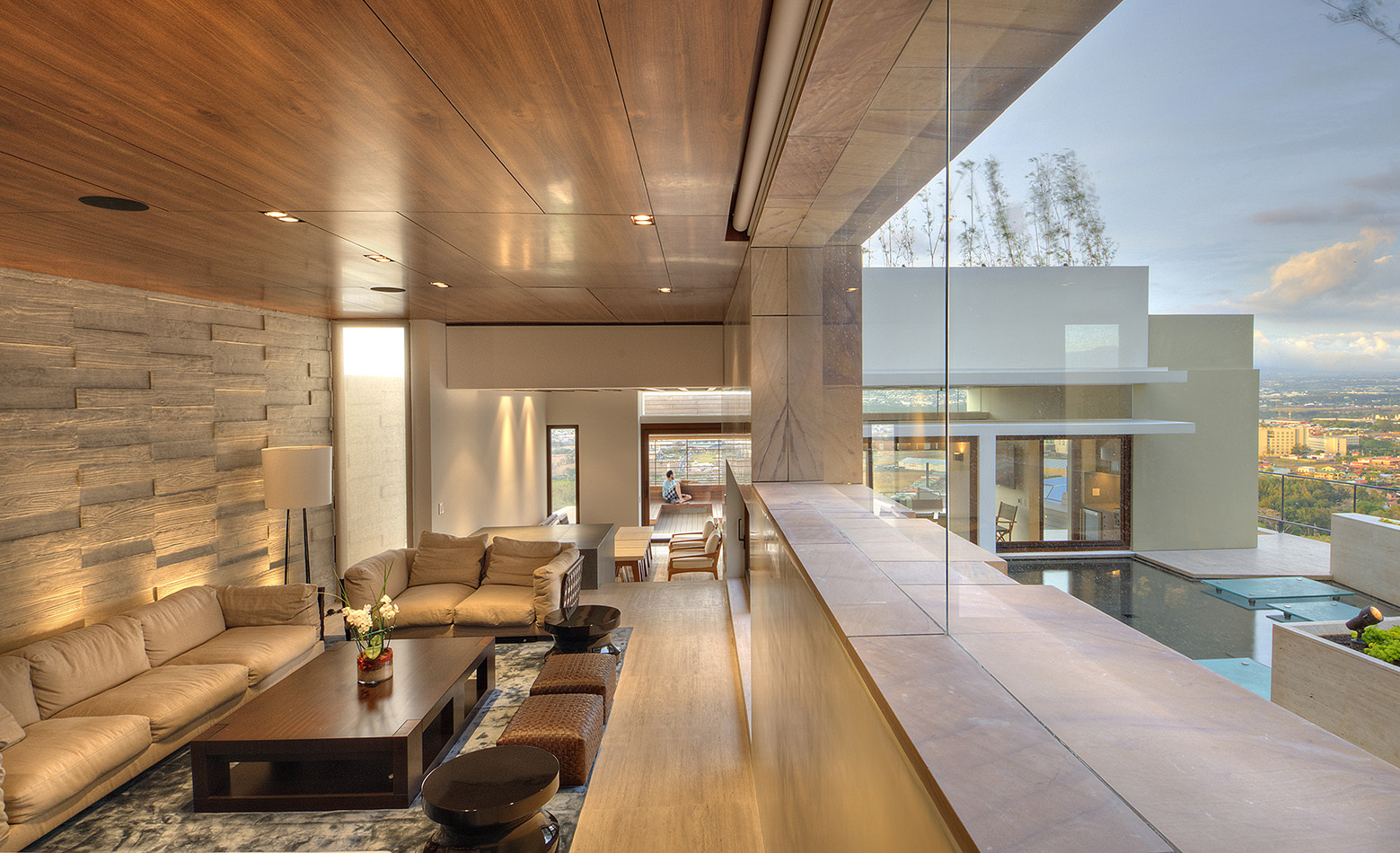 Architect firm: Jaime Rouillon Oviedo
Place: Escazu, Costa Rica
Photo: Sergio Pucci
The Escazu district is located in the capital of Costa Rica, San José. This piece of land is located on a hill, therefore offering beautiful panoramas on the curvy landscapes of the city.
The large house offers magnificent views that are highlighted through the large windows found in most sections of the house. This lovely residence is a true breath of fresh air and is also meant to foster contemplation.
20. Guatemala: LP1 House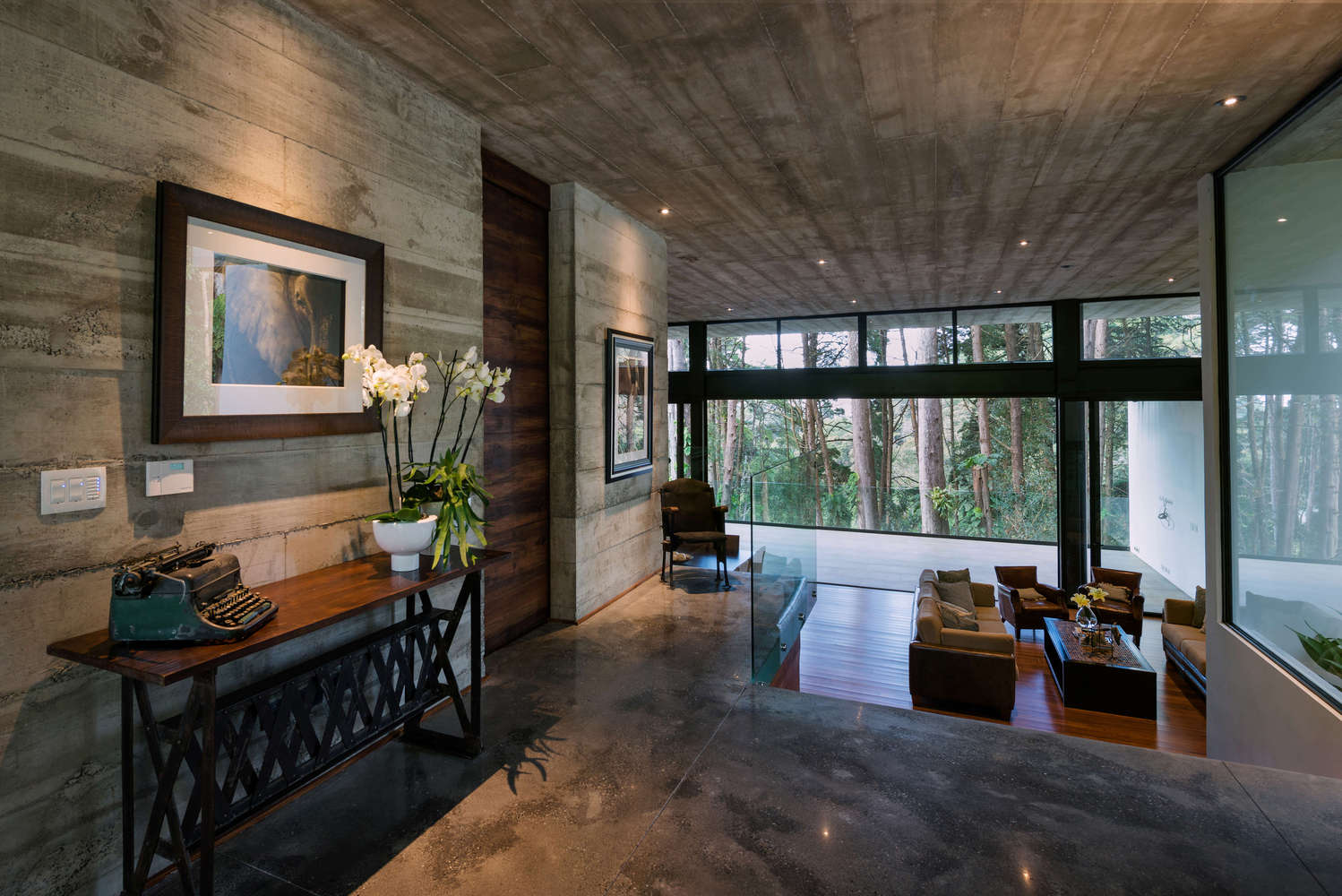 Architect firm: Paz Arquitectura
Place: Guatemala City, Guatemala
Photo: Andrés Asturias
In an area that is part of the suburbs of the capital, we discover a haven of peace surrounded by a lush forest. This house was built for a small family with 3 children.
Preferring to keep as much space as possible for outdoor spaces, the architects wanted to limit the volumes of the building so that the occupants enjoy privacy while making the most of their land.
21. Turks and Caicos: The cabin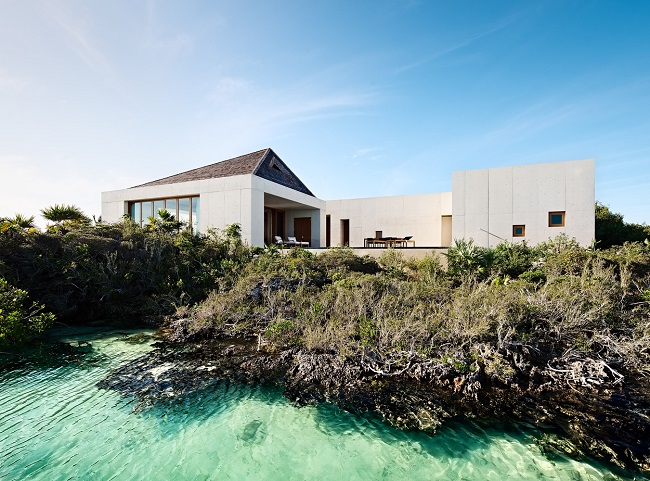 Architect firm: Rick Joy Architects
Place: Venetian road settlement, Turks and Caicos
Photo: Joe Fletcher
We take a trip to the Caribbean to discover this vacation home which is entirely designed around the spirit of the islands and the nature of this region. The choice of materials, shapes and layout of the spaces has been carefully considered to enhance the natural environment.
Also, to avoid having to import materials, thus creating a significant ecological footprint, the designers opted for materials from local sources.
7 BEAUTIFUL HOMES IN SOUTH AMERICA
22. Colombia: El Cielo House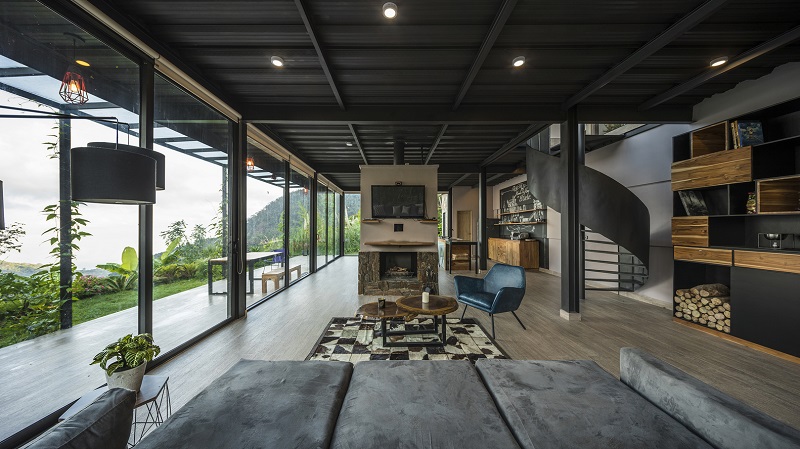 Architect firm: Ricardo de Castro
Place: Montagnes de la Sierra Nevada, Colombia
Photo: Ricardo de Castro
Colombia is a highly diverse country in terms of landscapes and topography, from the beach to the rainforest, without omitting the impressive mountain ranges. This secondary home is located in the Sierra Nevada mountains in the northern part of the country.
The architects' main goal was to create a house that blended into the landscape so that the trees and plants, the mountains and the sky were all showcased. Furthermore, all the rooms in the house provide access to independent terraces, so that the owners can head outdoors easily at all times.
23. Peru: Study House Casuarinas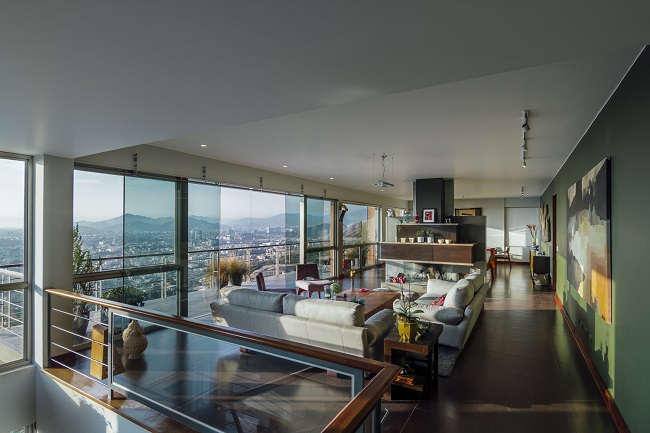 Architect firm: Oscar Gonzalez Moix
Place: Santiago de Surco, Lima, Peru
Photo: Ramiro del Carpio
The land chosen to build this house presented a whole set of challenges due to its rugged topography. Without making major changes to the initial characteristics of the land, the architects instead chose to build it around cliffs, bumps and holes.
The result is impressive! This house, located in the metropolitan area of the capital (Lima) is full of clever amenities. Plus, owners get to enjoy magnificent views of the Pacific Ocean and the big city.
24. Brazil: Casa Mirante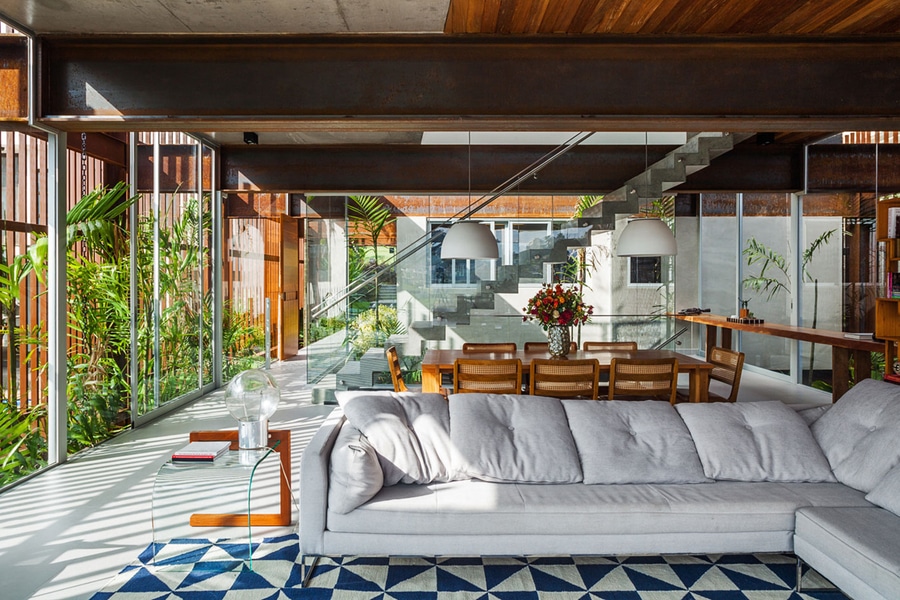 Architect firm: FGMF
Place: Aldeia da Serra, Sao Paolo, Brazil
Photo: Rafaela Netto, Renato Caiuby
Brazil is a major producer of construction materials, including several types of wood. Honouring these materials, many Brazilian architects and artisans want to integrate them into their works, both for their aesthetic aspect and their practical features.
In this Casa Mirante, the architects wanted to experiment with a metal structure, concrete slabs and interior walls made of glass and wood. The layout of the rooms has been designed to maximize light and to take advantage of the best possible views.
25. Paraguay: Casu House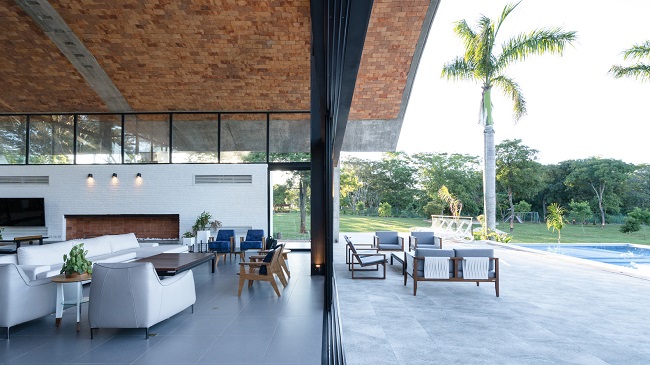 Architect firm: Arkstudio
Place: Mariano Roque Alonso, Paraguay
Photo: Daniel Ojeda
Why have a flat or angled roof when you can opt for a curved roof? It's so much more unique and in some environments, it can be more effective for controlling the climate inside the house.
Located on the outskirts of the capital, Asuncion, this large and bright house is characterized by its rounded roof, which creates an attractive curved ceiling in most rooms. What is particularly interesting is the fact that there are no pillars to support this ceiling. Instead, the designers opted for a system of cables that run under the house to absorb the weight of the structure.
26. Chile: RD House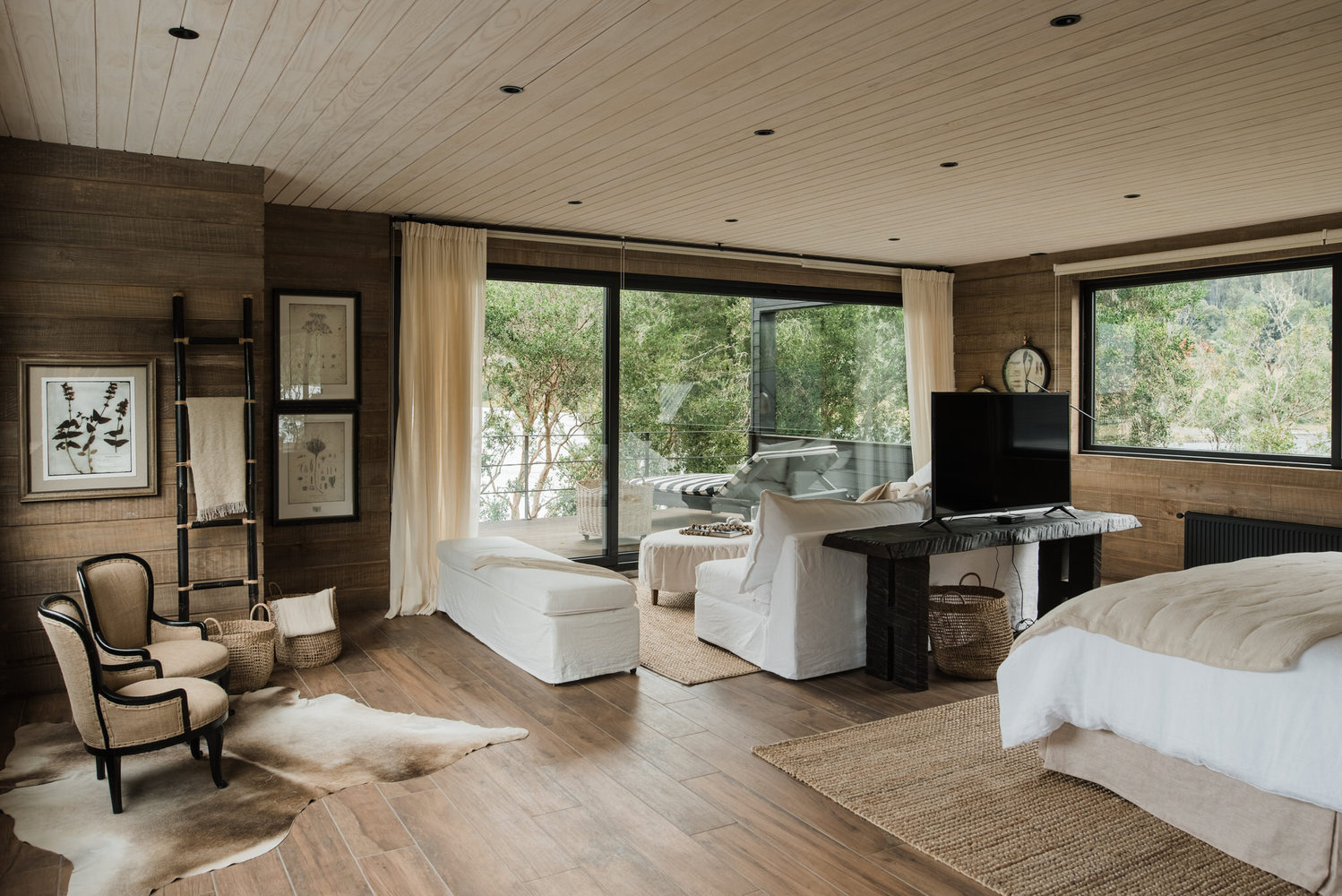 Architect firm: o2 Arquitectos
Place: Lac Riñihue, Chile
Photo: Francisca Cornejo
The owners of this second home wanted a friendly place where they could come to enjoy nature. They chose this land near Lake Riñihue, in a verdant region of Chile, not far from the border with Argentina.
Inside, wood is dominating material as it is used to cover the walls, floors and ceilings. Through the large windows, you can see magnificent tall trees typical of the region. The architectural style is contemporary, but the use of wood, whether living or transformed, adds a very pleasant touch of warmth.
27. Argentina: Casa Bosque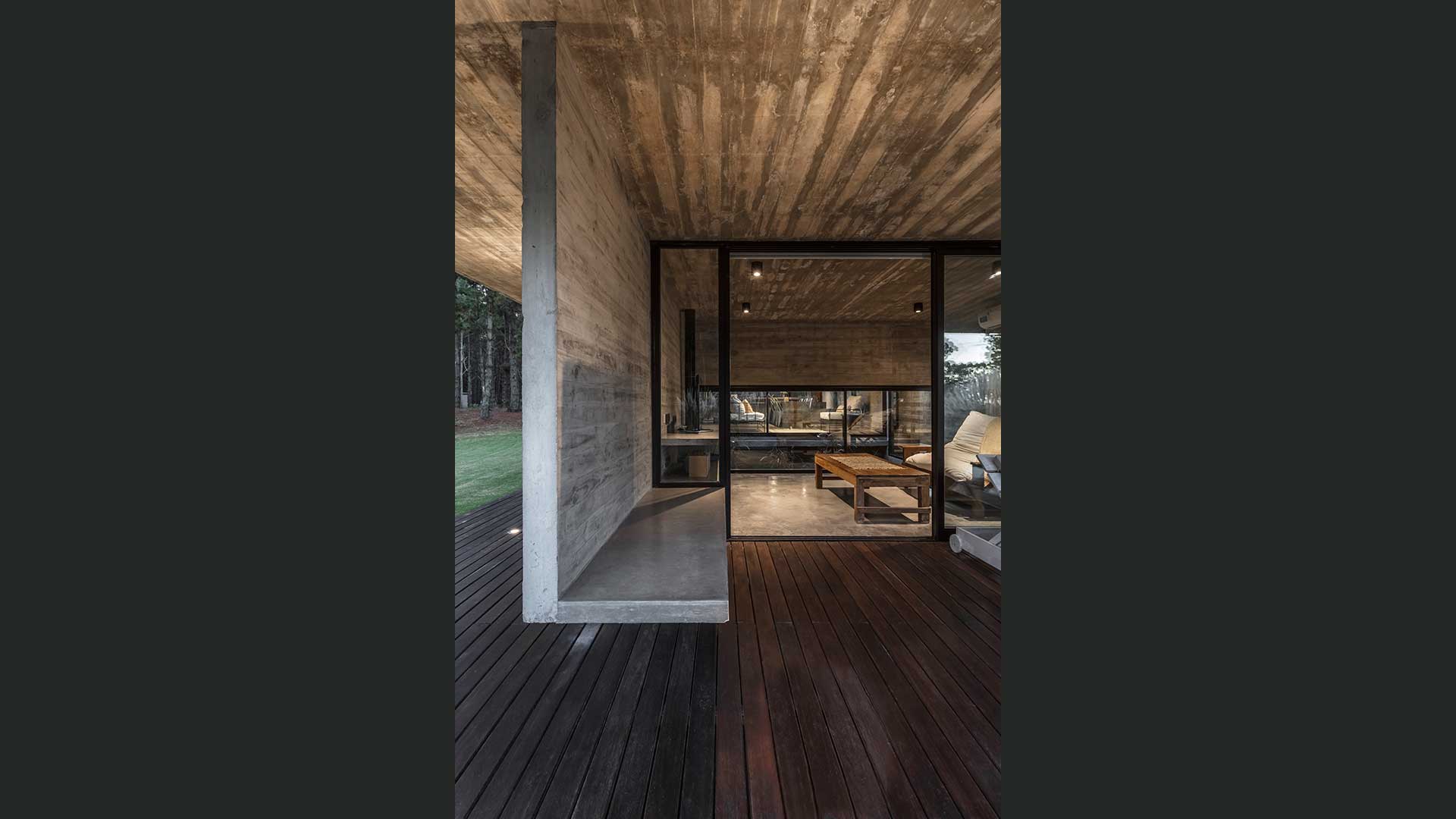 Architect firm: Besonias Almeida
Place: Costa Esmeralda, Prov. de Buenos Aires, Argentina
Photo: Federico Kulekdjian
The name of this house "Casa bosque" (Wooden house or House of the forest) indicates the intentions of the owners and the architects that are behind its creation.
Installed in a wooded area dominated by acacias, the structure is dominated by straight lines and materials and textures that are reminiscent of the natural elements found around the house. It is designed lengthwise and characterized by an imposing fenestration.
6 BEAUTIFUL HOMES IN AFRICA
28. Morocco: Villa Z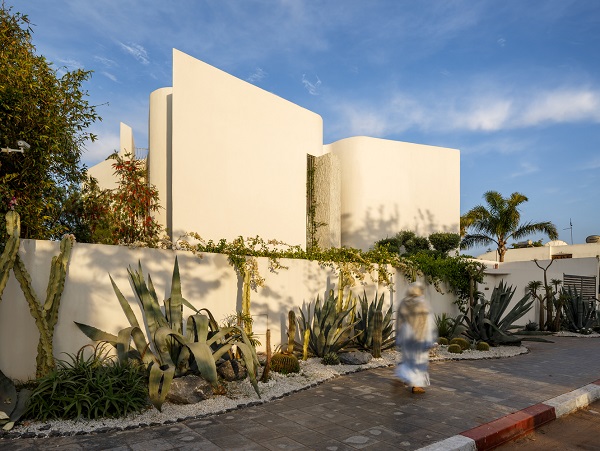 Architect firm: Mohamed Amine Siana
Place: Casablanca, Morocco
Photos: Mohamed Amine Siana
Next stop: the north of Africa! We are happy to discover the customs, the natural environment and the architecture of Morocco. This contemporary-style house, located in the large city of Casablanca, borrows many elements from traditional concepts.
The owner of this house had initially expressed to the architects that they wanted a place where they could have a feeling of openness while enjoying privacy. The shapes of the walls and the location of the windows were therefore chosen accordingly.
29. Senegal: Khamsa house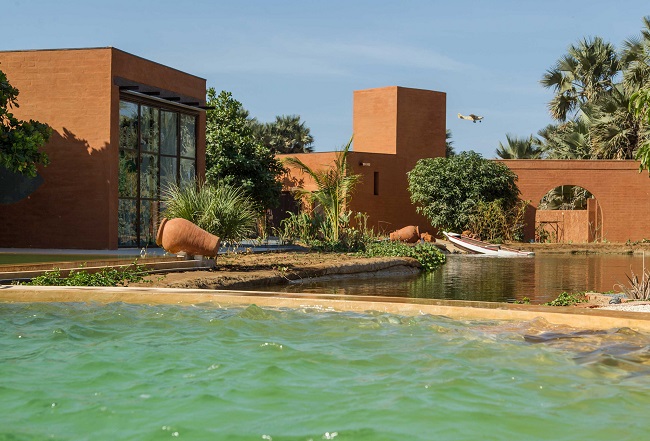 Architect firm: Atelier Koe
Place: Saly Joseph, Senegal
Photo: Régis L'hostis
Like many homes in Senegal, the main building materials for this house are earth and brick. Most sections of the building are characterized by a large opening, letting in natural light, while other rooms such as the bedrooms are more intimate.
This creates a nice balance so that occupants can find a space that suits their current needs. The interior decor is very minimalist, giving the building's shapes a chance to breathe and to honour the magnificent spectacle that unfolds outside.
30. Rwanda: Residencies for doctors in Butaro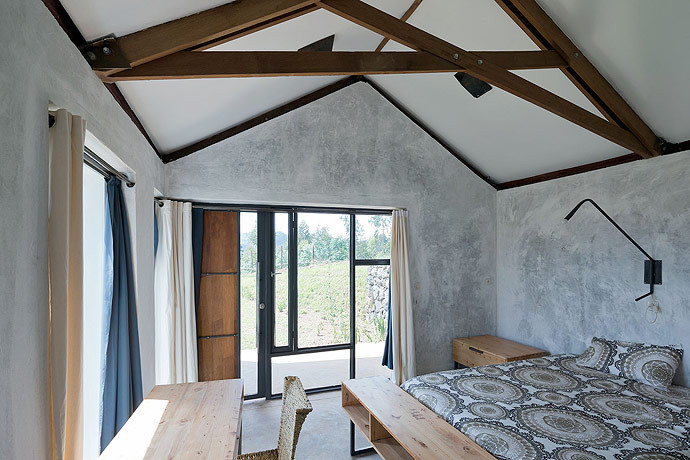 Architect firm: MASS Design Group
Place: Butaro, Rwanda
Photo: Iwan Baan
These very cute little houses that we have chosen to showcase are located in an area dedicated to healthcare workers who work in the region. The homes were built taking into account the needs of these people who settled here to provide health services to a region in great need of such resources!
The homes are simple and minimalist while also being welcoming. The rather uniform walls are enhanced by materials adorning typical patterns of the area, as seen on the bench installed near a staircase in the living room.
31. Namibia: 10 Ossmann Street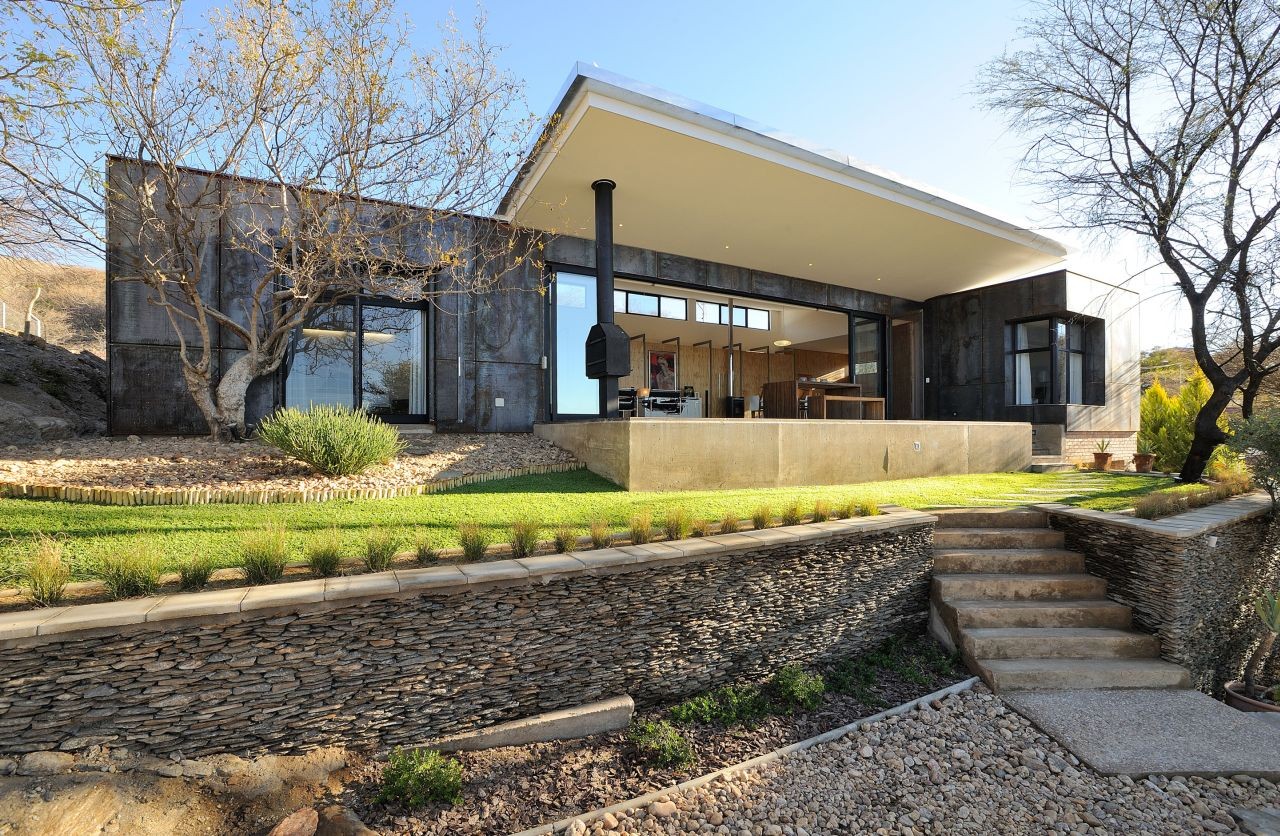 Architect firm: Wasserfall Munting Architects
Place: Windhoek, Namibia
Photo: Studio One & Markus Weiss
Namibia is a country located just north of South Africa. Its capital, Windhoek (the windy corner in Afrikaans) is a medium-sized city with only 300,000 inhabitants. However, according to several rankings, it is one of the best cities to live in on the whole continent.
Known for its tranquillity and pleasant climate, the city is also green and modern. This is why the owners of this house wanted to set up their palace in its near suburbs. Like the city, the land and the buildings that occupy it are marked by colours, sun and natural beauty.
32. South Africa: Sinkhuis residence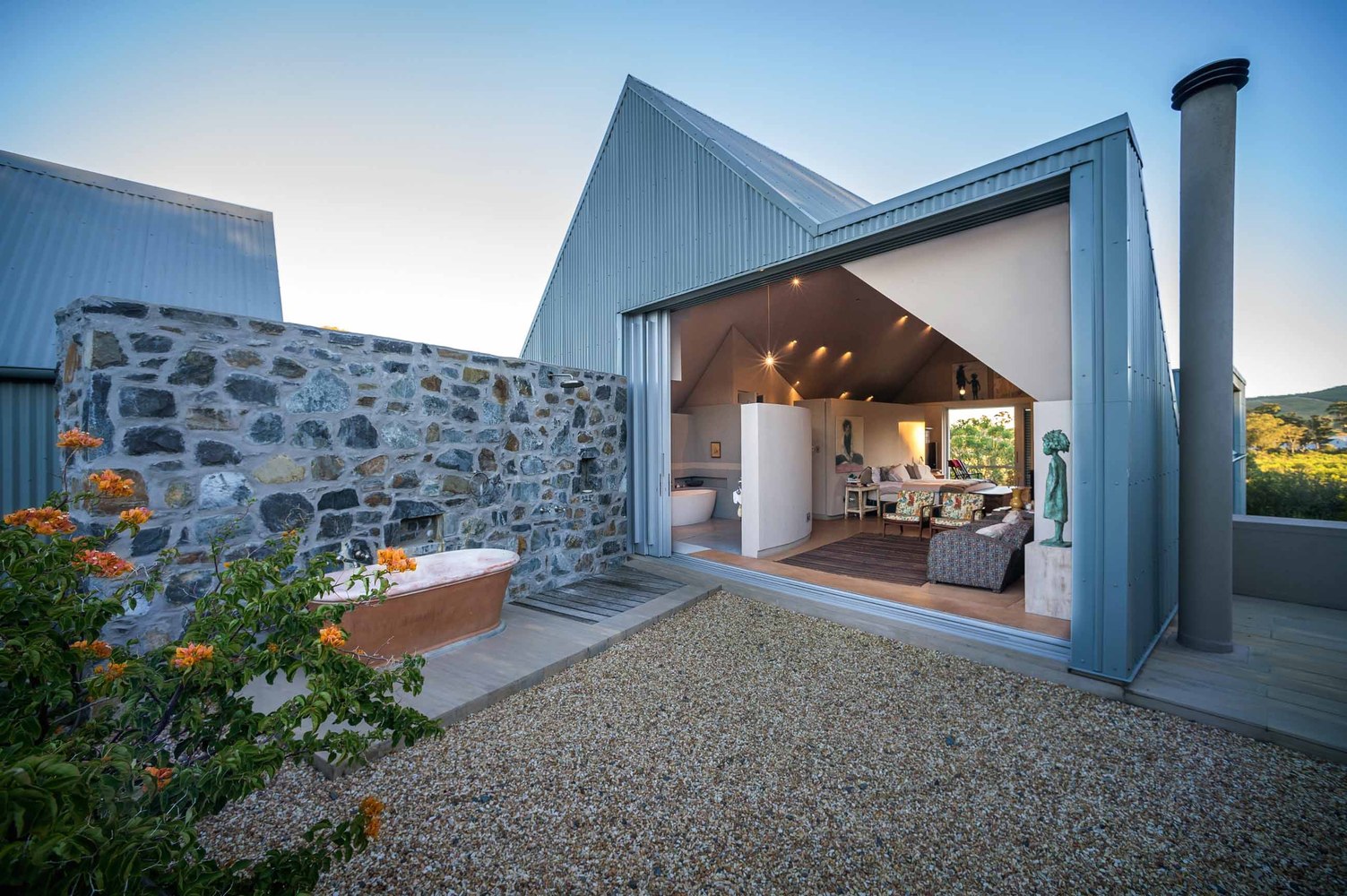 Architect firm: Slee & Co Architects
Place: Stellenbosch, South Africa
Photo: Peartree Photography
The town of Stellenbosch is located near the city of Cape Town. Benefiting from a climate suitable to the cultivation of grapevines, it is recognized as one of the main wine regions of the country. Besides the vineyards, the area is also dotted with mountains.
It is the latter that the architects wanted to highlight when working on the design of the residence. Each main room is therefore equipped with large windows that allow you to observe the beautiful landscapes while enjoying pleasant privacy.
33. Mauritius: Courtyard house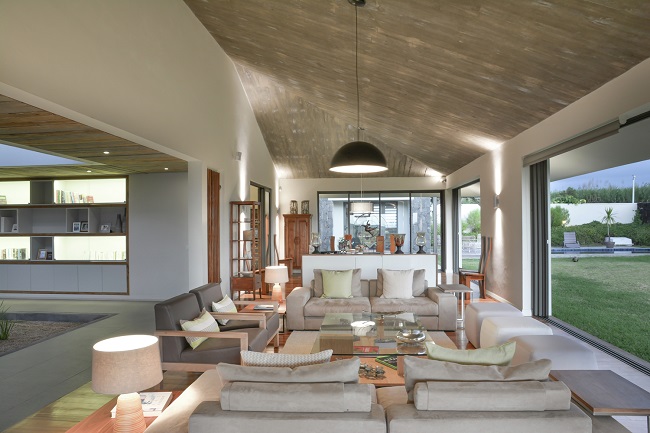 Architect firm: Rethink Studio
Place: Piton, Mauritius
Photo: Rethink Studio
Verdant and rugged, Mauritius bears the traces of its origins as a volcanic formation. The climate is tropical and for this reason, the owners of this house wanted it to be designed to create a comfortable atmosphere at all times.
The architects designed an interior courtyard that would act as a central "lung" for the building. Rarely seen in cold climates, interior courtyards are very interesting architectural elements in countries with constant warm weather.
6 HOMES IN THE MIDDLE EAST, NEAR EAST AND CENTRAL ASIA
34. Turkey: Villa Dolunay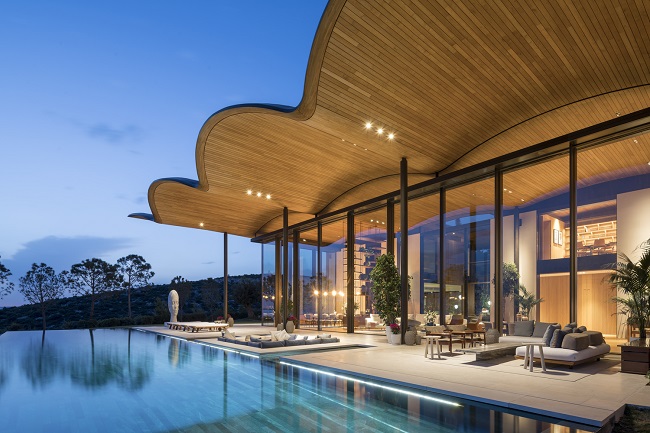 Architect firm: Foster + Partners
Place: Muğla, Turkey
Photo: Nigel Young / Foster + Partners
After Africa, we're headed up to the Near East/Middle East, setting our luggage down in Turkey. Muğla is a town located in the Aegean region which happens to be a small paradise for lovers of blue skies and crystal clear water.
When you can enjoy such an environment, it is important to be able to have easy access to its beauty. With this in mind, the architects who designed this villa have put a lot of emphasis on the windows to feature beautiful views of the water at all times. They also created a nice curved ceiling that recalls the movement of waves.
35. Israel: A House of an Architect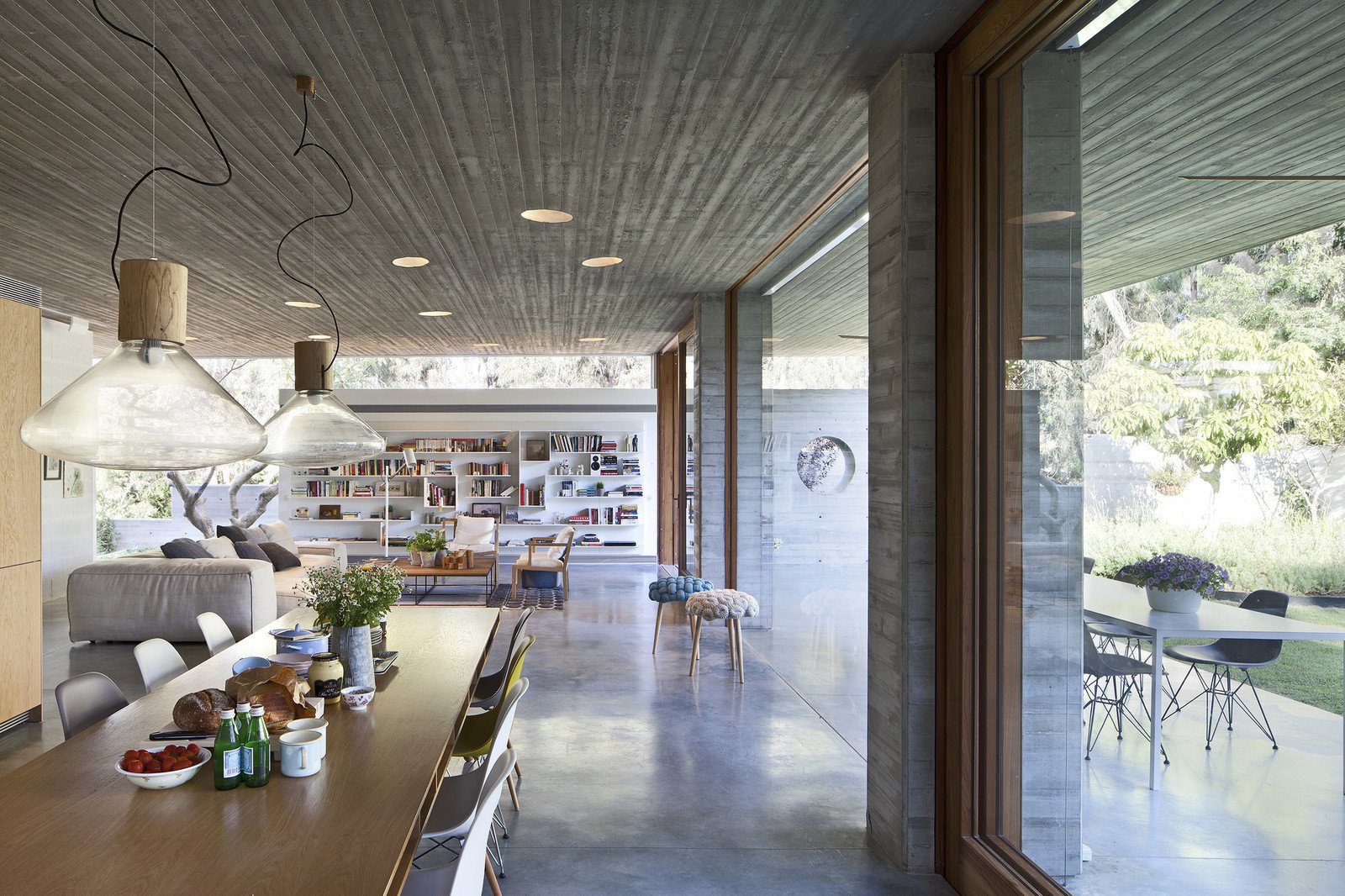 Architect firm: Pitsou Kedem Architects
Place: Ramat Hasharon, Tel Aviv District, Israel
Photo: Amit Geron
When an architect designs and plans out their own home, it's safe to say that the result will likely be quite daring! This is the case for this house created by and for the architect Pitsou Kedem.
Hidden behind lush greenery, this modern villa is ingenious, welcoming, creative and bright. Raw materials are in the spotlight, but that doesn't mean the house is cold or pretentious. On the contrary, it is rather a fun playground for children, young and old.
36. Lebanon: Hillside villa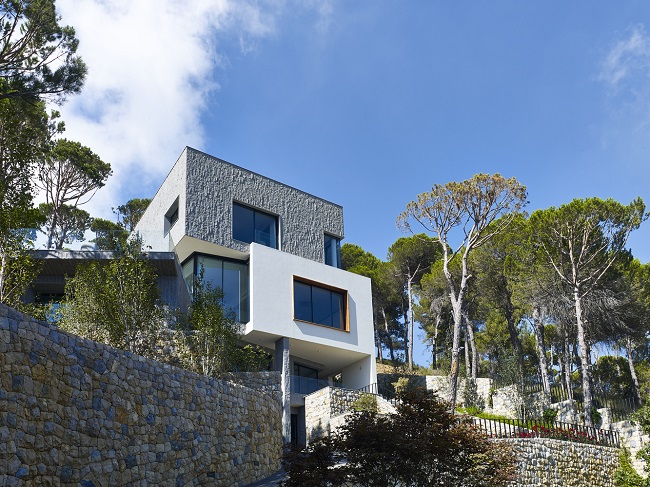 Architect firm: Joe Serrins Studio
Place: Baabdat, Lebanon
Photo: Vicky Mokbel
This house is located high up in the village of Baabdat which is on the hills of Mount Lebanon. To be able to build safely on a cliff, the architects designed a structure made up of stacked boxes. This also makes it possible to create terraces on all floors.
We haven't paid much attention to the presence of swimming pools in the other properties featured in this article. However, this is, of course, is an asset, especially in countries with warm climates like Lebanon. The swimming pool in this home's backyard offers a perfect respite during hot days and its location is chosen to offer complete privacy to the occupants.
37. Iran: Maziar brick house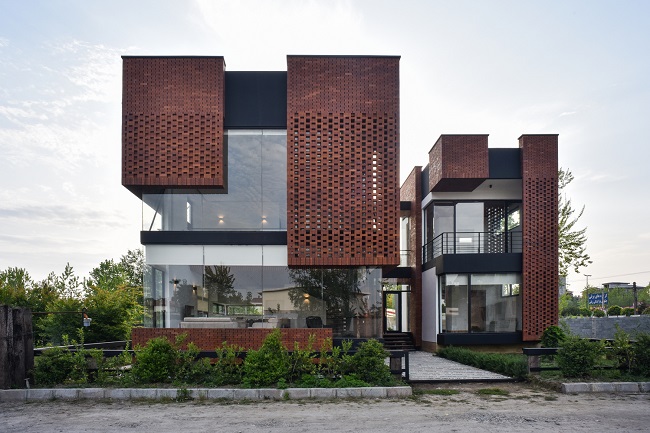 Architect firm: Naghshe Khak Architectural Group
Place: Royan, Iran
Photo: Vahid Joudi
The architects of this house wanted to use brick for its practical, aesthetic and conceptual features. The result is rather daring without bringing the occupants too far out of their comfort zone.
Located in the coastal town of Royan, this mansion is filled with interesting architectural details. One will especially notice the spiral staircase which connects the central rooms to a mezzanine located on the upper floor and the individual bricks which create a nice pattern on a wall of the bathroom.
38. Georgia: House in Artana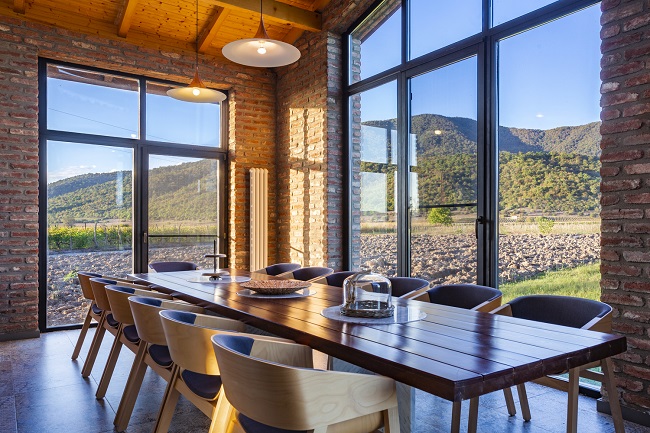 Architect firm: NS Studio
Place: Artana, Georgia
Photo: Nick Paniashvili
Central Asia is a region of the world that is the setting for many legends, ranging from the travel stories of Genghis Khan to those of Marco Polo, to the mythology associated with the Silk Road. The countries that are located in this region still bear the traces of this distant history, while also welcoming more contemporary elements.
This is why houses like the one we have chosen to present here seem like they belong, even in sectors where traditional constructions still dominate.
This little brick house is located in a wine region that is nestled near the Caucausal Mountains. Indoors, the decor resembles that of a friendly urban loft. However, when you look out the window, nature dominates the scenery.
39. Bahrein: Aak Villa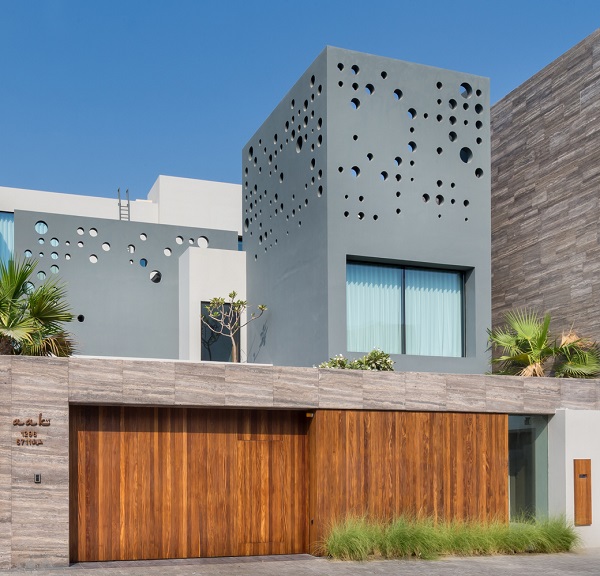 Architect firm: MORIQ
Place: Amwaj, Bahrein
Photo: Riyaz Quraishi
Next stop: Bahrain, a tiny country located in the Persian Gulf. This large villa is set on the coast and therefore benefits from a most pleasant environment.
Its creative architecture makes it stand out from the crowd in the neighbourhood. The designers had to deal with a rather atypical terrain, but they were able to create a nice balance with varied volumes and strategically placed openings.
11 HOMES IN EUROPE
40. United Kingdom: Tactile Home
Architect firm: Thomas & Spiers
Place: Dulwich, London, United Kingdom
Photo: James Whitaker, Billy Bolton, Emily Seymour-Taylor
We now arrive in Europe, with a first stop in the area of Dulwich, part of the greater London agglomeration. The pretty abode we are visiting incorporates some typical elements of classic and contemporary British styles, including floral wallpaper and industrial decorative accents.
This is a split level located on a quiet and friendly little street. The owners are a small family and they were attracted by a conversion project. The result is clean, uncluttered, but imbued with a very pleasant touch of fantasy.
41. Spain: House in La Murta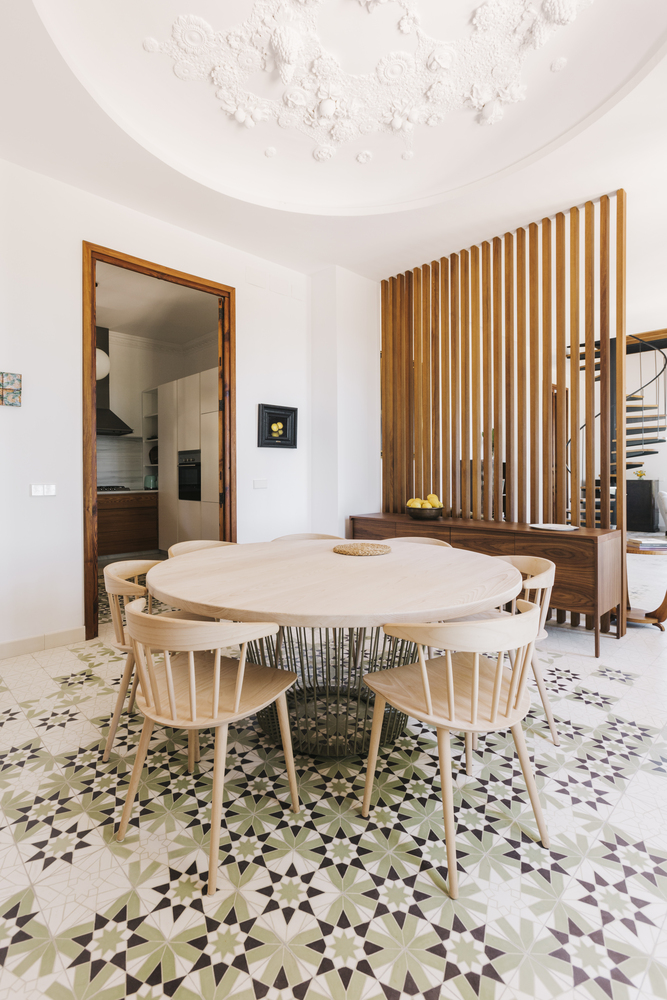 Architect firm: Arturo Sanz
Place: Alzira, Spain
Photo: Maria Mira
Many contemporary style homes have been featured in this article, among other reasons because it is easier to find information about architects and photographers. We always prefer to showcase houses whose designers we can credit.
However, that doesn't mean we don't appreciate more traditional architectural styles! That's why when we discovered this pretty typical Spanish house, we did not hesitate to include it in the list.
The dining room ceiling, the tile floors, the wooden doors, the terracotta roof ... These are just some of the elements that have been kept and highlighted during the renovation of this country house located in a valley.
This is a split level located on a quiet and friendly little street. The owners are a small family and they were attracted by a conversion project. The result is clean, uncluttered, but imbued with a very pleasant touch of fantasy.
42. France: Maison Alon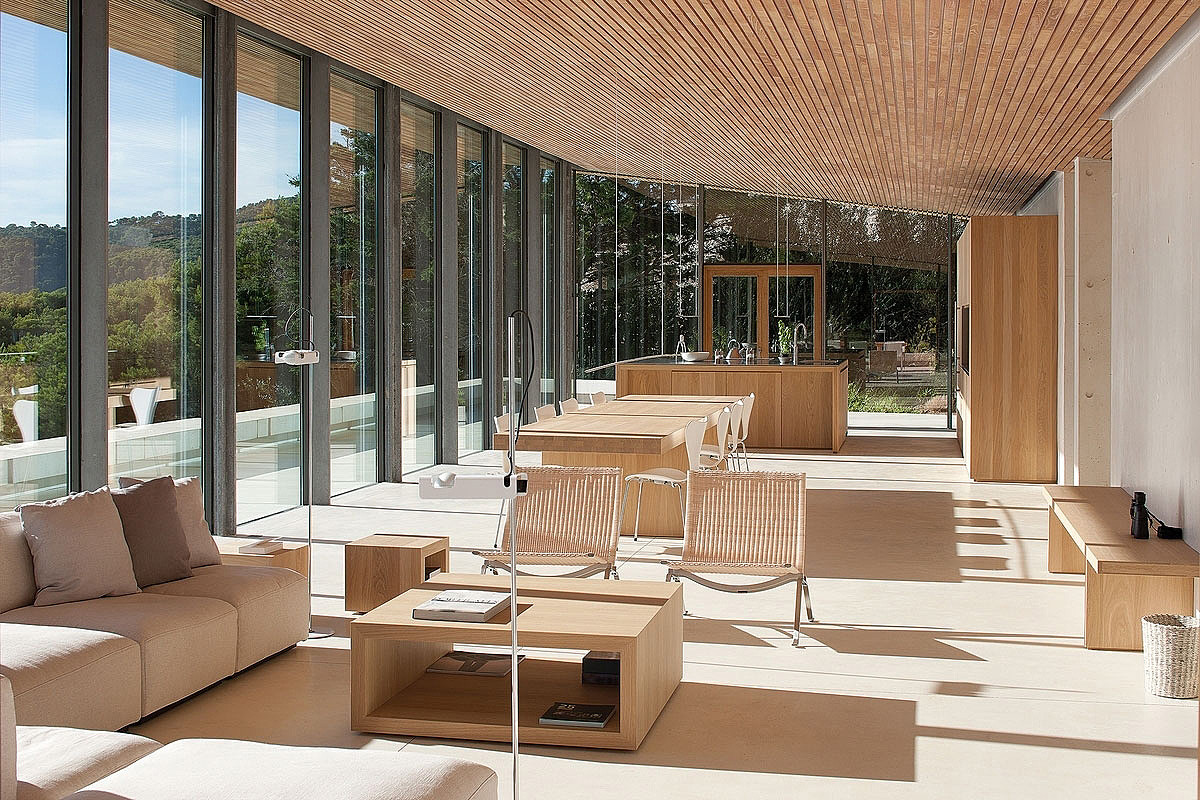 Architect firm: Atelier d'Architecture Bruno Erpicum & Partners
Place: Provence, France
Photo: Jean-Luc Laloux
We are returning to a more contemporary architectural style, but one that is perfectly suited to the environment that surrounds it. The house is located in Provence, in the south of France. This is a very popular region for lovers of contemporary architecture, as several great masters have taken up residence there, including the famous architect Le Corbusier.
As a result, this house is completely relevant in this area that is characterized by its luminosity, its dry and hot climate, its fragrant flora and its proximity between the sea and the mountains.
43. Italy: Country houses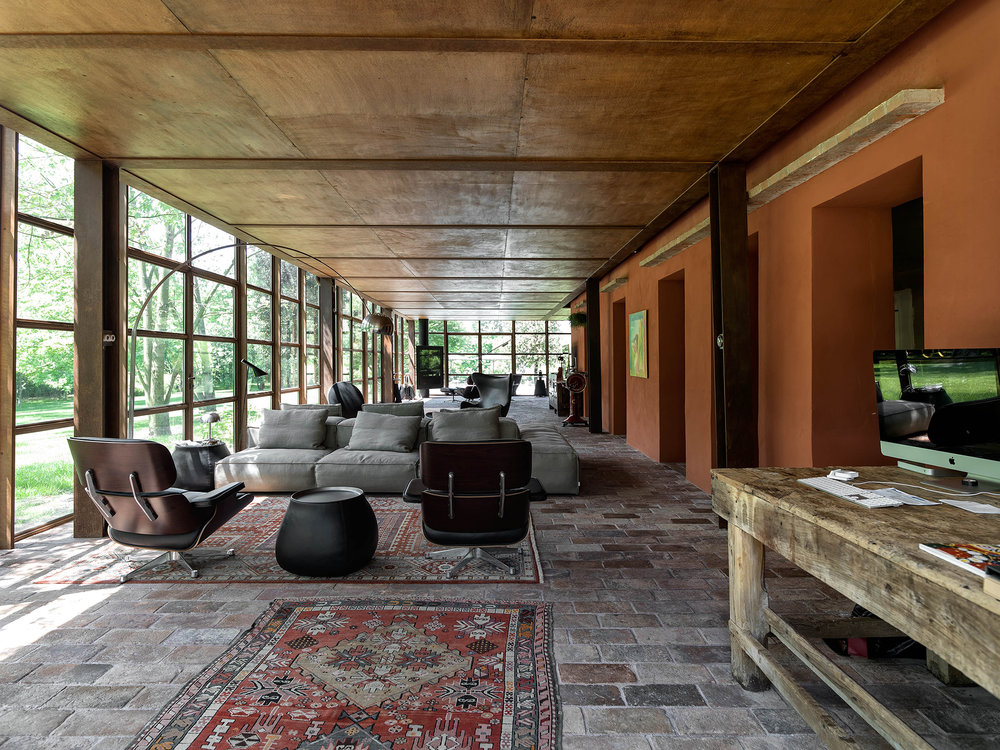 Architect firm: Zanon Associati
Place: Trévise, Italy
Photo: Paolo Belvedere
What could be more charming than a house that is fully covered with vines? This mansion that is located in the northeast of Italy, a few kilometres away from Venice, appears straight out of a fairy tale.
The vines that cover it are well controlled so that the structure is not completely smothered. Indeed, when looking at the images from inside the house, it is still quite open and bright. Also, the designers added a large glass sunroom which serves as a family room.
44. Austria: CoMED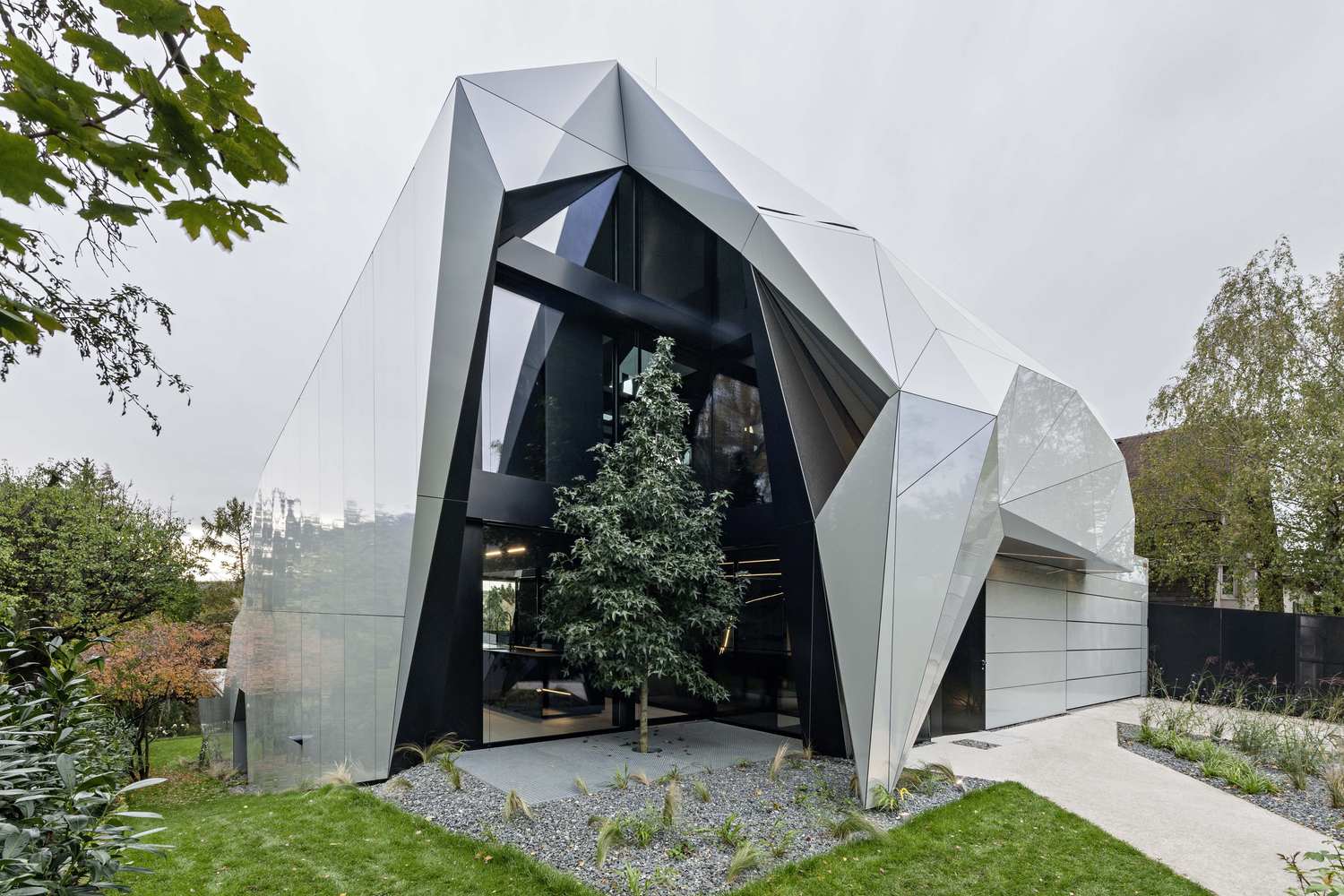 Architect firm: ad2 Architekten ZT KG
Place: Vienna, Austria
Photo: Hertha Hurnaus Photography
We had to include at least one highly atypical home because life is too short to restrict ourselves to creating conventional buildings! This four-story house is located in the city of Vienna, Austria.
We could say that this is the dream abode for geometry lovers! Filled with straight lines, triangles, squares and mirrored surfaces to maximize the visual effect of shapes, this house sure is out of the ordinary!
45. Greece: Vora Villas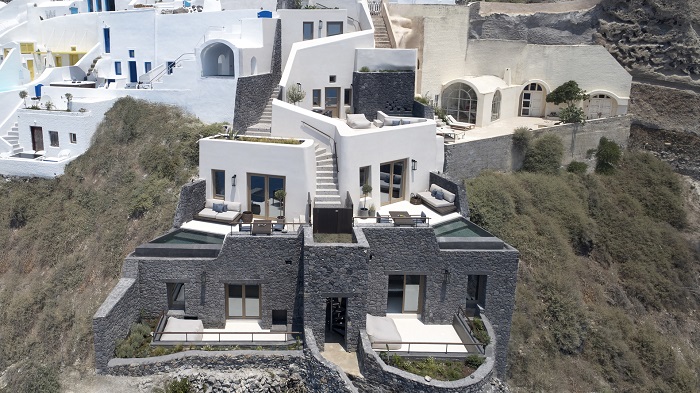 Architect firm: K-Studio
Place: Imerovigli, Santorini, Greece
Photo: Mirto Iatropoulou, Ståle Eriksen, Claus Brechenmacher
The island of Santorini is one of the most touristy places in Greece and since it is a densely populated small island, any building construction should be designed in harmony with other architectural structures.
Moreover, the architectural style of the island is very typical, with cubic houses mainly built with lime. The buildings are very clean and adorned with only a few colours, including white, gray and blue. We also see a few pastel shades that recall the colour tones of the sun, the land and the sea.
The accommodation we have chosen to present is a small boutique hotel nestled in a key sector of the island, near the crater of the volcano which is found in the water, near the houses. The inhabitants of Santorini share a special relationship with nature, beauty and danger interacting daily.
While waiting for the potential disaster, visitors and natives alike make the most of the spectacular nature of the place. To do this, each room is open to the outside and the terraces allow you to admire the landscape at any time of the day.
46. Germany: O House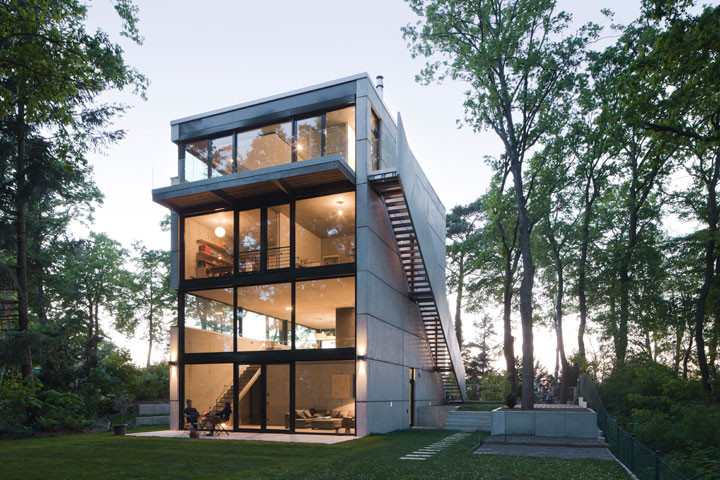 Architect firm: Peter Ruge Architekten
Place: Potsdam-Mittelmark, Germany
Photo: Werner Huthmacher
This vast contemporary-style house would not seem out of place in an urban setting. Instead, it was built near a lake. The indoors is dominated by concrete, which covers the walls and ceilings in most rooms. This choice is aesthetic, but also ecological.
To avoid creating a space that is too cold, the architects have incorporated a large number of windows that offer a view towards the outside and its dense woodland. The house is located in a region with a climate and landscapes that vary a lot according to the seasons and as a result, the decor, both indoors and outdoors, will vary quite dramatically.
47. Denmark: Villa P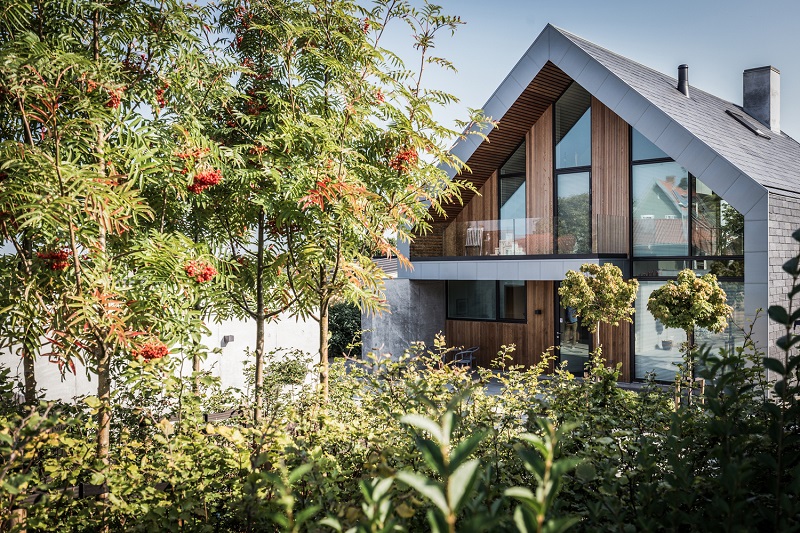 Architect firm: N+P Architecture
Place: Fredericia, Denmark
Photo: Patrick Ronge Vinther, Andreas Mikkel Hansen
As a country, Denmark maintains a close relationship with water, as it is made up of islands and peninsulas which are located at sea level. Therefore, several cities are located by the sea or in picturesque bays. The commune of Fredericia, where this house is located, is set in the eastern part of the Jutland peninsula, which is attached to Europe.
This is a coastal town and the house we wanted to present enjoys a direct view of the water. Like many houses on this list, there is an abundance of windows allowing you to admire the natural landscape of the region. Regarding the decor and architecture, the emphasis is on noble and simple materials, thus creating a soft and warm atmosphere.
48. Norway: Efjord cabin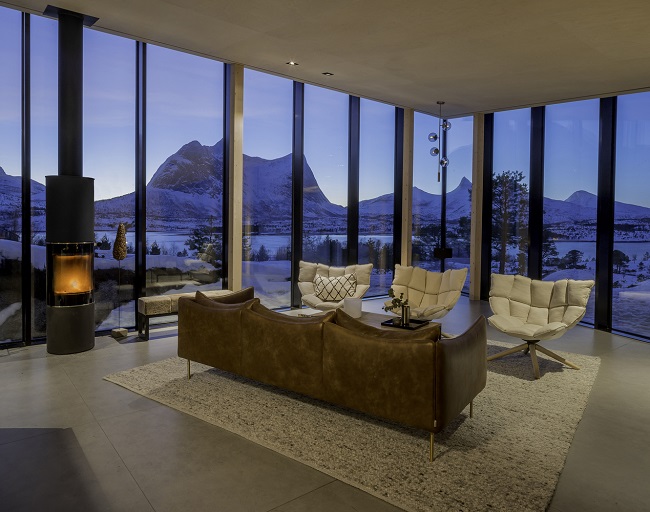 Architect firm: Stinessen Arkitektur
Place: Fjord Ofoten, Norway
Photo: Steve King, Snorre Stinessen
The view, the landscapes, the natural spectacle: what more can be said about this pretty cabin located near the Ofoten Fjord, in northern Norway. Far from civilization, this place will make lovers of Nordic panoramas swoon.
We imagine ourselves comfortably seated in the warm living room, observing the northern lights which unfold in the sky in front of us. You can't be afraid of feeling isolated to appreciate this type of accommodation. However, for those who like to enjoy a calm atmosphere, this is a real Shangri-la.
49. Finland: Ö Cabin Project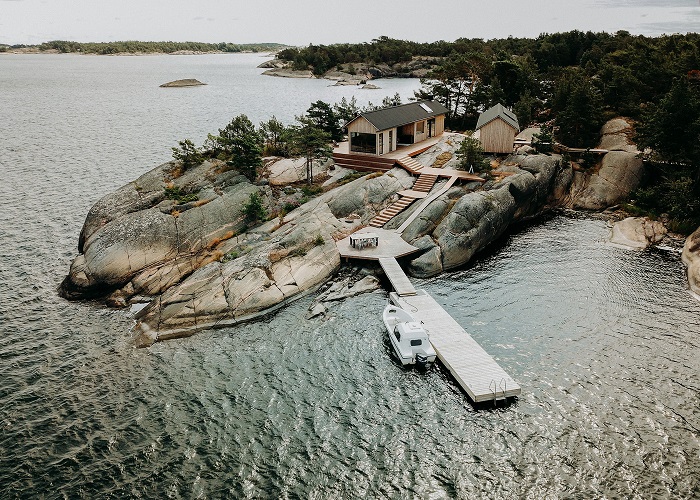 Architect firm: Aleksi Hautamäki
Place: Island Municipality of Kimito, Finland
Photo: Marc Goodwin
Here we are again in the Nordic countries, with a stop in Finland. During this stop, we leave our suitcases in a small cabin that provides everything we need for a creative and relaxing stay. If you look at the other images, you will discover a beautiful workshop where the occupants can indulge in artistic hobbies.
The rest of the time is spent around the fire or in the kitchen, preparing delicious meals with fresh local ingredients. This highly functional cabin can accommodate up to 10 people.
50. Russia: Private home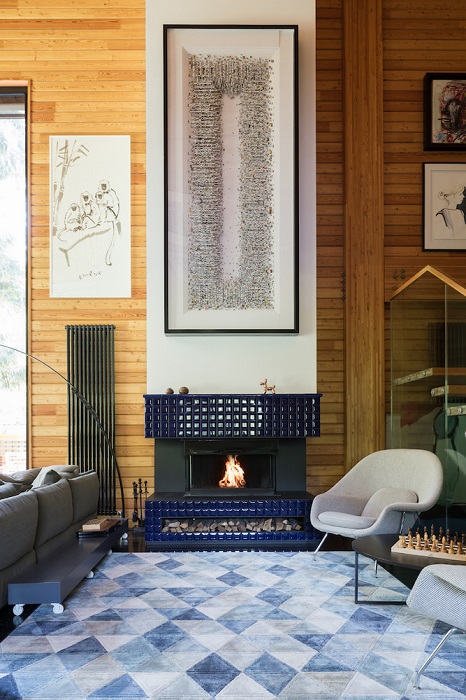 Architect firm: CPU PRIDE
Place: Russia
Photo: Ilya Ivanov, Alexey Narodizkiy
Our world tour ends in Russia, in a secret place. What a great way to round off this list of 50 beautiful houses located in big cities, small hamlets and very remote places!
Indeed, we have little information about the location of this modern house. However, the profile contains more than 40 photos, which allows us to admire the building from all angles. This is a gorgeous mid-sized abode with a lush backyard. It's got all the ingredients to create a welcoming and warm place!
Are you looking to buy a home in Quebec?
XpertSource.com can help you in your efforts to find a real estate broker. By telling us about your project, we will refer you to top-rated experts, free of charge! Simply fill out the form (it only takes 2 minutes) and you will be put in contact with the right experts.
Dial 1 833 203-7768 to speak with one of our customer service representatives
---
---
Find the professional you need
Find your real estate professional by filling out the short form